Maruti Suzuki
The recent spate of Indian 7-seaters coming onto the market looks set to continue as Maruti Suzuki, a joint venture between the Indian and Japanese automakers, give further details of their forthcoming MPV.
Formerly known by its concept name, RIII, the Ertiga is scheduled to launch in January next year and is the first vehicle in this class by Maruti Suzuki. Between the concept phase and the process of getting the vehicle ready for production, the Indian automaker has made some drastic changes. Whereas the RIII unveiled last year featured coach doors, curvy modern seats and a funky interior, the final model has been altered significantly to a normal four-door MPV with a more sober look inside.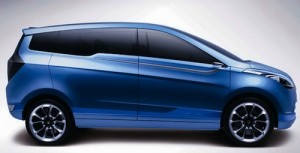 Maruti-Suzuki MPV pictured above.
The way it looks and feels now suggests Maruti Suzuki is aiming to go head-to-head with the likes of the hugely popular Toyota Innova. However, the firm plans to be much more competitive on price than its Japanese rival, with the bottom end of the range expected to go on sale for just under £8,000 in India, a significant saving on the Innova in particular. Also in the same 7-seater segment in this market are the Mahindra Xylo and Tata Sumo, both manufactured by hugely successful carmakers in India.
It remains to be seen whether the vehicle will make it out of the subcontinent, where it is expected to prove hugely popular given the growing demand for large people carriers in India. Maruti Suzuki has already carved out a number one market position for itself in one of the fastest growing vehicle markets on the planet. Can it produce another winner in a category it is yet to get involved in?
In terms of power, Suzuki Maruti looks set to install a 1.4-litre petrol engine and a 1.3-litre DDiS diesel engine, which equates to 89 brake horsepower and a fairly economical vehicle when it comes to purchasing fuel.
The all-important capacity of the vehicle is another prominent selling point, given this is set to be a sizeable vehicle that competes well with others in its class. Seating space has been designed to comfortably fit seven adults across three rows. However, the Ertiga does not look oversized from the outside ― a sign of how well that classic conundrum of efficiency and space has been considered in this case.
The design is loosely based on that of a smaller Maruti Suzuki car, the Ritz, just this is obviously a much larger vehicle all round. In terms of length, the Ertiga has been stretched out to just over 4.26 metres. This shows the automaker has finally brought out the big guns in an attempt to win in a market that it is yet to experience thus far.
Indian automakers are beginning to see the advantages of positioning themselves within the 7-seater market. But to what extent they will look to bring these vehicles into the more developed North American and European arenas remains to be seen.
.more...