Rav4 SUV – Latest Edition
As the first crossover SUV ever, the RAV4 redefined what consumers decided they wanted in a car with a bit more bulk. Those that wanted the space, higher visibility and 4WD of a full-blown SUV could suddenly also get some of the fuel efficiency and manoeuvrability of a much smaller car. And as the first in the market, Toyota has again stamped its mark on the SUV crossover segment with this latest edition of the classic RAV4.
USA Rav4 - Specification
There are three different trim lines available on the new 2012 model, which range from fuel-efficient basic to luxurious and powerful. Each comes with a four-cylinder 2.5-litre engine or a V6 engine that gets up to 3.6 litres and 269 break horsepower. And in terms of fuel efficiency the lower end models in particular compete well with the rest of this class. Prices start from $22,475, (just under £15K).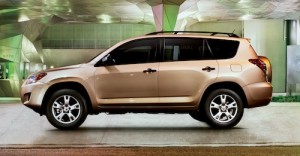 Rav 4 (from America) with seven seat option pictured above.
UK Rav4 - Specification
There are three Toyota Rav4 engines available in the United Kingdom, the 2L Valve matic petrol, (37.2mpg), a 2.2L D-4D Diesel (47.1mpg) and a 2.2-CAT Diesel (39.8mpg). The vehicles emit 177 g/km, 159g/km and 186g/km of Co2 respectively. None of the UK Rav4's have seven seats. Prices start form £22,870, (late 2011).
UK Rav4 - not 7-Seater
I'm assuming that due to the smaller engines the UK Toyota Rav4 does not have the option for a third row of seats. In America you can have the added option of 50/50 Split 3rd Row seat. These seats fold into the floor and come with adjustable headrests. If you want a Rav4 with seven seats you will have to import it and select the additional third row seats as an option.
I think the increased fuel costs and hike in Car Tax in the UK for larger engines may make marketing this larger Rav4 in this country a bit pointless. Ah well I digress, and go onto discuss more of the USA changes to the new Rav4 MPV.
USA Rav4 - Interior
So what else is new for 2012? Well, much of the change has happened inside. The audio system has undergone a complete overhaul, particularly in the limited models which now feature HD Radio along with iTunes tagging, XM satellite radio and text-to-voice capability. Along with hands-free Bluetooth connectivity there is also Bluetooth music streaming. In addition, the new RAV4 also sports Toyota's Entune services including apps such as Pandora streaming and a host of other data services.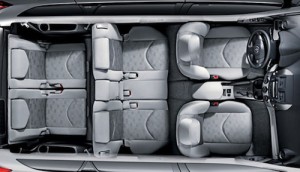 Rav4 (from America) with 3 rows of seats pictured above.
USA Rav4 - Reviews
As a 7-seater the RAV4 still gets mixed results. To begin with it's not really a 7-seater in the sense of a people carrier in that the third row of seating is more of an extra than a fully considered part of the overall vehicle. That means the third row of seating is small and possibly not ideal for most adults but then almost every other vehicle in this segment of the market does not have a third row of seating at all. And the design of the interior allows the third row to be folded away completely for cargo storage. Those wishing to carry seven adults in total are more likely to consider the Highlander but then a 7-seater is more often than not a family vehicle. For those that are transporting children around this is a perfect option.
USA Rav4 – Goes Electric
Also scheduled to come out next year is the second version of the Toyota RAV4 EV, an electric version of this popular crossover vehicle that is due for release in California in the first half of the year followed by possible distribution elsewhere. The original plug-in version first produced way back in 1997 was hugely popular despite Toyota's decision to scrap the program citing economies of scale and development problems that would have made it financially unfeasible.
With electric cars coming into their own in recent years, Toyota has another opportunity to trend set in the crossover electric market as it did originally in the combustion engine crossover market with this vehicle. Next year should therefore see the RAV4 consolidate and expand its position with two new models, both of which look set to be exciting, trendsetting 7-seaters. Toyota looks to have gone and done it again.