Cadillac SRX
The previous generation SRX was criticised for having completely inaccessible rear seats. The sixth and seventh seats were only accessible by rubber-boned contortionists and even then, they didn't offer much in the way of legroom or headroom. The new SRX has been developed to allow for more space for all of the passengers and now looks like a crossover-SUV rather than a stretched estate car. So is it good enough for UK drivers?
Similar to Volvo XC90
It has similar dimensions to the very capable Volvo XC90, and that is a good thing. Although Cadillac has been around for an incredibly long time, it has struggled to crack the UK market. In an age where lightweight, ultra frugal cars that are practical and look good are in, Cadillac sends over a two-tonne, fuel-guzzling V8-powered behemoth that is expensive to buy and expensive to run. Not a good start.
Performance
There is a three-litre V6 diesel or a four-litre V8 petrol engine. Both aren't frugal at all, with the oil-burner delivering 24.4 mpg and only 14mpg for the V8. That doesn't bode well for city-driving school runs and short journeys, especially with fuel prices heading towards £1.50 per litre. All of the SRXs are four-wheel drive and come with a six-speed automatic gearbox. The diesel churns out 269g/km CO2 while the environment-polluting V8 emits 335g/km CO2.
And the Good Points are ...
With the negatives almost all out of the way, there are some good points about the SRX. The interior is very roomy and an almost Saab-influenced cabin. Although you need to step up high into the cabin, the comfort levels are excellent, there are many cubby-holes and cabinets to keep your gear, and the boot lid can be operated electrically from the back door, the driver's seat or the key fob. It's quite space-age inside, too. Compared to similar Ford and Renault models UK drivers are used to, the Cadillac is a breath of fresh air.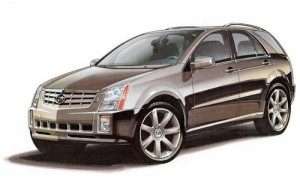 Cadillac SRK from USA pictured above.
It is more than possible to fit seven burly adults in all of the seats. There is simple that much room. There is no transmission tunnel to steal any floor space and there is still room for bags, even at full capacity. The front seats are surprisingly poor compared to the rest. They don't feel secure in the corners and are made from cheap material. The rest of the switchgear and interior is lifted from the Cadillac CTS, thankfully, and looks the part.
This is an American Car
As with almost all US-cars that head across the pond, the SRX is only available in left-hand drive, which isn't a problem for mainland Europeans, but for Brits it's almost the final nail in the coffin. Only 31 SRXs sold in 2009 and it's doubtful that any more will sell, but if you don't mind driving with the steering wheel on the 'wrong' side and you have savings for the fuel bills, the SRX is actually a really good seven-seater that looks great and is available with a 'proper' American muscle car engine.
.more...