Sant Angelo Family Campsite - Italy
Sant Angelo family campsite is located near Venice in Italy. The official address is Sant Angelo Campsite, Via F. Baracca, 63, 30013 Cavallino-Treporti VE, Italy. The Sant Angelo campsite is easily accessible by car and public transport. The nearest airport being Venice [VCE]. Although Verona (and therefore Verona airport VRN) is about a 2 hour drive away and Milan Malpensa (MXP) airport is around 4 hours away (by car).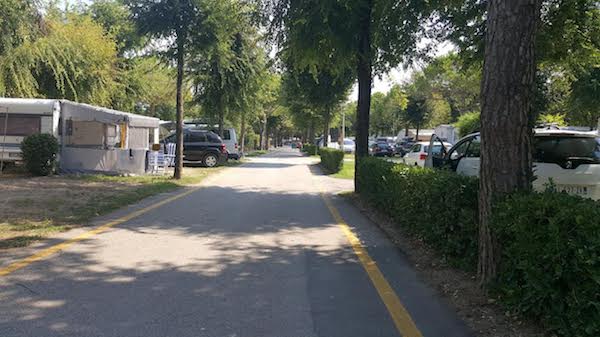 Pcitured above is the Sant Angelo Campsite area in Italy.
Swimming Pool Area
Sant Angelo campsite has some of the best waterslides of any Italian campsites I've stayed at. Although you will need to queue for around 5 minutes to use them (it was mid August). The waterslides were enjoyed by everyone in our family, especially the older children. Sun beds and parasols need to be reserved for your stay. This can be done at reception when you book in or at the pool bar once you enter the pool area. Our party were fortunate enough to always find unreserved sun beds at the back of the pool area and in the shade. A lot of people used towels to sit on around the pool. There is a large green area by the butterfly pool which many people used to set up for the day. By the butterfly pool there are two Jacuzzi's. The main pool bar has some amazing cocktails (around 6 Euros).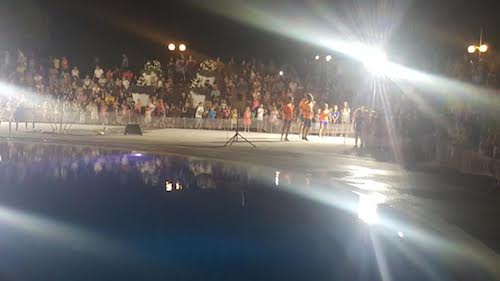 Pictured above is the Sant Angelo Campsite in Italy pool area at night.
Supermarket
The Sant Angelo supermarket has everything you would need albeit slightly more expensive than UK prices for ice-cream (around 5 Euros). The usual suspects of fresh pasta, pesto and tomatoes are in abundance. There are many food options to choose from if you preferred not to venture out of Sant Angelo campsite. There is a separate stall for wine (red, white or fizzy). On this stall you can self serve your wine (around 3.50 Euros a litre) into an empty bottle that costs 30 cents. On the same stall you can buy fresh fruit, vegetables and freshly squeezed orange juice. Just around the corner is another shop which sells rubber rings, camping equipment, cigarettes and some clothing.
Restaurants
The main restaurant on in the middle gave everyone in our party the choice of something they would like to eat. A litre of Prosecco at the table was around 11 Euros. My son enjoyed the chip shop pizza (sausage and chips on a pizza base). The pizza takeaway opens lunchtime and in the evening. Once you have made your order you are given a hand held device, which buzzes when your order is ready to collect. Our party enjoyed a variety of pasta and pizza dishes. The beach bar is a different atmosphere with cocktails, music and bar snacks (for example strawberry and cream pancakes).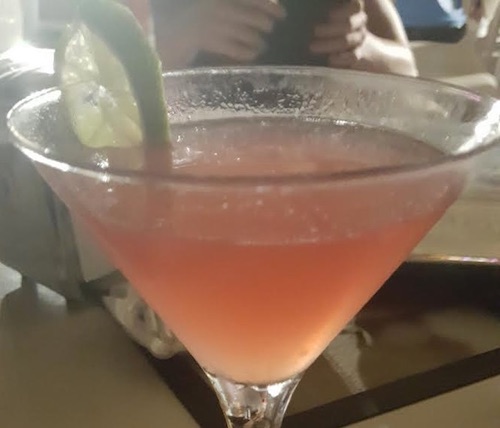 Pictured above is a Cosmopolitan coctail bought for 6 Euros from the Sant Angelo pool side bar.
Getting to Venice
To get to Venice from Sant Angelo campsite is very easy. Tickets can be booked at the tourist/information shop, which is in the centre of the park. The tickets are not time stamped so you have flexibility of when to go. It takes around 15 minutes to drive to the port, which is called Punta Sabbioni. It costs a few Euros to park, so make sure you have change. From Punta Sabbioni port you look for the Marco Polo boat. It is a large double-decked ship. This ship/boat will take you to the centre of Venice every 30 minutes. The return is also every 30 minutes. The boat (called Marco Polo) basically just goes back and forth transporting people between the port and Venice. The tickets were around 11 Euros each. So for the six of us (including a 12 and 13 year old) the cost was 66 Euros. Children are counted as adults when they are over the age of 10 years old. There are a few market stalls at Punta Sabbioni port and some cafes. We enjoyed some very reasonably priced ice-cream (1 Euro and 50 cents).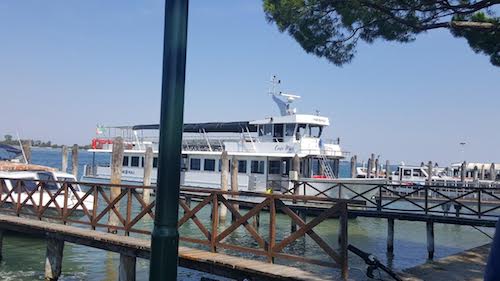 This is the Port (around 15 mins drive from Sant Angelo) where you can get to Venice in around 30 minutes by boat.
Venice
Our party visited Venice for a day. We walked around Venice experiencing the atmosphere without paying to go inside and see anything more. From the port it was a 5-minute walk to the main St Mark's Square (Piazza San Marco). There are many ramps (unlike 15 years ago when I first visited), which suggest an effort from Italy to make Venice more accessible for those less able to walk up and down the steps.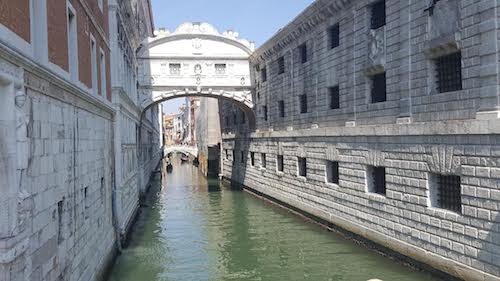 Pictured above is the Venice Bridge of Sighs.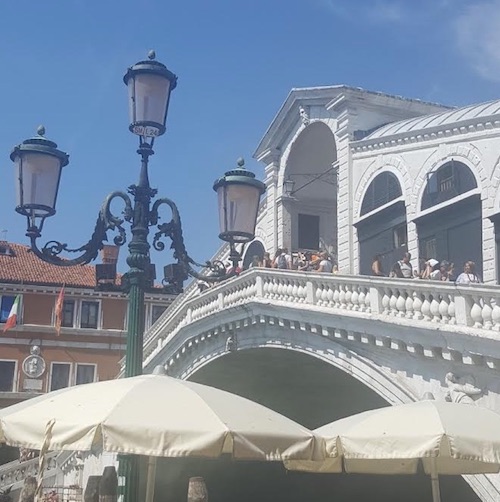 Pictured above is the Rialto Bridge in Venice. This is around 10 minutes walk from the main square.
At St Marks Square you will see Saint Mark's Basilica. Many people paid to see inside this building, we did not. There are options to uses tour guides but we didn't choose to. Walking around Venice and seeing the sights was enough for our party. Doge's palace can be seen clearly when you are on the Marco Polo boat just before docking. A short walk will take you to Rialto Bridge and the Bridge of Sighs. All sights are easily got to on foot and there are plenty of restaurants and refreshment options on route. There are also a huge variety of tourist market stalls selling Venice themed memorabilia. Our party spent 4 hours in Venice which was enough to see all the main tourist attractions and enjoy a leisurely lunch.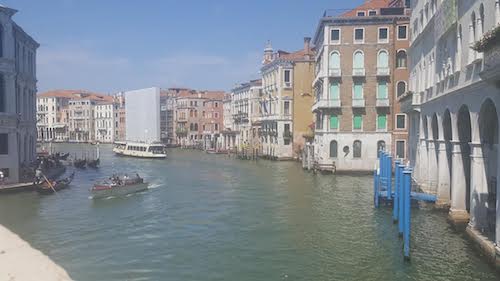 Pictured above is the main Venice Canal (picture taken in August).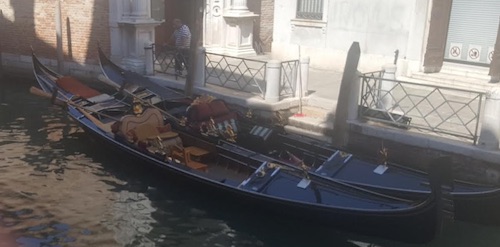 Pictured above is a pair of Gondala's in Venice (picture taken in August).
By the Beach
Sant Angelo campsite is minutes from the beach by foot. The campsite is organised like a grid so it is easy to navigate to and from the beach. There is a pool bar that has entertainment at night. It also sells alcohol, cocktails, snacks and ice-cream. There are showers on the beach to wash if you prefer to be sand free on returning to your cabin. There is a market stall on the beach that sells holiday clothing and the expected walk up and down traders offering jewellery and sunglasses.
Pictured above is the Sant Angelo campsite, onsite beach. This picture was taken during the August blazing sun.
Pool Bar
At night the pool bar comes alive. There are atmospheric lights shining from the pool (LED variations), dim lights scattered around the table. The waiting staff expect to take your order at your table but if you prefer going to the bar that's fine too. You will usually be billed at the end of the night. There is usually some form of entertainment either large or small. For example on two of the nights it was a small band (of two people) playing and singing songs with their guitars.
Accommodation
You can either book direct to stay at the Sant Angelo campsite or through affiliate companies such as Canvas or Eurocamp who own a certain number of cabins on the Sant Angelo campsite. Some of Sant Angelo's own cabins (white and on the beach) look amazing. Camping pitches are also available. The toilet and shower blocks are impeccably clean. Washing machine and tumble dryers are available and cost around 5 Euros each.
Mosquitoes
Due to its location (by Venice and on a marsh) the Sant Angelo campsite is prone to mosquito infestations so top up the mosquito spray. Every other day the Sant Angelo campsite gets sprayed with environmentally friendly mosquito repellent.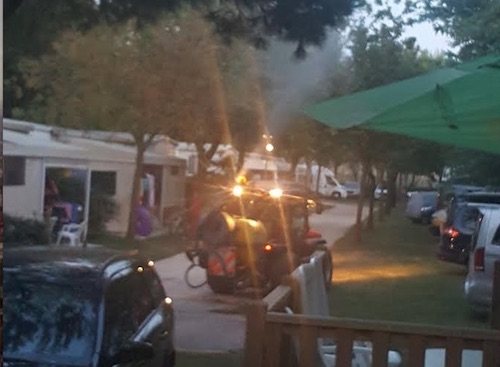 Pictured above is the Sant Angelo Campsite, onsite Mosquito sprayer, (the whole site was sprayed every other day).
The tractor meanders through the streets spraying the trees from side to side. There are announcements that warn you of its arrival. When it comes through children start running and screaming in excitement as if it was some sort of carnival procession.
Conclusion
Sant Angelo campsite has the perfect mix of pool side holiday with a nice beach you can walk to. There is enough variety of entertainment, eateries and bars throughout the site and as they are some distance from each other you don't get the feeling that you are on such a large site. Our party enjoyed three lazy pool days drinking and eating and one day in Venice experiencing the culture.
.more...