7-Seats for Heads of State
As a wave of democratic struggle continues to sweep across many parts of North Africa and the Middle East, we thought it would be worth taking a look at some of the options available to former sovereigns, presidents, prime ministers and tyrannical despots who need to get around in style, luxury and around a crowd.
The one we're most likely to see on British roads and probably the easiest to buy is the new limousine from Binz. Based on the Mercedes-Benz E220, this stretched chariot features the same basic specification as the CDI Elegance model from the German automaker.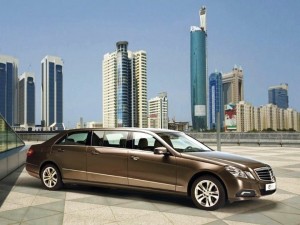 Limosine Binz pictured above.
The basic E-series chassis is stretched to provide room for six doors and eight seats. A full-size bench seat goes in the centre, a heavy-duty climate control system is fitted and self-levelling air suspension keeps everybody nicely isolated from the bumps and crashes on city roads.
The Binz limousine is considerably longer than the standard car and weighs more than two tonnes. It's quite remarkable, then, that the 2.2-litre, four-cylinder diesel engine can still manage to pull this thing along at more than 200kph.
Despite all those modifications, the Binz can still be serviced at any Mercedes-Benz dealership. This limousine comes with the full backing of the German automaker and a full factory warranty.
Of course, if you've recently been unseated by a wave of angry protest, you may have a number of concerns in addition to simply having had to move home. Protection against attacks may well be a major requirement of your vehicle.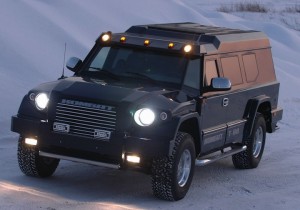 Kombat T98 pictured above.
Enter the T-98 Kombat, also known as the Combat T-98. Hailing from St Petersburg in Russia, this massive beast is based on components from General Motors and endeavours to combine luxury, bespoke specifications and serious defences against armed attack.
The Combat T-98 is produced in small numbers by the Combat Armouring Group, which has manufacturing facilities in Russia and Estonia. The 'basic' models are built to B6 armoured protection standard.
The company produces two versions. The VIP models are built on monocoque double-steel frames without separate chassis. A Utility model is also available for special operations applications.
There are two main models available – a hard-top and a wagon. They weigh between 3,750kg and 4,150kg, though this varies according to the exact customer specification.
An 8.1-litre Vortec V8 petrol engine producing 340bhp and a Duramax 6.6-litre V8 turbo diesel that generates 330bhp are available. Both vehicles have 300mm of ground clearance, making it easy to hop over kerbs, or perhaps even low walls.
The basic security equipment provided with the T-98 Combat consists of a fully-armoured body constructed of a metal-ceramic sandwich using cellular-filler technology.
This armoured body, combined with 50mm-thick glass means occupants should be safe from attackers using armour-piercing bullets fired from shotguns, as well as explosive mines.
While trying to avoid such heavily-armed attacks, anybody riding inside a T-98 Combat should be able to relax with the aid of flat-screen TVs, DVD video, and a plush leather-and-wood interior.
Meanwhile, the driver will be enjoying the assistance of satellite navigation, independent front suspension, a locking rear differential, disc brakes all-round and cruise control. The vehicle is available with 17-inch or 20-inch alloy wheels.
Of course, such unusual and adept specification does not come cheap. The basic luxury truck, which includes protection against a .357 Magnum, will cost around $140,000.
If you're expecting enemies to have a go with anything that fires the 7.62mm rounds favoured by Kalashnikov, you'll want to fork out $170,000 for the Hi-Pro model.
If you've really upset someone, you'll be looking at some of Combat Armouring's more pricey models. Unfortunately, to get a comfortable seven seats, you'll need to specify the long-wheel base model and make it clear that you are paying for all those seats.