Subaru Exiga – Australian
Subaru has not only added a new version of its popular Exiga model range, the Japanese automaker has also added an extra seat for its Australia model, meaning it's now a 7-seater with plenty of room in the third row.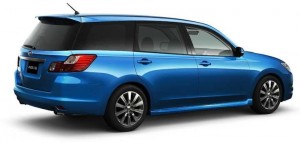 Subaru Exiga pictured above.
Responding to what the company said was popular demand for that seventh seat, the vehicle has been upgraded from a configuration that included two rows of two individual seats in the front and a bench at the back. In truth, it was a set-up that made little sense, so now Subaru has gone back to a more traditional 2-3-2 for its new line-up.
Adds a Seat
The Japanese carmaker appeared to be aiming for a niche market of slimmed down concept cars in developing its original 6-seater, but it's a difficult maneuver to pull off, not least because the 7-seater SUV market has exploded in recent years while the 6-seater market just feels like an unnecessary compromise.
Safety
In truth, it had more to do with safety for the Australian model than it did finding a market niche. In Japan, the Exiga has always come with seven seats, but the that fact it has only had a lap belt meant that Subaru ran the risk of losing its 5-star safety record in Australia. Now that problem has been fixed with the addition of a full lap-sash safety belt. This reconfigured design will be available from July.
Supersize Panoramic Glass Roof
Otherwise, the Exiga will largely remain unchanged. Buyers will still get the supersize panoramic glass roof, along with the theater-style seating, which includes a third row that is just that little bit higher. Indeed, there is a gradual elevation of the seating from front to back, so everyone gets to see the road from a decent angle.
Second Row Seats
The second row seats can be individually slid forward and backward, aiding access to the back row. There are also those trademark fold-down tray tables in the rear that make you feel like you are about to get served dinner by an air hostess. This is a great addition and something you'd expect all 7-seaters to offer.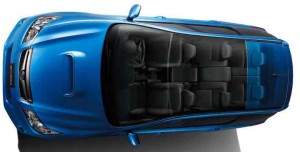 Subaru Exiga Interior pictured above
Safety
Safety-wise, the Subaru Exiga scores full marks as there are a host of features that minimize the impact of a serious accident. The front gets two airbags directly ahead and there are side-impact airbags for the first row too. For the second and third rows, there are side curtain airbags, plus anti-whiplash seats. Another nifty safety feature is the collapsible foot brake pedal, which is designed to minimize the risk of a serious foot injury in the event of an accident.
Extra Features
Other features include steering wheel Bluetooth controls, audio streaming, voice command and dusk-sensing headlights on the Premium model. Subaru has announced a small increase in price, but then there are much more impressive features available on this latest instalment. And surely the addition of an extra seat in the back means this latest model is significantly better value all round.