Suzuki Grand Vitara
Having ceased production in the UK in 2005, the Suzuki Grand Vitara is still a worthy seven-seater to take into account when you are looking for a larger car. The Suzuki brand is most notable for its high-revving motorcycles but it does have some very capable road cars, too.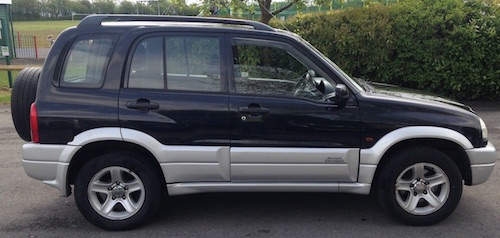 Suzuki Grand Vitara pictured above.
Aimed at Families
The Vitara has been a hit since the early 90s with surfers, thanks to the open-roof of early cars, and it was one of the first SUVs to hit the roads. Since early 2000, the Vitara was aimed at families rather than surf-dudes and that brought about the introduction of the XL-7. With seven seat vehicles being thin on the ground back then, yet again Suzuki were pushing the boundaries of what the market demanded and it's taken a good 10 years for other manufacturers to cotton onto the fact.
Purchase Price
The XL-7 was built until 2005, but it still has modern looks and many functional features that make it a contender today. Eight years ago the list price for an XL-7 was around £20,000 whilst now a second hand used model can cost as little as £2,000!!
Largest Engine
The 7-seat Suzuki comes with the largest and most powerful of engines, the 2.7-litre V6. It's one of the old-school diesels so it can be a little noisy and thrashy, but it's certainly effective. The Vitara is one of the most versatile of off-roaders. It has good ground clearance but it handles well, and has good damping, which makes the ride compliant.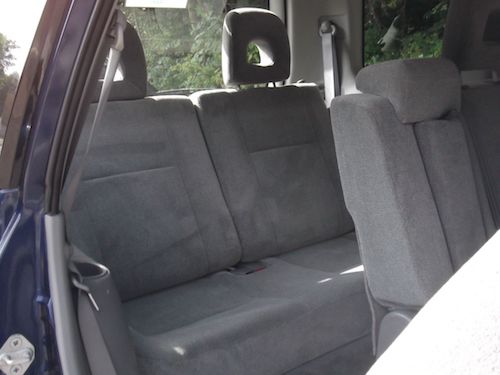 Suzuki Grand Vitara rear seats pictured above.
Performance
The Vitara XL-7 is equipped with twin airbags for the front passengers and anti-lock brakes, with electronic brake force distribution. It hits 103mph and reaches the 0-60mph benchmark figure in 10.2 seconds, making it a worthy on-road car too. The CO2 emissions are fairly high, at 285g/km CO2 for the V6, but if you consistently drive around with seven people on board, it can offset the emissions to a lowly 40g/km per person, which doesn't seem so bad.
Spaciousness
Inside, the Suzuki Grand Vitara XL-7 there is 1,492-litres of space although the access is fairly narrow. There are many additional cubby-holes and storage spaces to take advantage of, though. There is air-conditioning, and upmarket materials are found on the dash and seating, and there is a four-speaker CD/radio system. It's certainly not something you would associate with being six or more years old.
Equipment
The Vitara is well-equipped too, with power steering, remote-controlled central locking, electric windows and mirrors, as well as an adjustable steering wheel. Alloy wheels and a cool looking body kit make it an all-rounder, in terms of street-cred and keeping up with modern times. The optional roof bars means it's able to carry 46kgs on the roof, and makes for more load lugging capacity for the seven-seater.
Conclusion
If you want to save yourself a few bob and don't mind a car that is a few years old, then the seven-seater Suzuki Grand Vitara XL-7 is a great choice.
.more...