Swansea Lido
Today I went to the Lido in Swansea also known as Blackpill Lido Swansea, (Mumbles Road, Mumbles, Swansea SA3 5) in a 7‐Seater Car. Blackpill is just outside of Swansea, Wales. It is located beside Swansea Bay, about 3 miles south west of the city center. By driving a further 2 miles you will reach mumbles where Catherine Zeta Jones lives.

Swansea Lido Water Park
Cafe and an Ice-cream Shop
Swansea Lido is centered around an old seafront building, which was once a railway station. This is now a very popular café serving a variety of snacks and treats for all the family. Adjoining the café is a cabin serving chips and ice creams.
Electric Train
There is also a little train that runs from the Lido up the coast and back but unfortunately this wasn't running on the day I visited Swansea Lido.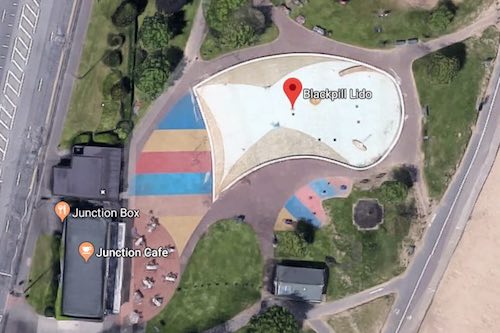 Swansea Lido Water Park
On the Beach
The Lido is on the coast so if you love beaches you could also spend a few hours on lovely golden beach which adjoins Swansea Lido.
Play Area
The Swansea Lido in Blackpill is excellent for children. There is a large children's play area including a climbing wall, swings, slides and numerous other children's play equipment. However the main attracting is the large, shallow pool area. My children played for hours.
Free Bar Parking
It is free to use Swansea Lido but parking is £1.00 for an hour; £2.00 for two hours and £4.00 for all day. I parked my car in one of the bays where someone hadn't parked over the lines. I walked with my two younger children across the busy road to the seafront area. It is only 5 minutes on foot to get from the parking area to the water park area.
Extras include
The bouncy castle was £1.00 per child for 5 minutes but the trampoline slightly more expensive at £1.50. This must account for the bouncy castle being extremely busy and the trampolines being very quite. However everything else was free and I took a picnic.
Great Day Out
All in all it was a great day out in my 7-Seater with my two younger children. If you are ever passing Swansea and want a cheap day out I fully recommend it. Take a Picnic to keep the cost down!