Concept Volkswagen Six Seater
Volkswagen's new Microbus (6-Seater), one of its most iconic vehicles the carmaker has produced to date, aside from the Beetle, has been turning heads during the 2012 Geneva Motor Show. The concept behind the Bulli was to produce a second generation of the classic Microbus with six seats in a modern-day design.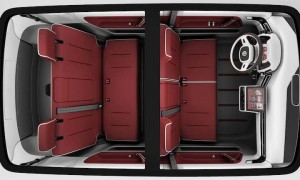 Volkswagen Bulli (6 seats) overhead view pictured above.
Volkswagen Bulli Six Seat Niche
Klaus Bischoff, Volkswagen's design chief, claims he designed the new Bulli to fill the niche for an MPV that people actually want to buy. The Bulli has the potential to become a cult production vehicle.
Dimensions
Its two-rows each has three seats, and the can is 1.75 metres wide, 3.99 metres long and 1.7 metres tall. The Bulli is a modern version of a classic people mover that was given the same name as the original 1950s Transporter 1. It has been revamped since the 2001 model, developed in VW's California studio, but has been redesigned to suit today's modern world. Technology offered in the Bulli includes an infotainment controlling iPad and a premium audio system.
Microbus
The 2001, Microbus never made it to production because the vehicle was too big for European roads. The new Bulli has been designed to be smaller, having the same length as a Polo and a width just over that of a Golf but still narrow enough to fit on European roads. Its exterior has been designed so its wheels are pushed right to the ends to create loads of space.
Electric Car
The stylish six-seater concept car uses a lithium battery pack and is powered by an 85kW electric motor. The vehicle can be charged in less than an hour and can drive for up to 300 kilometres. It can reach 62mph in 11.5 seconds and has a top speed of 87mph. The Bulli can also be fitted with a VW diesel or petrol engine.
Interior
The interior of the Bulli is beautifully clean with its rear three-seat bench that can be folded flat to make a double bed, fantastic for camping and summer festivals. The stowable rear seat can also be folded down to increase the load capacity to 1,600 litres.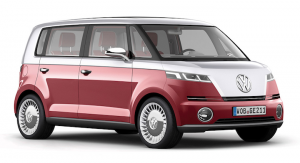 Volkswagen Bulli (6-seat) pictured above.
Launch Date?
This concept car already has the green light to start production and is very likely to be launched in three or four years. It will be VW's fifth brand of people carrier in addition to the Caddy, Caravelle, Touran and Sharan. It will be made to be a longer version of the Golf Platform (MQB), the next generation Touran or possibly use the set-up of the US-market Passat.