Vintage Seven Seaters
Sure you can go online, do some research, check reviews and drivers' feedback in online forums and watch Top Gear to find the best seven-seater but what if you want something a little different? What if you're the kind of motorist who really wants to make a splash while carrying six or seven people?
Well, if you're wealthy, you can go vintage. Be warned, however: in this case, 'wealthy' does not mean you retired with £200,000 in your stock-market portfolio and a house worth a million pounds.
Oh no. In this case, you'll probably need to be jostling for place with multimillionaires and billionaires. You see, for seriously classy, vintage seven-seaters, you're going to be looking at some of the cars that were considered the most exclusive rides of their day.
Mercedes–Benz produced a series of Über-elite touring and sports cars in the 1930s. With numerical designations that ranged from 200-series to 500-series, these incredible luxury motors were the Ferraris and Lamborghinis of their day. They come from the same era that brought us the legendary performance and technological innovation of the Silver Arrows.
At the top of this performance-car dynasty sits the 540K model. First built in 1935, the 540K was in production for five years.
Though many of these huge, high-performance beasts were clothed in bodies designed by Freidrich Gieger, it was common practice at the time for wealthy customers either to have their cars custom rebodied by bespoke coach-builders or to order their cars minus body, so that one to the customer's personal choice could be fitted by an external body supplier.
The K in 540K stands for 'Kompressor'. German for supercharger, this represents the ultimate in German supercar from the 1930s.
These supercharged Mercedes-Benz engines produce a lot of power, as well as a characteristic whine. They needed that power, however, as these were not lightweight cars.
The majority of Mercedes-Benz 540Ks were fast-back style sporting models with two doors and seating for two or four people. These are amongst the most common models found today.
When they occasionally come up for sale, 540Ks in good condition command painful prices. At a recent auction, a cabriolet in excellent condition fetched more than £400,000. In recent years, models have changed hands at prices in excess of a million pounds.
If you're thinking of tracking down a garage find and having it restored yourself, you might want to think again. The cost of restoring just the chromed parts of a 540K can set you back £30,000. Even small parts, like a distributor cap, can cost more than £1,000, and that's assuming you can find one.
An even bigger challenge, however, is finding the limousine version. Mercedes-Benz produced just 419 540Ks and 342 500Ks in the model's five-year production run.
The vast majority of these were smaller cars. Well in excess of 600 the models sold were cabriolets of one form or another, whereas the seven-seat limousine model had a fixed roof.
The super-wealthy amongst you need not fret yet, however. You have other options.
If you want to stick with Mercedes-Benz, there is at least one other noteworthy model from the inter-war period. Known as the 'Grosser', the Mercedes-Benz 770 was the most expensive passenger car available. In keeping with a great tradition, the price was published simply as 'available on request'.
With four doors and seating for seven or eight people, the Grosser certainly lived up to its name (actually written Grosser in German and meaning 'grand' or 'big'). The engine was huge, though at 7.7 litres by no means unusually so according to the standards of the day.
Unfortunately, looking to buy a Mercedes-Benz also means looking to spend a huge pile of money. Many 770s have histories that put their value above and beyond the simple technical interest of a vintage automobile.
Even the later models from the 1940s, which share none of the exterior beauty of the early 770s, sell for six or seven figures. In the last five years, news reports have spoken of at least one 770 linked to Hitler trading hands for more than $6 million.
For something a little closer to the 'budget' end of the historic Mercedes-Benz seven-seater range, you need to look at something produced after WWII. Available in short-wheelbase and long-wheelbase variants, the modern Grosser, the 600, was at one time, the top choice of the world's truly rich and powerful.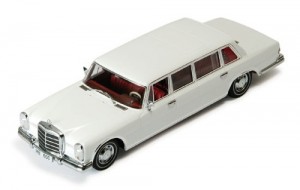 Mercedes Benz 600 pictured above.
From the New York City, to the Bahamas, Paris, Berlin and probably every banana republic in Africa, if you were really a member of the elite, you would own at least one Mercedes-Benz 600.
Again, this is a limousine. It is big, heavy and conspicuous, so few people are likely to consider using this for the daily commute between school, football and supermarket.
However, with its legendary Mercedes-Benz build quality, an extremely smooth and quiet 6.3-litre V8 engine and a plush carpet-like comfort from an adjustable air suspension, the 600 is truly a ride fit for kings.
Despite its incredible quality and original cost, the 600 remains a rather unloved classic. The potential cost of restoration or maintenance puts off a lot of people so today, some 40 years after it was made, the 600 can actually be almost an 'economical' option for prestige seven-seat motoring.