Jeep Commander – 7-Seater With Attitude
Jeep has a long history of producing rugged, off-road vehicles that are uncompromising and with the notion of practicality comes first and looks come last on the priority list. Nowadays, the ugly looks have been smoothed off and more rounded edges to the vehicle can now be seen. There is still a distinct 'get-out-of-my-way' attitude to the Jeep Commander, but it's far easier on the eye.
With seven-seater cars becoming more and more popular as people need larger cars to haul their family and friends around, car manufacturers have been scrabbling away at designing or redesigning their models to fit with market demands.
Jeep's Commander commands attention on the roads, which is all too important nowadays, and that big, gaping chrome grille gives it a mean look too. There is an excellent four-wheel drive system (the Quadra-Drive system) which has been tweaked over the years, but as in the case of the Land Rover Defender, "if it ain't broke, don't fix it". The drive train and typical Jeep look are unmistakably from the US manufacturer, but it's inside the Jeep Commander cabin that has seen the most changes, and for the better, too.
From the outside of the Commander, you see chunky, robust edges and the same goes on the inside. There are chunky seats that hold you well, but are comfortable for long-distance driving. With a cleverly placed sunroof, the cabin is light and airy, and the tones of the light interior add to that. The feeling of space, and there is plenty of it, adds to the no-nonsense appeal that it demands. The centre console is uncluttered and the important switches are ergonomically placed.
It's a seven-seater as it has two extra seats in the rear boot space. There is still over 212-litres of boot space when all of the seats are occupied, something its competitors can only dream of. If you need a van to carry lots of things around, then simply fold down the middle and rearmost seats, and you open up a football pitch of space - an enormous 1939-litres.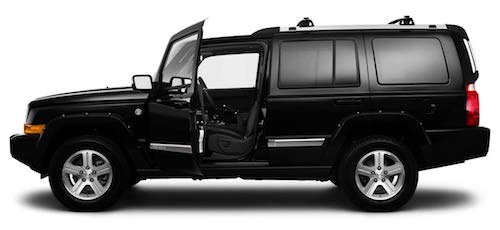 With sturdy suspension the Jeep Commander can quite easily hold seven people and still retain a decent ride. It hangs onto corners keenly and never feels as tall as it actually is - which adds to the driving appeal and confidence in the turns. If you're becoming intrigued by the Jeep, what about if you found out that it's powered by none other than a Mercedes Benz engine! The 3.0 diesel has 215bhp, has a top speed of 119mph and gets to 60mph in just nine seconds. That's the icing on the cake in terms of reliability. It's safe too, with ABS brakes, front and side air-bags for all three rows of seats and rear parking sensors.
There are a few downsides to take in, though, it will only return 26mpg, which is dismal compared to Ford's S-Max (53mpg), and it is in group 14 for insurance. If you can forget about the expense, it's jam-packed with goodies, such as DVD players, privacy glass, alloy wheels, parking assist, dual-zone air-conditioning and heated seats. If you're looking for something a little different in your seven-seater, then Jeep Commander could well be an option.
Related Stores and Reviews