Daihatsu Terios
Second Hand/Export 7-Seater
As with many manufacturers around the world, there is a joint-effort on many cars or at least, chassis, which leads to many models being sold that are copycats or replicas of one another. The Daihatsu Terios is the next generation of the Malaysian-made Perodua Kembara, which never came to the UK, and it not only blows it out of the water, but it adds two extra seats making it a true seven-seater, and looks smart too.
Nearly 15 years since it was first launched, this people carrier remains a benchmark by which other compact, inexpensive SUVs are marked. Looking decidedly like Toyota's popular Rav4 and with many parts borrowed from the world's leading automaker, this is a budget people carrier built with a core of quality parts.
Pricing
If you can find a Terios for sale, then you're in for a treat. As with many models that are sold predominantly overseas, the prices in the UK are cheap and with interchangeable parts from Perodua and Toyota, it isn't too difficult to find replacements. As an example, prices range from under £1,000 to just under £10,000.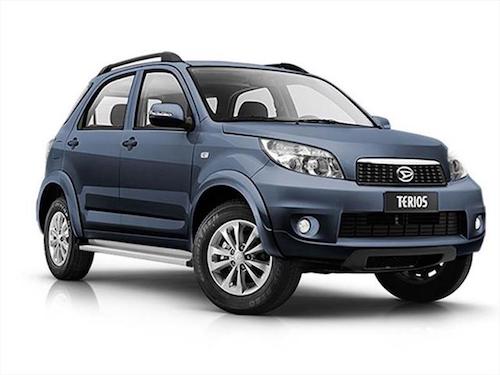 Daihatsu Terios pictured above.
Design
The design is similar to the Suzuki Jimny and not quite as large as a Toyota RAV4, and fits nicely in that niche. The length of the Terios has been increased to add legroom for the rear passengers, which totals 85mm, and that means the rear passengers sit over the rear axle, which just about helps keep the suspended weight within the driven wheels, aiding its handling.
Space
Much of the space that is lost due to the Daihatsu Terios small frame is made up in height which gives it a compact, sporty feel. Still, Daihatsu has widened the chassis since the first generation rolled off the production line in 1997 adding vital extra space. Now the dimensions are just about right permitting up to seven passengers while allowing easy access to those cramped parking spaces that make it ideal for the city.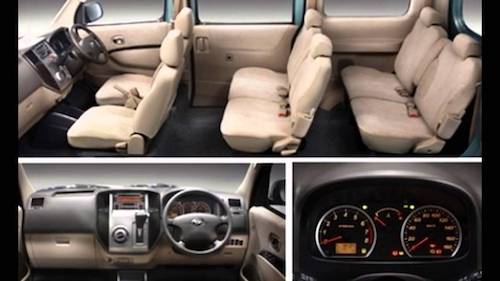 Daihatsu Terios seating view pictured above.
Four Wheel Drive
While the five-seater was a good off-roader and had chunky, cool looks, the seven-seater Terios is a little softer looking, to be used mainly on the road and has a little more sophistication. The ground clearance is 200mm, which can be a difficult step-up for kids, but it does help if you're heading to a campsite and it's 'boggy' from good-old British weather.
Drivers that like their 4x4s chunkier, quicker and more expensive will no doubt baulk at the Daihatsu Terios. And that's the idea. With only a comparable diesel model the missing ingredient, this is an SUV that hits all the right notes when it comes to green driving.
Rear Wheel Driven
The Terios is driven by its rear wheels, compared to full-time 4WD of the smaller version, and that helps keep the overall kerb-weight down with the added seating and stretched chassis. The rear seats are removable, giving a reasonable 600-litres of space without them. Space is tight with all of the seats in place, though.
Appearance
Inside the cabin, there are electric mirrors, sunroof and windows, air-conditioning and many storage bins for your gear. The seating position is high, which aids viability, but it does add to a high center of gravity that doesn't inspire confidence in the handling. The plastic dash is a real let down. On the outside, there are chunky bumpers, colour-coded door handles and mirrors, as well as roof rails, a rear spoiler and fog-lights. There are smart 16" alloy wheels, which fit the overall look perfectly.
Performance
On to the engine: It's a 1.5-litre engine that is seen in almost all Asian car manufacturers. Developed by Toyota, it has 103bhp and 99lb ft. of torque. It's economical but can sound a little strained if you're lugging lots of gear.
The 60mph benchmark figure comes up in 13.6 seconds, so it's not as sporty as the five-seater, but for driving around towns and cities, it's reasonable.
Top speed is 100mph, so it can be a little noisy at motorway speeds, although be warned, its slab-sided body can catch side-winds and being so tall it can feel like it's on its tiptoes.
Conclusion
The Daihatsu Terios MPV is economical in terms of both cost and emissions with a frugal 1.5-litre engine that takes a while to get to 60 miles per hour – just over 13 seconds – but delivers a reliable ride with 2WD and 4WD models available. While other 7-seaters guzzle gas with a look and feel that screams minivan, the Terios is a much more efficient SUV all round. No wonder this vehicle has been a hit in markets as diverse as Southeast Asia and Europe.
Related Articles