Fiat Doblo Family
Amazingly, the Fiat Doblo Family offers seven seats for under £13,000. This Doblo commercial van has been softened up and called the Family, putting its practicality and people-carrying skills into practice. The Dynamic and Eleganza have the option to purchase the 7 Seater Family pack.
Postal Van Look
It's classed as the cheapest seven-seater car on sale today and although it still looks a little like a postal van, there's no doubting it can carry lots of people and luggage with ease.
Its Got Height
This tall, slab-sided vehicle gives an airy feel inside and allows tall passengers to fit in all seven seats with ease. The driver has a huge wall of glass through which to see everything in its path, providing the driver with confidence when driving. The slightly tinted rear windows give privacy to the passengers in the rear and can be helpful when carrying items of value.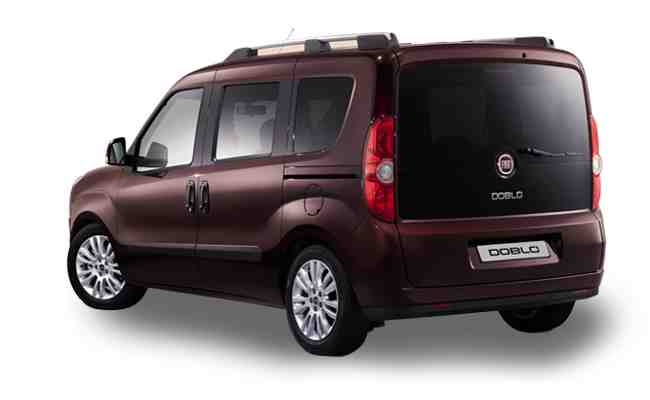 Fiat Doblo pictured above.
Although seat six and seven are comfortable for adults, they can be uncomfortable on long journeys, and unfortunately they restrict any boot space. With only five seats upright, the boot is very large, and with only the driver and passenger seats intact, it suddenly turns into a commercial vehicle of tremendous load-lugging qualities. It's a shame that the seats are bulky and heavy, making removing them a hassle.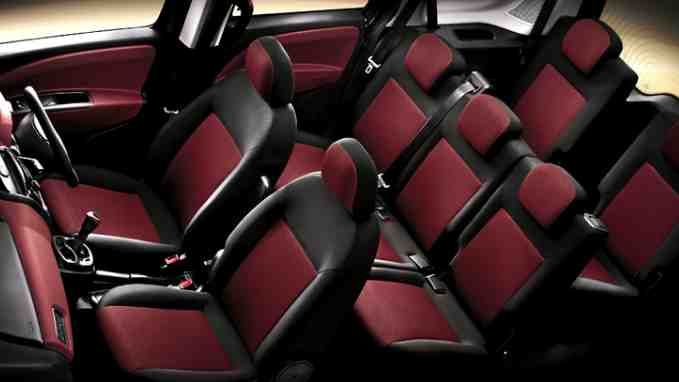 Fiat Doblo interior pictured above.
Now with Sliding Doors
The sliding rear doors are welcomed for tight car parking spaces but then Fiat has tripped up with the rear tailgate. It is huge and opens upwards, meaning that you can't park near walls or open it in car parks. There is the option of split-rear doors at an additional £100 which helps this cause.
What Standard Equipment?
The low cost price means that standard equipment is sparse. Almost everything is an option, from air-conditioning (£650) to £200 roof bars. If it is being used as a people carrier and a work horse, then the spartan interior might suit, but it's a good idea to go over the options list. It's a no frills, bargain seven-seater at its best and with Fiat finally upping its game in the reliability sector, maintenance is one less worry.
Engines
There is one diesel engine that is nippy when in a city, but a little strained when it comes to motorway driving. The 1.3 Fiat MultiJet is a good little runner but add in weight, people or a full load and the performance figures suffer. The 0-60mph is 15 seconds or 17-plus seconds when carrying weight.
Thankfully, the engine gives a smooth power delivery and it's as frugal as you can get in terms of other seven-seaters on the market. Surprisingly, it is quite grippy in bends. Yes, there is plenty of understeer due to the soft suspension and the incredibly high centre of gravity, but it does grip well even on those skinny tyres.
If you can forget that it looks like a commercial multi-drop van and think of it as a car with a purpose, then you'll love the practicality and more importantly, the price. Those with large families or a need to carry lots of people around have finally got a car that ticks all the boxes without needing to spend £25,000-plus.