Fiat Multipla Six-Seater
Fiats Multipla six seater is based on the Fiat Bravo, but is much roomier inside with its two rows of three seats. Unlike most conventional cars, the Fiat Mulitplahas an extra front seat so it can take you and five of your friends on a comfortable drive. It is an extremely practical compact MPV, and it is safe.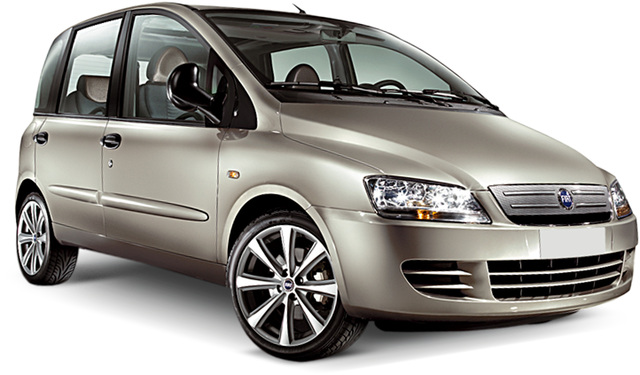 Fiat Multipla pictured above.
Purchase Price
This unique-looking vehicle's base model is the Dynamic Family, used to sell new for £15,030. It came in Rock n' Roll Blue with blue cloth seats and black fascia trim, and features such fancy fixtures as heated mirrors, ABS brakes with EBD, and radio/CD player with six speakers. Second Hand Multipla's can in some cases be as low as £1,000.
Interior Seating Flexibility
All six seats in the Multipla fold separately so driver's can configure the car according to their needs. The middle front seat also folds down into a table or can be completely removed to fit large items. Rear seats can be folded down or completely removed to create a flat boot, offering 1,900 litres of load space.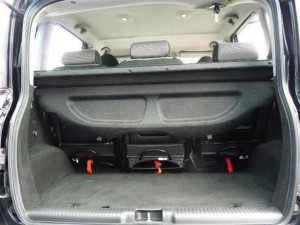 Fiat Multipla Boot Space pictured above.
Interior Space and Storage
The doors on the Fiat Multiplaa six-seater are large enough so that everyone can get in and out easily, and once inside, there is plenty of leg room. Storage is available throughout the entire interior, as there are plenty of door bins, cubby holes and cup holders as well as space above the windscreen and in the glove box.
5 Euro NCAP Crash Rating
This is one of the safest compact MPVs available, and it has a level 5 Euro NCAP crash rating. There are six airbags to keep everyone safe inside, as well as traction control and electronic brake force. The fascia has been ergonomically designed so that all controls are within easy reach and sight, and the steering wheel height can be adjusted to ensure the driver is comfortable.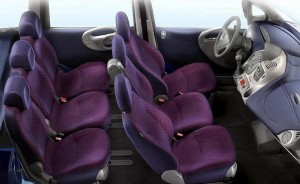 Fiat Multipla seating pictured above.
Three Great Multipla Models
Multipla's standard Dynamic Family model has a 1.6 litre 16V engine with 103 bhp and level 4 Euro emissions status. The Dynamic Plus and Eleganza both have 1.9 litre multi-jet engines that have 120 bhp and a total combined fuel consumption of 43.5mpg.
The Dynamic Family is the base model, while those that opt for the Dynamic Plus or Eleganza will get plenty of extra features. These include a wide selection of metallic paint colours, automatic climate control, an alarm system and front and side airbags. The Eleganza also comes with reverse parking sensor, window airbags, steering wheel controls and 15" alloy wheels, making it the safest of the three models and the best choice for families.
Multipla Unique Extras
Everyone has different needs, and Fiat understands this. As a result, the Fiat Multipla has many optional extras that many other MPV manufacturers do not offer, making it a truly unique six seat car.
A sports kit, complete with spoiler and side skirts, is available for those that want to spruce their Multipla up a bit. Those that go on plenty of daytrips can also purchase a refrigerator, which fits where the extra front seat would be, an internal bike carrier and a ski carrier, and you can even purchase a dog guard.
.more...