Multipla Car of the Year
On its release in 1998, with its striking bubble-like front windscreen the Multipla claimed the Car of the Year award and although it had suspect design qualities, it was and still is one of the most practical and usable six seat MPVs on the market.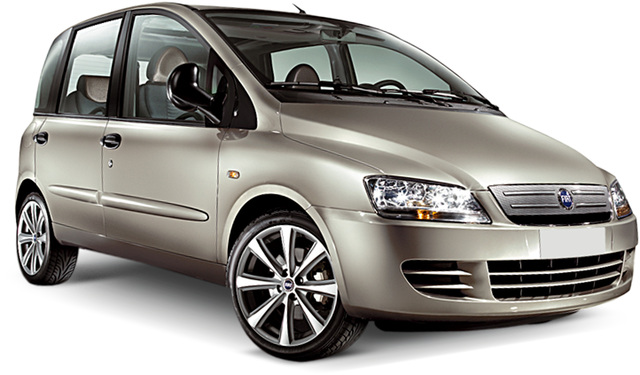 Fiat Multipla pictured above.
Based loosely on the Bravo/Brava floor plan, it is surprisingly huge inside and can fit five passengers and driver with ease. It has two rows of three seats. It maintained popularity for more than a decade since it was first launched in 1998.
Purchase Price
New prices ranged from £15,030 to £19,255, although the recommended model is the 1.9 Multijet Dynamic Plus or Family, which cost around £17,000. Sadly it is now only available second hand. Prices direct from the used section of the manufacturers website are around £8,000 but it can be bought for as low as £5,000.
Tax Band (VED)
This Six-Seater falls into the G tax band, which is common for a vehicle of this size and weight. It does mean that it isn't the cheapest to tax every year, but it's frugality, versatility and relatively low cost price make up for it.
C02 Emissions
Just failing to dip under the 150g/km CO2, the Multipla 1.9 diesel engine that powers most of Fiat's oil-burner fleet pumps out a reasonable 164g/km CO2. Fiat still have some way to designing and churning out more eco-friendly engines, but those CO2 figures have been on a decline over the past few years.
Safety Ratings
It's one of the safest MPVs in its class, with a Euro NCAP crash rating of 5, and it comes with a whole host of safety features, such as seatbelt pre-tensioners, ABS, traction control, six airbags and electronic brake force distribution.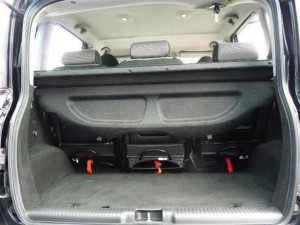 Fiat Multipla Boot Space pictured above.
Insurance Group
Despite a high insurance group (19D), the Fiat Multipla makes up the expense with excellent fuel economy, 45.6mpg on average, and that multi-jet engine barely sips any diesel when driven economically.
Comfort Levels
Comfort levels are very high in the Fiat Multipla, with soft, arm chair-like seats and good access from the wide-opening doors, it's much more comfortable than a Zafira, for instance. The driver has excellent visibility from sitting up high in the cabin, but that does have an affect on its handling and it can seem a little too tall and uneasy in the corners.
Surprisingly for a company that owns one of the most lavish and extravagant car companies, Ferrari, that it's own models feel cheap and have quite ugly interiors. The plastics are very 'scratchy' and don't have the sheer quality of a VW or the ergonomic design of a Ford, but everything does work as it should.
Performance
The performance isn't going to blow you away, nor do the engines have enough grunt to dispatch inclines with ease. The benchmark 0-60mph time comes in at around 12.2 seconds and with only 120bhp on tap, it's one of the slowest in its class. The diesels are frugal but they sound strained when worked hard.
The sporty incarnation of the Multipla comes in a 1.6-litre petrol version or a 1.9-litre turbo diesel model, both of which strike a good balance between power and fuel efficiency. The latter boats an impressive 43.5 miles per gallon compared to 32.8mpg for the petrol option. Acceleration-wise, it gets up to 60 miles per hour in just over 12 seconds, a respectable pace for a vehicle of this size, and reaches a top speed of 111mph.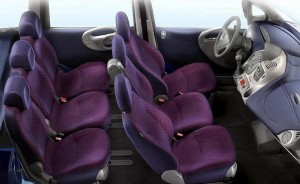 Fiat Multipla seating pictured above.
Second Series Facelift
The Multipla's original short, fat design meant there was plenty of space for two rows of three seats, with most of the short length made up for in height.
The second series has undergone a facelift, meaning its slimmer with less of a capsule feel at the front. The result is a 6-seater that has been voted car of the year on a number of occasions in the UK around the turn of the millennium.
Conclusion
With such a high center of gravity, the Multipla isn't comfortable on long, sweeping bends that we have in the UK, but around town, that high-up driving position does come in handy. There is quite a lot of pitching and diving when braking, due to the soft suspension set up, but that is the trade-off for having a comfortable ride during normal driving conditions.
Since winning Car of the Year, it has been ingrained in people's minds that if you want a practical car, buy a Fiat Multipla. There are cubbyholes, door bins, a huge boot and acres of room in there. Even with all of the seats full, there is still luggage room. Tall people have plenty of room in there too, with good leg and headroom.