Fitting Car Seats
It's not just choosing the right Car Seat for your child that counts; safety for children travelling in a vehicle also depends on fitting it correctly. Get it right and your child will be as safe as can be, but get it wrong and the protection offered by the child seat all but evaporates.
Place Seat in rear of Vehicle
Most experts recommend that parents always place the child in a car seat in the rear of the vehicle, a rule that is commonly ignored by parents who feel their child is safer when strapped in next to them in the front passenger seat. When it comes to safety seats for children, however, out of sight certainly does not mean out of mind.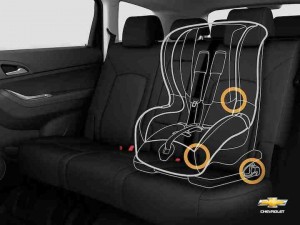 Airbag Concerns
The back has been found to be considerably safer. If, however, you insist on restraining your child in the front, make sure to never place a rear-facing seat in this position. In the event of an accident, the airbag would blow up on the back with considerable force, sending your loved one hurtling head-first towards the back of the seat. This can often be more dangerous than the crash itself, especially given that airbags can go off with very little impact.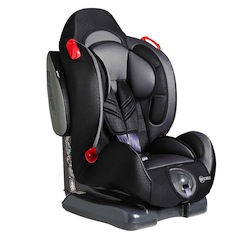 Isofix and Keep Instructions
If you have opted for an ISOFIX seat, the attachments will be standard, meaning fitting should be fairly self-explanatory, particularly for Group 1, 2 or 3 seats where parents will have had a good deal of experience dealing with these connections before. With any carseat it makes a good deal of sense to take a look at the instructions, so never throw these away. Keeping hold of instructions also means you can always sell on after your child has grown out of it, a rapid occurrence given how quickly most children grow up!
Seatbelt Safety
When fitting using the adult belt, be sure that the seatbelt passes through all of the guides on the child seat itself. If one is missed then the effectiveness adminishes considerably and more wear and tear is put on the belt, itself a danger over the longer term. Often seats will also have alternative routing, which can be handy when the belt is too short.
Properly in Place
It is best to push your weight into the child safety seat at the same time as tightening the seat belt, which should guarantee everything is properly in place. If there is any slack in the seat belt it is not fitted properly and there should also not be any forward or sideways motion. Another thing to avoid is buckle crunch, which is when the belt is resting on the frame of the seat.
You could always ask
If you are still having problems with fitting , make sure to get extra help, which can usually be provided by the manufacturer. Many brands offer help on their websites or even by telephone. If you find you have to modify any part of the arrangement, you are probably doing it wrong, so it's always best to ask.