Honda Odyssey
If there is one MPV that gets that balance between sleek and spacious just right, it is surely the Honda Odyssey 7-Seater. But it wasn't always this way. The original version, which came out in 1994, looked like a station wagon with plenty of space but a bulky rear and an unflattering front end.
Purchase Price
Prices start from under £1,000 and go up to around £6,000.00. Sadly this is only available as in import or second hand.
Fourth Generation
The fourth generation is anything but bulky. It looks like a stretched sports car with its sporty chrome wheels, sleek front and aeronautical-style windows that slope all the way to the hatchback rear. Its headlights, which are long and narrow, help add to the feeling that this is anything but a family car, but of course, it is.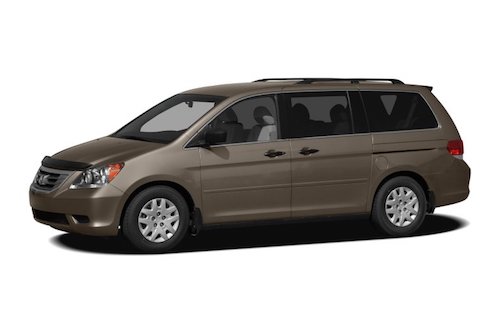 Honda Odyssey pictured above.
Larger MPV
Inside the configuration is a standard 3-3-2 with more than enough space even in the back row, and like most seven seat vehicles these days, the back two rows of seats fold down. In older models they can be completely removed. The Odyssey is a much bigger vehicle in the US than the model released in Japan, the UK and across Europe. In the US it has a rear that seemingly goes on forever but otherwise, it's compact and excellent value for money for the amount of interior space and car you get for your cash.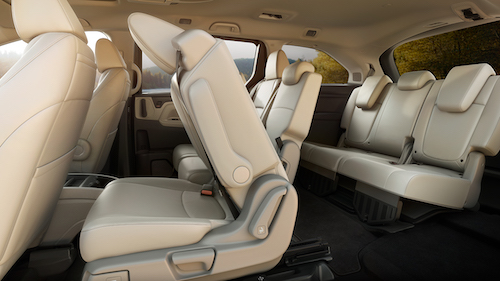 Honda Odyssey seating view pictured above.
1995 Car of the Year
Clearly, the Odyssey is doing something right, as evidenced by the positive reviews it has received as far back as in 1995 when Wheels magazine named it 'Car of the Year. By 1997, it became a faster new seller than even the celebrated Civic after Honda sold some 300,000 units in its first three years of production.
Extras
With the latest 2012 version, (available as import only), there are even more improvements. In a number of markets, Honda has reduced the price while fitting satellite navigation and a reversing camera to the standard model. These are the most significant changes alongside a few extra welcome features, including gearshift paddles on the steering wheel.
Handling
Otherwise, the Odyssey keeps on with what it has been doing so well now for more than 17 years. It looks sporty and dependable, almost Civic-like in fact, with five doors and plenty of space inside, particularly in the two front seats. Notably, its handling is a revelation for a car of this size and stature. It is very similar to that of the much tinier Honda Civic.
Engine Performance
The standard engine is a powerful 2.4-litre i-VTEC which delivers decent fuel efficiency in two-wheel and four-wheel drive. Again, this points to how well Honda has done in balancing the needs of a vehicle designed to transport seven people with the increasing calls for lower fuel consumption.
The Honda Odyssey doesn't need a bigger engine to do what it does so well so why put in anything bigger? It ranks among the fastest in terms of acceleration in its segment and on the motorway; it gets close to 30 miles per gallon, which for its class is again near the top of the class.
Conclusion
The pluses here are obvious. The Honda Odyssey is a great family vehicle, or an estate, for those that really just want to drive a saloon. You can't say fairer than that. Importing is the only option for buying new. But if your really after a cheap vehicle with seven seats then you could really pick up a bargain if you choose this mode.
.more...