Hummer H2
The Hummer H2 is a beast of a car. In fact it's one of the most aggressive looking cars in the world, yet is becoming more and more common on UK roads, thanks to limo-Hummers and the rich and famous buying them. The military-inspired vehicle comes with seating for seven and thanks to the rugged bodywork and stocky stance; it's one of the safest seven-seat vehicles around.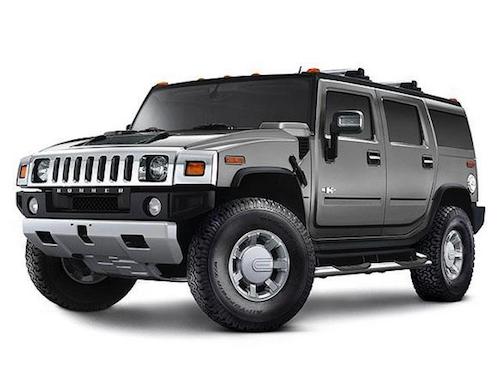 Hummer H2 pictured above.
Purchase Price
This passenger vehicle is not cheap. Prices start at just under £50,000 and with high fuel, Car Tax and Co2 emissions nothing else is cheap either.
Instantly recognisable, and in fact the only Hummer that has the brand name written in the grille, the Hummer H2 is a monster of a 7-seater. The standard version is a 6-seater but then there is a 7-seater available, although this is no ordinary vehicle in that class.
Styling
Although the styling may not suit a school run, it has a panache that is difficult for other manufacturers to follow. It will definitely turn heads, that's for sure. Surprisingly, there isn't that much room inside, especially with seven on board.
Ground Clearance
The ground clearance in the H2 is high too, so it's better for seven adults rather than trying to clamber in and fit babies in seats. Parking is very difficult too, with the high waistline and poor rear visibility, and get to know the dealer, as you'll be asking for rear brake light lenses regularly.
Headroom
Headroom is poor also, so that's seven small friends then, and fuel economy is also very poor. With a lusty 6.2-litre V8, it sounds good, but with fuel prices being in such a lofty position it's best to trickle around towns and be light on the throttle. That sounds like lots of bad points, but inside, once you've ducked, the cabin is a great place to be. The seats are comfy, the dashboard is ergonomically laid-out and the switchgear is very good.
Additional Options
It's best to select a few options when buying this People Carrier, such as the DVD player which doubles as a satellite navigation system, MP3 player - and traction control is a must. With an effective four-wheel drive system, the Hummer is best off-road and little can beat it, bar a Land Rover.
Driving Off-Road
The dual range transfer case, drive by wire throttle and rear differential locker that is accessed from within the cabin back up the fact that if you're heading off-road then the Hummer will be a great asset. For UK buyers, that means that if you're heading to the rural parts of Wales or Scotland, on caravan parks or camping in the hills, it's one of the best vehicles to buy. Although there isn't much luggage space, there are roof rails and storage bins aplenty for all your stuff.
Good all round ability
If you're heading off-road then the 10" ground clearance and stocky stance really help. There is little body roll and the rugged suspension pummels rocks and boulders into submission. It might be difficult to park in the city, but it certainly beats a Zafira or a Grand C-Max for all-round ability. Although the H3 Hummer is out now as well, which is slightly shorter and more urbanised, the H2 still remains the choice vehicle.
Lower Fuel Costs with LPG Conversion
Although it may seem silly, an LPG conversion in the Hummer H2 would be a good addition. At more than half the price of a litre of fuel, liquid-petroleum gas can really help the miles-per-gallon figures. Of course, there are other seven-seaters available, but few are as show stopping as a Hummer. If you like to be a little different, then the H2 certainly fits the bill.
Safety
In other words, if you're trying to save on your petrol bill, or save the planet for that matter, the H2 is probably not for you. But its other features bear thinking about. Although not proven, many engineers believe the H2 to be safer than other vehicles in respect to the danger of overturning.
It also boasts a light duty truck frame meaning it's unlikely to come off second best in a collision.
Conclusion
A 4WD vehicle with plenty of power under the bonnet, the H2 is a smooth, classy ride. It has got good handling, handles bumps like they're not even there thanks to the independent suspensions and there is a whole lot of space throughout the interior. It also comes with a high-quality BOSE premium sound system as standard. It's an American icon and something of a status symbol in many parts of the world, but it's a comprehensively engineered vehicle.
.more...