Hyundai i800 2008
In fact, the Hyundai i800 can carry eight people and luggage, and still return a decent amount of fuel consumption. The all-new i800 was launched in the UK in 2008, but it still seems to be a rare sight and only really used for large taxi duties from airports. Although it looks like a mini-bus, it is actually a very well-equipped car and deserves some more publicity than it gets.
Hyundai still struggles to really grasp the UK car market, despite having some excellent models that are good-looking, practical, come with a five- or seven-year warranty, and are cheap to buy. It's unfortunate then, that when a new model is released there simply isn't the hype built that Ford or Citroen commands, and this has an effect on the sales.
The Hyundai i800 is not the prettiest of Hyundai's models but what it lacks in flavour it makes up with in terms of sheer practicality. Seven-seaters are becoming smaller and curvier, which has an impact on the luggage space. The i800, however, has been designed to be geometrically perfect for not seven but eight people to sit comfortably and have space for luggage. Even at full capacity, the boot space is still the 851-litres that it has when there are less people in there. If you only really carry seven people on board, then the last seat can be folded down for an arm rest to increase the level of comfort if there is a long journey ahead.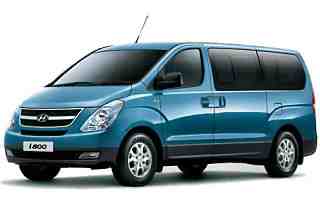 Hyundai i800 pictured above.
The Hyundai i800 also has some clever tricks up its sleeve, such as the centre row of seats slide forward and back to maximise space depending on where you need it, and the both rear bench seats split and fold down, also. In true mini-bus style, the i800 has sliding rear doors on both sides so even in small car parking spaces, getting in and out is a cinch. Don't think for one moment that a mini-bus of this size will be difficult to manoeuvre, it has a turning circle of 5.6 metres, which is almost Hackney cab-esq.
In true Hyundai-style there is privacy glass, easy-on-the-eye two-tone interior, individual air-conditioning vents and a thumping six-speaker stereo. As it is such as large vehicle there are sensors that 'beep' to help you reverse and know if there is anything out of your eye-line that the bumper might come into contact with. It's safe too - there are dual air bags, traction control and ABS as standard.
Up front, the four-cylinder, 2.5-litre CRDI diesel power-plant is mated to a five-speed automatic gearbox, which gives smooth changes, despite having a walloping 289 lb-ft of torque to deal with. Even with eight-up and full of luggage, the i800 simply isn't phased. For a vehicle of this size and weight, it returns 33.2mpg on average which is frankly unbelievably good. There is an excellent range too thanks to it 75-litre fuel tank, which means you can almost travel the length of England before needing to stop at a service station.
Is there another people carrier on the market that sells for as little as 20K (approx)?