Hyundai 8 Seater
Hyundai i800 Main Facts & Figures
The Hyundai 8-Seater is one of the largest people carriers on the market, and with 8 seats and plenty of room inside the cabin it is a good economical option for large families who regularly find themselves on the move. Although this great functionality does compromise the looks slightly, with the i800 having an unattractive boxy appearance, this is more than compensated by the car's other strong traits.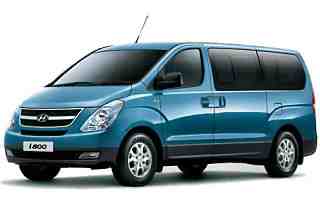 Hyundai i800 pictured above.
It is a people carrier that has largely ignored the recent trend towards 7-seaters that look more like a saloon. And the advantage of that it is truly a people carrier, with ample seating for eight people, plus it's modern and inexpensive.
Purchase Price
With only very few upgrade options available on the list price for a new model is currently £22,285. However, reliable Hyundai i800 2nd hand models can also be picked up for between £10,000 and £20,000. The added option of metallic paint will cost just under £500 and for leather seating an extra £1,235.
Hyundai i800 interior seating pictured above.
Servicing and 5 Year Warranty
Servicing will cost around £99, although prices do vary nationally, and needs to be undertake every 12 months or 10,000 miles. Should your car need repairs, though, all new models will be protected by Hyundai's comprehensive 5 year unlimited mileage warranty.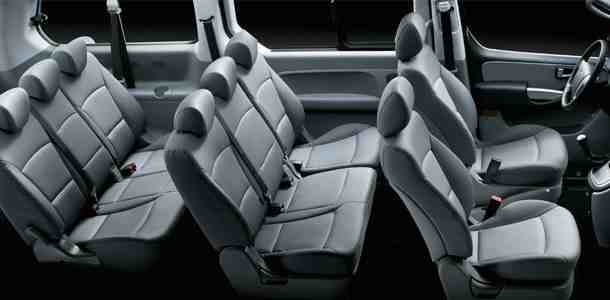 Hyundai i800 interior seat layout pictured above.
Car Tax (VED)
Despite the effective 2.5 CDRi diesel engine, the car emits between 197g/km and 231g/km of CO2 depending on whether you own the manual or automatic version. This places the Car Tax into Bands J and L.
Fuel Efficiency
Due to the car's sheer size, the fuel efficiency is badly compromised and rounds out at just less than 26mpg combined. However, the sprightly engine will still give a performance, going from 0-60mph in 14.5 seconds and reaching a top speed of just over 100mph. The fuel tank capacity is 75 litres.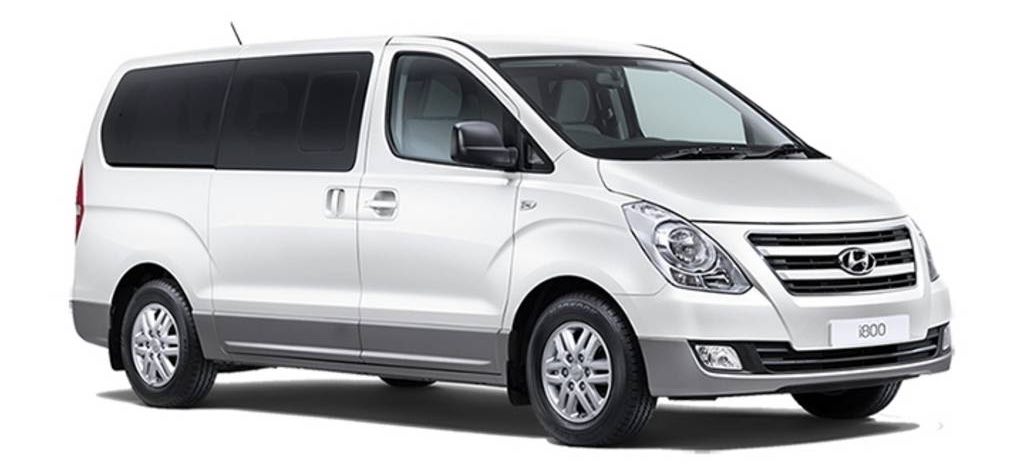 Hyundai i800 pictured above.
Performance
As you would expect, it's that quick out of the blocks, but then it's also not that slow either - it gets up to 60 miles per hour in just over 14 seconds with a top speed of 112mph. But of course the ones that buy this vehicle are hardly looking for speed. They are looking for a reliable, affordable passenger vehicle with a lot of space, and on these points the it is difficult to beat. Towing capacity is 750kg unbraked and 2,300kg braked.
Insurance Group
The eight seat vehicle is currently ranking in Group 14 for insurance purposes.
Safety Features
As standard, the Hyundai i800 comes with safety features such as ABS, driver's airbag, front fog lights, Isofix child seat anchors, parking sensors, power assisted steering, parking sensors and traction control. Although there are very few upgrades available for the i800, many are not needed as features such as air conditioning, an alarm, a CD player, cloth seat trim, electric mirrors and remote locking come as standard.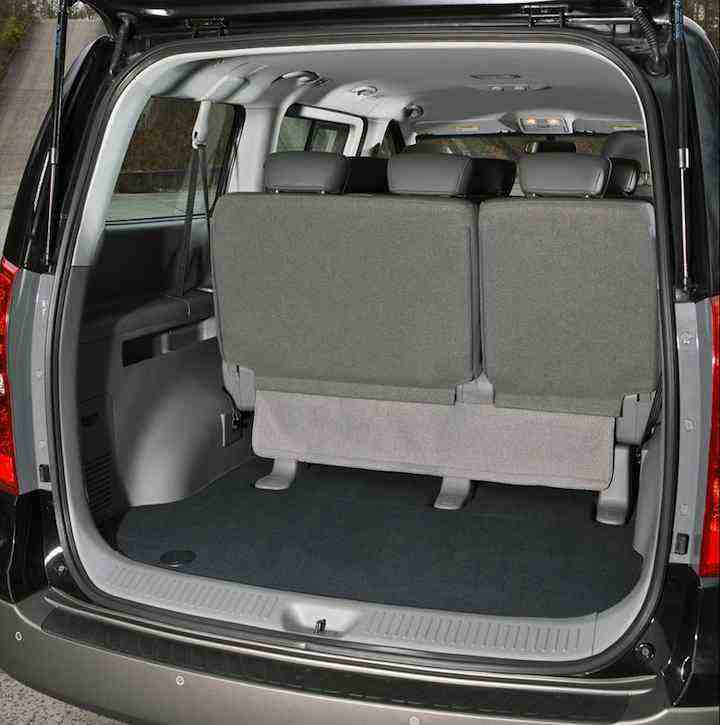 Hyundai i800 Boot Space pictured above.
Do the Seats Fold Flat?
Although the Hyundai-i800 is a great economy model for those looking for a large, cheap and yet highly functional eight seat vehicle, it does have a few niggling issues. At times, especially on bumpy roads, the quality of the cabin's construction can come under scrutiny as it can rattle noisily. For a car of the i800's size, it can also fall down when needing to transport large objects such as mattresses and furniture, as the seats do not lay down completely flat in the back.
Boot Space
Most passenger vehicles these days make claims of huge amounts of storage space once the back two rows of seats are folded into the floor. The Hyundai i800, however, achieves just a bit less than your average MPV with the seats still in place, just over 850 litres.
Conclusion
Perhaps the biggest problem with the i800, though, is it's sheer size. Although the car's length means that you can easily fit in 8 adults without issue, the downside to it is that the vehicle is over 5 meters long.
This can make parking and urban driving a challenge, especially for those unaccustomed to driving a car of this size. However, outside of cramped streets, the low driving position does mean that it can easily be driven by anyone without being overwhelming. The sliding doors make it easy for people to get in and out too.
.more...