Infinity QX56
With Infiniti slowly starting to bring its top players to the UK, there seems to be more and more scope to integrate the rest of the range into 'Blighty'. The G35 and G37 are already sold in the UK and have had an excellent response, and there is room for a fresh range of SUVs and people carriers to be brought over. The new Infinity QX56 is an odd-looking seven-seater, but strangely appealing. It's huge, and is luxurious, and would take on the likes of the Audi Q7 or the BMW X5.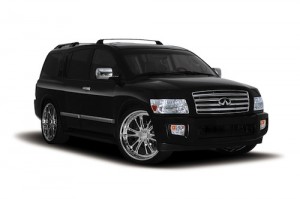 Infinity QX56 pictured above.
With Infiniti showrooms cropping up around the country, and older generation (2004 models) already available to buy from second-hand dealers, it's not a completely new name to Brits. The QX56 has a thumping V8 engine that delivers a lazy, but punchy, wallop of torque that would make hills a cinch. The weightiness and the strong engine mean that it is an incredible tow car, and would have no problem hauling a caravan or a boat along.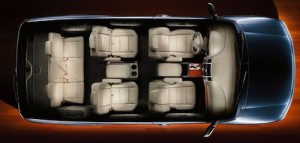 Infinity QX56 boot space pictured above.
As the Infiniti is built on the same chassis as the Nissan Patrol, which we're all familiar with, there is a strong workhorse underneath the extravagant styling and interior. It's not only a seven-seater, but there is another seat making it able to carry eight passengers although the rearmost seats are best kept for children. The 2-3-3 seating is a handy layout for most families, but there still isn't much boot space with all seats being used, as with many seven-seaters.
Rolling on 20" rims, it's certainly not as rugged as a Nissan Patrol, but it doesn't claim to be. Most off-roaders stay on the road anyway, so why not have tyres that grip the road rather than have knobbly ones. Inside the cabin the dashboard is well laid out, with easy to reach buttons and controls, and there is tri-zone climate control which is handy on summer drives. The third bench seats fold away electronically, which makes it perfect for loading the boot space with shopping. There is active suspension, so when you're carrying a lot of weight, the back end doesn't drag along the floor. The rear passengers are spoilt rotten, with entertainment systems, and the front seats are ventilated to keep the driver and navigator feeling fresh.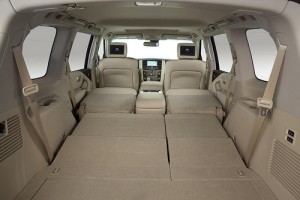 Infinity QX56 interior pictured above.
There is a myriad of safety equipment, designed to help out when the road conditions are slippery and tame that throbbing V8 with traction control. Being such a heavyweight, having stability control nipping the brakes during cornering or evasive manoeuvres is also welcomed. The engine, a 5.6-litre V8 pumps out 400bhp and 413 lb-ft of torque. It's mated to a seven-speed automatic gearbox which has manual override buttons and blips the throttle for seamless down shifts.
Whether you're carrying your friends and family, pulling a boat or carrying lots of items on board, the Infiniti QX56 deals with its tasks admirably. As there aren't many on UK roads, it will stand out from the so common Audis and BMWs, and thanks to the potent engine and self-levelling suspension, it's arguably more usable than those two for all-round driving needs.