Nissan Patrol GR
The Nissan Patrol GR 4x4 (4WD) is one of the last true off road 7‐seater cars left on the market today. Virtually indestructible, it is customer built for taking large groups of people into the toughest of terrains. However, because of this exceptional off road ability, potential owners do need to be aware that the handling on the road is severely compromised, meaning the car may be unsuitable for those who rarely venture off road.
Originally a mid-sized military-style jeep, the GR is among the oldest SUVs on the market, having originally launched back in 1951. Since that time, it has served as a fire truck and, in more recent years, as an increasingly-sleek 4WD that has become more of an on-roader than an off-roader.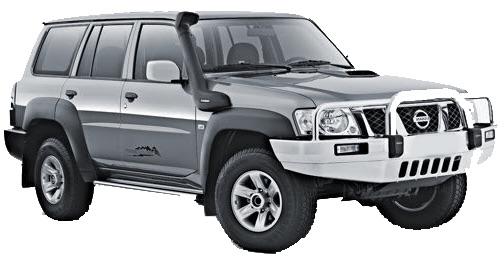 Nissan 4x4 Patrol GR pictured above.
Purchase Price
This car is only available second hand and due to its longevity second hand models can be bought for under £1,000 to around £12,000.
Servicing and Running Costs
Servicing on a needs to be undertaken every 9,000 miles and can cost in excess of £150, although prices vary nationally so it may be a good idea to check with local garages. New parts can also be quite expensive, however MOTs will only cost around £50 and can be undertaken by any local garage.
Co2 Emissions
The Nissan Patrol GR comes with two engine options, a 2.8TD and a 3.0Di. These engines emit 310g/km and 288g/km of CO2 respectively.
Car Tax Band (VED)
Due to the high emissions, the car places in a high car tax band. Both engine options for the Nissan Patrol GR 4x4 fall into Band M which is the highest emissions band.
Fuel Consumption (MPG)
Despite their poor emissions ratings, both the 2.8TD and 3.0Di engines have surprisingly good fuel economy when you consider the sheer size of this off-roader. Both engines will get around 26mpg combined.
Additional Features
The standard trim is relatively disappointing, with the only safety features included being a driver's air bag and power steering alongside items such as cloth trim, central locking and folding seats. In order to get ABS, passenger air bags and side air bags as well as comforts such as leather trim, climate control and electric seats, buyers must upgrade their models, sometimes up several levels.
Performance
As the Nissan Patrol GR 4x4 is more slanted towards versatility and durability rather than outright speed, it isn't the fastest on the market. The GR's performance is built around a 3-litre turbo-charged engine, which provides a more-than-suitable amount of torque for pulling trailers, without pushing fuel bills through the roof. However most models will struggle to get over 100mph, while the 0-62mph speed is generally between 15 and 18 seconds.
Insurance
The Nissan Patrol GR is ranked very highly for insurance purposes, with most models falling into group 15. There are some more basic versions of the Patrol GR, though, which are only in groups 13 and 14.
Appearance
Exterior-wise, Nissan has upgraded the Patrol GR in recent years. The front end is less boxy than its predecessor, as the Japanese automaker has apparently aimed to slim down the look of the vehicle amid a rise in demand for sleeker-looking crossovers. Inside, the plastic and fabric interior is an improvement too, even if it still looks inferior to the, admittedly much more expensive, 4x4s in the same segment.
Sixth Generation
Nowadays, the Nissan Patrol GR is in its sixth generation following a new release a few years ago under the slogan 'hero of all terrain'. This applies to both the landscape, and indeed its price, versus the market segment in which it is placed. This is a vehicle that competes with the luxury end of the 4x4 market, yet remains available at a lower than average retail price.
Conclusion
Although the Nissan Patrol GR does stack up very well as an off road car thanks to it's power and durability, it has some serious issues with driving along normal roads. At times, the steering is heavy, brakes spongy and the engine is loud, all ensuring that the Patrol GR is not a great road going car. Again, though, there are few better or sturdier options to take off the beaten track than the Nissan Patrol GR. Overall then, this is the perfect 7-seater for big families looking for a reliable runaround capable to do long-haul trips with a trailer. And on price, it simply won't be beaten.
.more...