Make your MPV more eco friendly
Automakers are accelerating the development and production of green cars. From slightly more efficient modern cars to hybrid vehicles and even all-electric city cars, the future of green motoring is looking good. In the MPV sector the Toyota Prius MPV promises to fit the bill nicely.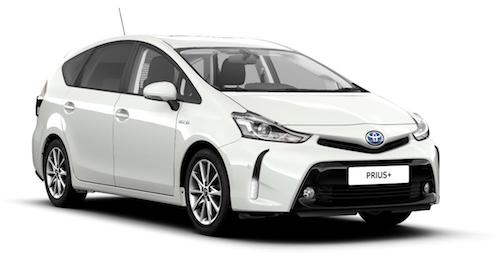 Toyota Prius pictured above.
However, we may not all want to invest in a brand new vehicle, let alone something touted as the latest all-electric green city car. You can, however, take several steps to ensure your own 7 Seater operates in as green a manner as possible.
Take care of your catalytic converter
Most of the cars on British roads today were produced long after the first catalytic converters were produced. 'Cats', as they are nicknamed, use an exotic range of special materials to convert the most polluting gases in the exhaust into forms that are either completely safe or relatively harmless.
However, cats don't last forever. Typically, the first time you'll know anything about this is when your motor fails its MOT test on high emissions readings. If your car feels a bit sluggish, the engine may not be running properly.
An incorrect fuel-air mixture or dodgy ignition can lead to dirty emissions. Not only will your car fail its MOT but this could wreck the catalytic converter.
It's also important to make sure your engine has warmed up properly before doing much driving. The catalytic converter only operates efficiently once it has warmed up. Take a few minutes to let your car's engine warm up gently and then when you pull off, accelerate gently for a few miles.
Check your tyres
Improperly inflated tyres can be a big problem. Not only can this affect the safe handling of your car but it can promote tyre wear, increase noise levels and increase fuel consumption.
Make sure you know the correct inflation figures for your car's tyres and purchase a small tyre pressure gauge. It's actually a good idea to check tyre pressures every day before you drive.
While checking the tyre pressures, carry out a visual check of the condition of your tyres. Note any abrasions or cuts to the sidewalls or any misshapen areas.
Also check the tyre treads for wear and foreign objects. A few small stones stuck in the treads can produce considerably higher noise levels as well as damage the tyre.
Keeping your tyres in good condition and ensuring they're properly inflated goes a long way to optimising fuel consumption and maintaining safety on the road. Don't forget to check the spare tyre, either!
Wash and polish
Especially if you're heading for a long drive, it is worth making sure your car is clean and polished. It takes a lot of energy to push a big piece of metal through the air. The slippery that piece of metal, the less energy it takes.
If your vehicle is covered in grime and dirt, the surface becomes bumpy and sticky for air. Not only does the airstream literally stick to the car's dirty surface but the airflow is 'muddied' by this interference. The increased messy wake (think of the disturbed water behind a boat) generates further drag, which means you have to use more fuel.
Obviously, keeping your windows clean helps fuel efficiency and to stay safe on the road. The last thing you need as the sun sets after a long day's driving is to have a smeared windscreen constantly blocked by bright sunshine lighting up the dirt.
Clutch in Order
Make sure your clutch works properly. A dodgy clutch cable or hydraulic mechanism can make it hard to pull away efficiently or change gears, which results in a lot more pollution and burned fuel.
If your clutch is slipping, you can end up burning a terrific amount of fuel as the engine's power is wasted through heat and dust. This is particularly important if you're towing a trailer, carrying a lot of cargo or need to climb steep hills.
Lubricants and Coolants
If the lubricants in your motor are dirty or old, they may be increasing friction inside your car's mechanical components. This leads to increased fuel consumption as well as damage to the components. Once they become damaged, they work less efficiently. So make sure you or your mechanic checks all lubricants are in a healthy condition.
The importance of engine coolant cannot be understated. Obviously, if the coolant level is low, you risk breaking down. It is also important to ensure the coolant is fresh and in good condition as this affects engine temperature and therefore both power and fuel economy.