Toyota Prius Plus
7-Seat Toyota Prius+
The Toyota Prius Plus was launched at the annual Geneva Motor Show 2012. Launched in Japan in the middle of last year, and a little later in the US, this extended version of the ever-popular Prius hybrid has made it to Europe, and not a moment too soon.
As with most compact MPVs, it the Prius is available in a 5-seater and a 7-seater version; but what's unusual about the 7-seat version is the manner in which Toyota has afforded the additional space for the bigger model. Unlike the 5-seater, which employs an NiMH battery, the 7-seater has a lithium-ion battery.
This saves space and allows for an additional third row of seating for two people at the rear of the vehicle. It's the first Prius to use a lithium-ion battery; however, like many other vehicles of the compact MPV variety, this one lacks space in the third row, which means its best to put kids in the rear two seats.
Purchase Price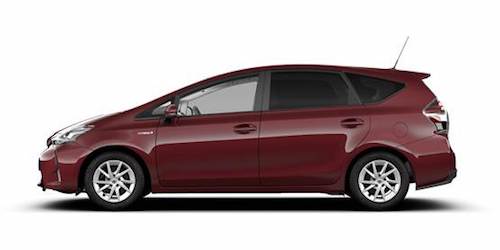 Toyota Prius Plus side view pictured above.
Buying this Hybrid 7-Seater will cost between £26,195 and £29,445. There are two models. The T4, which costs £26,195, and the T-Spirit, which costs £29,445. There are additional options such as a protection or style pack. Leather seats cost another £1,700.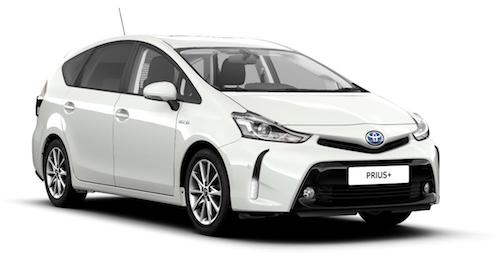 Toyota Prius Plus pictured above.
Miles Per Gallon
The Miles Per Gallon achievable is stated to be 64.2 mpg combined for the T-Spirit and 68.9mpg combined for the T4. This makes it one of the most fuel efficient 7 seat MPV's in the United Kingdom. As with the regular Prius, this bigger vehicle features a 1.8-litre Atkinson cycle, a four-cylinder engine that generates impressive fuel efficiency up to 73 miles per gallon. How many other compact MPVs can boast anything comparable?
Running Costs
Service and MOT costs can at this stage only be estimated. Taking the 5-Seat version as a benchmark, the expected costs for a full service are somewhat higher than £195 (£230 for a full service plus MOT).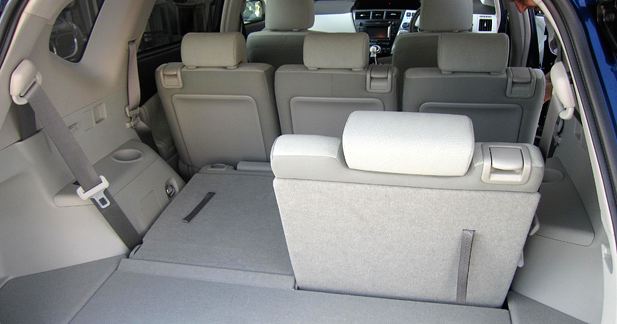 Toyota Prius Plus boot view pictured above.
An interim service costs £130 (£165 for an interim service plus MOT). The cost for a MOT with a 1-year guarantee for a 5 seater is £59. A MOT with a 3-year guarantee is £119. As this hybrid MPV is brand new, it is advisable to wait for a while before checking exact service and MOT costs, as they may be different from the above. In terms of insurance groups, the five seat model is in insurance groups 6-7. This CO2 emission level is exceptionally low for a seven seat MPV with emissions levels of 96/km and 104g/km, making it fall in the same Car Tax band as the 5 seat Prius – bracket A car tax.
Extras
Toyota is well known for the technological sophistication of its cars and the seven seat model does not diverge from this reputation. The extras that come with the car include keyless smart entry, rain sensing wipers, duel zone climate control a DAB radio and more. As with the extras, safety features are technologically driven. There are a full set of airbags, vehicle stability control and child seat fixings.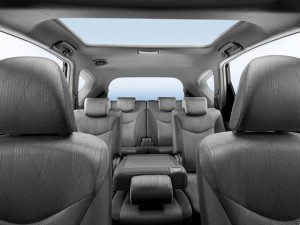 Toyota Prius Plus seating view pictured above.
Colours
Colours for the Mid and High Grade specifications are the same, they are; pure white, pearl white, Tyrol silver, decuma grey, astral black, vermillion red and Orion blue.
Conclusion
The original Prius has been a very popular car brand. It is a hybrid electric car launched globally in 2001. It is known as one of the greenest cars on the road today. This Hybrid Car carries the same green credentials, and fills a valuable gap in the car industry. In a sign of just how much the market was waiting for a compact MPV hybrid, the Toyota Prius MPV was massively oversubscribed when it was first launched in Japan. Expect a similar thing to happen in Europe. Just as the Prius changed the game in the saloon segment, the 7-seater market looks set for a vehicle that will redefine how economically an MPV can be run.
.more...