Mitsubishi Shogun
The Mitsubishi Shogun off-Roader is an institution within the 4x4 car market and has long been one of the best available models for those who like to take their cars off road.
It has achieved this standing thanks to its tradition of being sturdily built, powerful and having all the necessary equipment to go off road built in to the standard trim. Remember the days when four-wheel drive vehicles were meant for taking off-road and not just to the shops to buy a pint of milk? Mitsubishi Shogun drivers do. After all, this is a vehicle that has been around since before George Michael's Last Christmas was a festive number-one and the internet was still a twinkle in the US government's eye.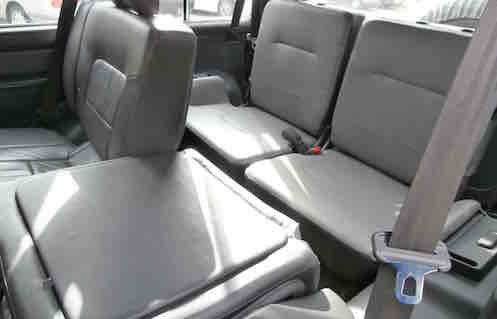 Mitsubishi Shogun interior seating pictured above.
Purchase Price
A brand new one used to cost between £26,554 and £38,054 while second hand prices vary between £1,000 and £20,000 for a 2008 model.
Servicing
Servicing needs to be undertaken every 12,500 miles and can cost upwards of £200. However, prices do vary nationally and so it is a good idea to check with local garages. MOT tests can be conducted by any local garage and should cost around £50.
C02 Emissions - VED Banding
As you would expect from a car which is designed to be taken off road, this car puts more of an emphasis on power and performance rather than economy. This is reflected in the emissions, as the 3.2 DI-DC diesel engine which is present across the range of cars will emit between 212g/km and 280g/km of CO2 based on the exact model. The more economical models, such as the 197bhp Equippe range, are placed into Band K for emissions. However, most models fall into Bands L or M.
Miles Per Gallon (MPG)
The fuel efficiency varies across the range of models, with the most efficient giving a combined 35mpg and the least efficient a lowly 26mpg. As a rule of thumb across the different cars in the Mitsubishi Shogun range, those with a manual transmission over an automatic one are much more efficient in terms of emissions and fuel economy.
Additional Features
The Mitsubishi Shogun comes with a generous standard trim which includes ABS, airbags, traction control, power steering, roof rails, a full sized spare wheel and electric mirrors. On top of the line models, features such as a DVD player, leather trim, parking sensors, Sat Nav and electric seats are available.
Performance
The 3.2 DI-DC with a manual transmission will hit 60mph in 11.3 seconds and reach a top speed of 110mph. A 3.2 DI-DC with an automatic transmission is slightly slower to 60mph, taking 11.8s. The 3.2 DI-DC 197bhp gets up to speed slightly quicker, taking 9.4s with a manual transmission and up to 10.7s with an automatic, and reaches a top speed of 111mph.
Second Generation with Seven Seats
The second generation Mitsubishi Shogun became a 7-seat version. The latest version remains a stepping-stone to more modern crossovers, even though it features plenty of room and seven seats.
It seems a bit outdated now because of the way the market has shifted but for those that like their four-wheel drives on the rough side, the Shogun still has it.
History
Launched in 1982, the Mitsubishi Shogun (or the Pajero as it was known outside of the UK) really did look like a jeep and it couldn't fit in anywhere near seven people. In fact, it only had two doors. What it did offer was a host of features never before seen on a Japanese four-wheel drive vehicle, such as front double-wishbone suspension and a turbocharged diesel engine.
Car Insurance
The Mitsubishi Shogun is placed into insurance groups 13 to 16 depending on the exact model.
Conclusion
Although he Mitsubishi Shogun does have some small issues, such as it's less than spectacular handling on roads and loud engine, there are few 7-seater cars around today with the same deserved reputation as an all terrain vehicle that the Shogun has.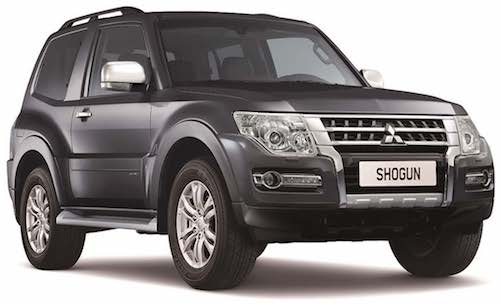 Mitsubishi Shogun interior seating pictured above.
Inside it felt like a passenger car and not like a vintage Land Rover. However, with its short wheelbase and strange normal, its car-like interior didn't really take off. Although this vehicle was undoubtedly a pre-cursor to the SUV crossover 7-seaters we know and love today, it wasn't quite family-orientated and macho enough for real four-wheel drive drivers.
.more...