7‐Seater Cars are harder to Park !
We can all park our cars but when it comes to driving a new seven seater, there are a few things you need to take into consideration when you roll into a parking spot. Driving a vehicle that is more like a van than a city car means you need to assess situations further in advance and know the boundaries that restrict you when driving a 7-Seater.
Reverse Park into a Space
Most people drive straight into car parking spaces but in a large 7 seater MPV, that isn't the best way. Think about it: On a busy Saturday in a supermarket car park it's difficult enough trying to get out of the tiny spaces in a regular car, but once you're high up in a vehicle that's four or five metres in length you need to think ahead. Reverse parking into a space not only means it will be easier to see when you want to leave but in many cases, you can fill the boot space without standing in the middle of the road, blocking traffic with your trolley.
Practice makes Perfect
When you buy your 7 seater car, take it to an empty car park to practice reverse parking into spaces. If you can, turn off the reverse parking sensors so you know how to park without an electronic gizmo and it means you instinctively know where the corners of the car are without that incessant beeping. The mirrors on a MPV are big enough and wide-angled enough to make it easy for you to see. If you must, get out and inspect how far away you are from the kerb and ask yourself why is there six-foot of space left over? Once you crack parking backwards in a huge vehicle, then you will be more confident in placing it on the road, ultimately making you a better driver.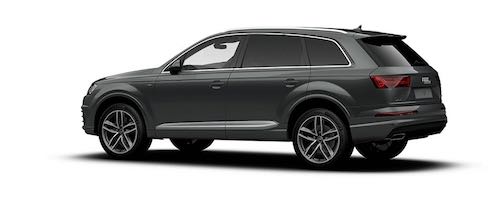 Audi Q7 pictured above
If your home doesn't have a drive or a garage and you need to park on the street, practising your parking is even more important. You'll notice that again, driving straight into the parking spot means the vehicle is out of place and not parallel to the kerb, unless you have at least three or four car-lengths spare.
Audi Q7 helps you park
Some MPVs, such as the Audi Q7, have cameras in the bumper to show you how close you are to the kerb but these can be confusing. It's better to get back to basics and park the car as you would have done before the electronic aids were featured on cars.
Can you drive a 7-Seater?
Parking a seven seater shouldn't be about how many people you can fit in and if it has cup holders. You should determine whether you can drive it and whether you need to invest some time in practising manoeuvring it as it's very different to driving a small car. If you're really serious, it might be a good idea to take a 7.5-tonne vehicle test to learn how to drive a bigger, heavier and larger vehicle with qualified instructors than a regular car license test.
Similar Topics