Peugeot 5008 from 2012
The 2012 Peugeot 5008 has been ergonomically designed with a raised driving position, so motorists can enjoy the full performance of the vehicle. Its head up display has an anti-reflective panel so that all indicators can be seen without having to take one's eyes off the road. So in addition to being comfortable and sleek, it is also very safe.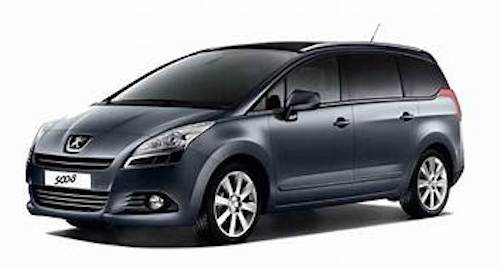 Peugeot 5008 pictured above.
Prices
Prices for the 2012 Peugeot 5008 MPV start at £16,496 with Blanc Banquise finish, cloth interior and 16 inch alloy wheels. Extras available include metallic paint, leather interior, video pack connections, media navigation and panoramic glass roof.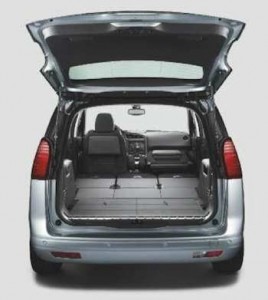 Peugeot 5008 boot space pictured above.
Flexible Seven Seats
This seven-seater car has the flexibility to arrange the seats for maximum luggage or grocery capacity. Seats in rows two and three can be folded flat individually, as can the passenger seat. The seats have been designed for ease of use, making it easy to access all seats when configured in its seven-seater capacity. Plus, there is lots of leg room to make any journey a comfortable one.
Boot Space
In total, the Peugeot 5008 has 2,104 litres of storage space when seats in rows two and three are folded down. With just the seats in row three down, there is 512 litres of rear load capacity. There is also additional storage on the footwells as well as along the walls of the vehicle, so no matter where you are going or what you need to bring, it is sure to be able to accommodate.
Eyes on the Road Please
The vehicle's standard head up display ensures that all passengers are always safe, as the driver's eyes never have to leave the road. An additional safety feature is the new innovative distance alert that measures the distance of the vehicle ahead and alerts the driver if they are too close.
Fail Safe Safety
The electronic parking brake and hillside assist is standard on all models of the 5008. This innovative safety feature helps the driver to set-off on gradients by allowing them two seconds upon releasing the brake so there is enough time to move ones foot to the accelerator without the vehicle moving up or down a slope. In addition, the Peugeot 5008 standard 'Snow Motion' controls each wheel individually when on snow, ice or driving in the rain.
Fuel Saving Savvy
The Peugeot 5008 is powered by a 1.6 litre VTi engine with a maximum power of 120bph at 6,000rpm. This type of engine is economical and environmentally friendly, reducing fuel consumption as well as emissions. The vehicle is light for maximum handling and performance, and tyres are first rate Michelin Energy Saver Tyres. This means that motorists can enjoy driving this seven-seater car while saving 0.2 litres of fuel for every 100kms driven.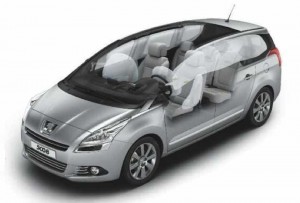 Peugeot 5008 see through view.
Standard Features of the Peugeot 5008 MPV
The standard 'Access Model' features six airbags, automatic door relocking, electronic front windows and air conditioning as well as three power points. Those that are a little bit more technologically advanced can opt for the 'Active Family' option, which is equipped with a multi-media entertainment centre with two screens and Bluetooth capabilities, allowing passengers to connect to DVD players and gaming consoles.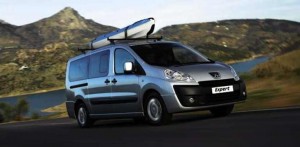 Peugeot Expert Tepee
Expertly Different Interiors
Peugeot designed the Expert Tepee because they know that everyone has different requirements. The model range allows for different interior configurations so that drivers can transport their family, friends or colleagues so that all are always comfortable.
And the Expert Costs . .
The standard 'Comfort' model comes in the option of three colours; Parthenon White, Bianca White and Dragoon Blue, and runs for £20,691. A choice of five metallic paints and tinted windows can be purchased for an additional cost.