Peugeot Expert Tepee 2012
The Peugeot Expert Tepee 2012 comes in two sizes, the 'short' and the 'long', with each allowing for up to nine passengers.
All rows of the Peugeot Expert Tepee 2012 can accommodate three people, and seats have curved headrests and side arm rests for added comfort. Because of its exceptional modularity, the car is extremely popular among those in the tourism industry as well as with families.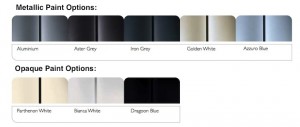 Peugeot Expert Tepee paint colours pictured above.
Rear Table Seat
The rear seats can be folded into a table, allowing families to stop for a quick bite, or can be completely removed for added storage space. In addition, all models of the Peugeot Expert Tepee have spacious rear boots and, on the 'long' model, the seats of row three can be folded away to create additional space.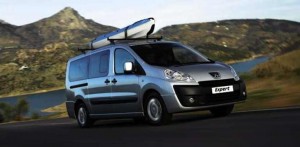 Peugeot Expert Tepee 2012 pictured above.
Ergonomically Friendly
The Peugeot Expert Tepee is not only comfortable but also appealing to the eye. Its fascia panel not only looks great but is also ergonomically friendly, and the numerous windows mean that all passengers can enjoy the view outside.
Engine Options
Two impressive engine options are available for the Peugeot Expert Tepee 2012, both of which are HDi diesels. Both offer great fuel savings and are environmentally friendly to Euro 4 anti-pollution standards. The four cylinder 1.6 litre diesel engine is economical and superb for urban driving, while the 2.0 litre 90bph engine is ideal for journeys along open roads. The 1.6 litre engine is controlled by a five-speed gearbox, while the 2.0 has an added sixth gear for optimum performance.

Peugeot Expert Tepee boot space pictured above.
Additional Options
All Peugeot Expert Tepee's come with sliding doors, steering wheel controls, adjustable seatbelt heights, adjustable headrests and air conditioning. They also all come with a radio/CD player and two 12v sockets. On top of all of these superb standard features, add-ons such as cruise control, heated door mirrors, and Bluetooth USB and navigation connectibility are also available.
Warranty
The Peugeot Expert Tepee 2012 has been designed so that all owners can drive with ease, knowing that their vehicle has a comprehensive warranty. We already know that the interior is extremely comfortable for both the driver and all passengers, but it is also great to know that any technical problems can easily be solved.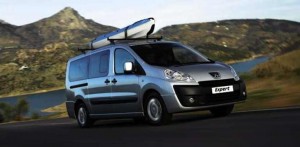 Vehicles purchased in the UK all come with a standard two-year warranty, regardless of how many miles may be racked up. In addition, your Peugeot Expert Tepee also comes with a six-year Anti-perforation warranty and a two-year paint warranty. A 12-month road side assistance program is also included to come to the rescue broken down vehicles, 24-hours a day.