Peugeot Expert Tepee
Five, Six, Eight or Nine Seater
The Expert Tepee is a car that looks like a van with windows. You can have between 5 and 9 seats depending on how long the vehicle is. There are two levels of finish, which gives you a combination of comfort and gadgets, one being more superior than the other.
On The Road Price
New on the road prices start at £22,995 and go up to £28,695 for top end versions. However to get the extra seating in the third row is going to cost you between £600 and £640 by adding the AN11 and AN13 options. The prices quoted include delivery, number plates, a years Car Tax and the first registration.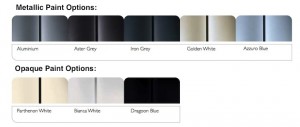 Peugeot Expert Tepee paint colours pictured above
Seating Configuration Options
With five seats there are two in the front and three in the back. To opt for a 6 seat Expert Tepee there are three seats in the front row.
The eight seat model is configured 2-3-3 and the nine seat model is similar but with 3 in the front row. The Expert Tepee is available in a short model or a long mode, 4.81m and 5.13m respectively.

Peugeot Expert Tepee interior and boot space pictured above
When adding the third row as an option you can have either a bench two person single seat or a duel bench fold and tilt option. The later is £40 more. ISOFIX mountings on the outer seats for row two and three come as standard.
Service Contract
A benefit of owning a Peugeot is their easy pay service plans. When the vehicle is on a 2 year, 20,000 mile service plan you could pay monthly to spread the payments. Prices are between £16.99 and 18.99 a month depending on whether you choose a 3, 4 or 5-year plan. Tyre sizes for all models are quoted as 215/60R16XL.
Fuel Economy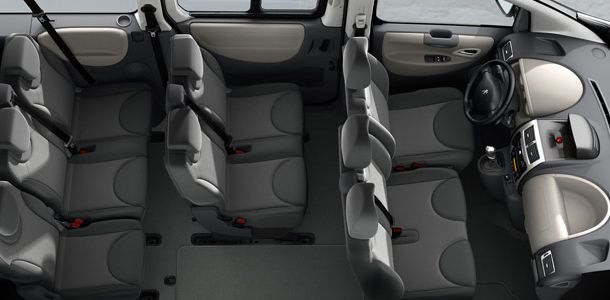 Peugeot Expert Tepee interior (birdseye view) pictured above
Combined miles per gallon range from 30 to 45 depending on the Urban combined or extra urban cycle. The Fuel tank holds up to 80 litres of fuel.
CO 2 emissions
For the sheer size and practicality of this vehicle I'm amazed that the perfectly reasonable Co2 emissions. They range between 172g/km to 199g/km. This equates to Car Tax Band H to J in Britain.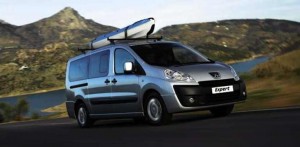 Peugeot Expert Tepee pictured above
Engines
You could choose either a 1.6HDI 90 with a 5-speed gearbox or a 2.0 HDI 120 with a six speed gearbox. The first being more economical than the later.
Suspension
With some special building the Peugeot people have created pneumatic suspension which keeps the height a vehicle drives at consent regardless of what its carrying in cargo or passengers.
Parking
Some car parks restrict access to vehicles that are over a certain height. The Expert Tepee has been designed with this in mind by not being higher than 1.9m.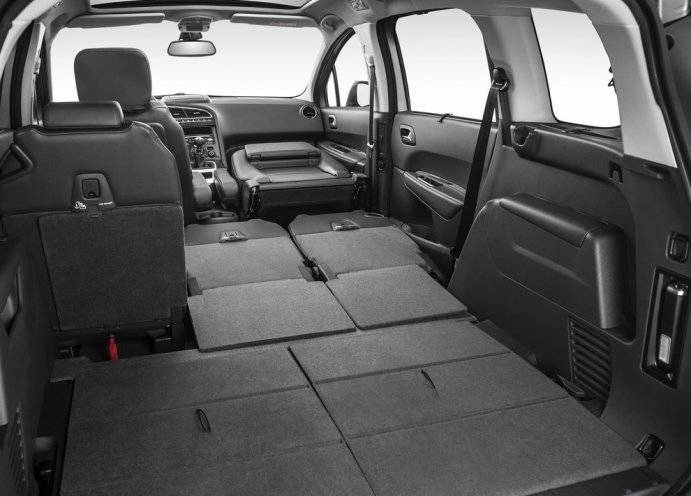 Peugeot Expert Tepee with seats folded flat pictured above
Dimensions and Cargo Space
The load area with the 5 and 6 seat option is up to 1400 cubic litres. This increases to 2814 cubic litres in the longer version when the second row seats removed. With all the seats upright the boot space is 283 cubic litres in the regular length and 553 cubic litres in the longer version.
There are many figures quoted by Peugeot including load area with the under roof area included.
Models
There are two levels of finish and trim namely the "Comfort" and the "Leisure". You can have 5,6, 8 or 9 seats with both types. The Leisure model has Air conditioning, velour interior, Carpet and a tailgate as extras.
Warrantee
With any Peugeot car bought you get a 2 year full warranty and a free extra years warranty provided your mileage stays below 60,000. After that time you have the option of buying a Platinum Extended Warranty.
Conclusion
For a people carrier of this size and versatility it is certainly worth considering when wanting a larger than average MPV. The seating configuration is very similar to the Mercedes Benz Viano but this car costs about £10,000 less. This car is ideally suited as a Taxi but for big families with lots of stuff to cart about it would also be an excellent choice.
.more...