Extra Secure Seven Seat MPVs
Life's tough enough when you have to drive around with a bunch of passengers and some cargo. If you need seating for seven, you have to shop from a relatively short list of vehicles.
If your needs extend to seven seats and lots of room for cargo, your challenge is even great. But what do you do when the number of people who might want to do you harm is even greater than the number of passengers you need to cram into seven seats?
Normally, if you're powerful, a member of the elite, a celebrity with a stalker, an oligarch or a deposed potentate, then you'll no doubt already know a thing or two about armoured vehicles. If however, you simple have a big family and a touch of paranoia, then what options do you have?
Well, if your secret service code name is Renegade or you are regularly referred to by the acronym, POTUS, then you'll likely have your armoured vehicle needs taken care of for you. In this case, you'll often travel on the ground in a large people mover known as The Beast.
The Beast is a specially-commissioned vehicle produced by Cadillac, a division of US automaker General Motors. The Beast is a huge 7-seat, heavy and highly-protected limousine.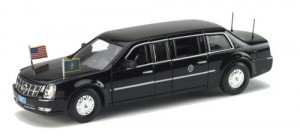 Cadillac pictured above.
Weighing in at eight tonnes, this stretched Cadillac has seating for seven. Perhaps of greater importance is the range of threat countermeasures provided by this most exclusive of rides.
The Beast carries so much armour that each of its doors weighs as much as those found on a Boeing 747 airliner. To defend against attacks using poisonous gases, The Beast's cabin is sealed from the outside atmosphere and has its own oxygen supply.
Should The Beast be unable to carry everybody in your elite entourage, there is no need to worry. There should be some room in one of the Chevrolet Suburbans that always accompany the presidential cavalcade.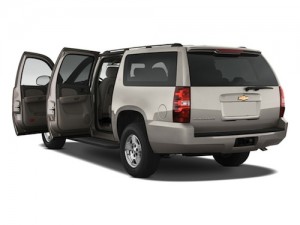 Chevrolet Suburban pictured above.
Already well-established as capable people movers and fairly rugged off-roaders Chevrolet's Suburban has plenty of seating as well as cargo space. Those riding along with POTUS, however, may be a little cramped.
At least one of the trucks is specially-fitted with a range of accessories you won't find in any standard car brochure. Known as ECM (electronic countermeasures), this special radio gear has the job of intercepting, jamming or redirecting any electronic signals that could pose a threat to the president of the US.
How much room is left for passengers in the ECM truck? To borrow from Hollywood, we could tell you but then we would have to kill you.
There might be some room left in one of the other Suburban's but only if you wear GI Joe style all-black military gear and don't mind snuggling up with tough men and women wearing a variety of guns, knives and grenades.
So, let's say you actually have some money to spend on a secure SUV or MPV and you do have some reason to be concerned for your security but you can't call on the US Secret Service or government backup, what can you do?
One of the most popular options in armoured people movers today is the Range Rover. Already a favourite with the luxury-SUV crowd, armoured versions of the Range Rover are available from several suppliers.
Inevitably, the Ranger Rover, which at nearly £70,000 is not cheap to start with, ends up seriously pricey once it has been upgraded to meet higher security specifications. Unfortunately, unless you get an extra conversion, you'll still lack the ability to carry six passengers. There is another option, however. The Land Rover Discovery comes with seating for seven adults.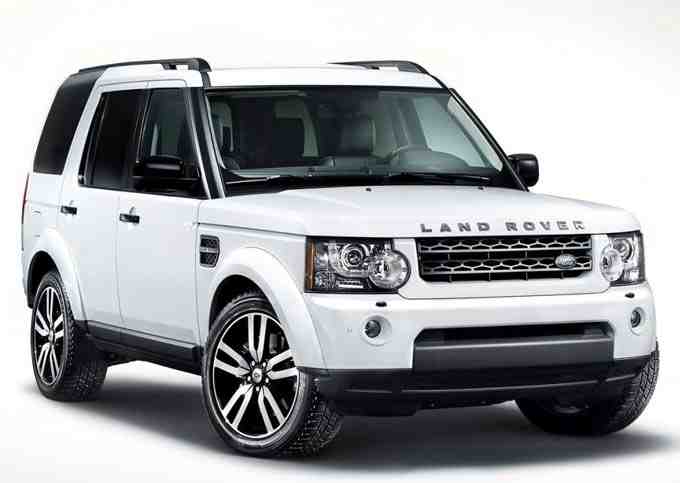 Land Rover Discovery pictured above.
Though it is not quite the luxo-barge we can enjoy with the Range Rover, the 'Disco' is substantially cheaper. Prices for the LD4 start at just under £37,000, which leaves plenty of room for security upgrades.
The Discovery starts as perhaps the top 4x4 seven-seater in the world, which is a nice place to start. You'll probably want a decent engine upgrade, however, as there is no way to make vehicles usefully secure against physical attack without making them weigh a lot more.
The Land Rover Discovery 4 Armoured, however, packs a surprising level of armoured wallop for a 'reasonable' price. The vehicle is offered by Land Rover itself, which means you don't have to shop around for an outside firm to convert your new SUV.
Pricing starts at just £46,945 on-the-road. Land Rover has done an excellent job of preserving the vehicle's external appearance.
The Land Rover Discovery 4 Armoured's level of protection against guns and bombs has been certified by QinetiQ. QinetiQ, created from a former UK government defence unit, is one of the world's top defence technology firms.
QinetiQ certifies the LD4 Armoured to B6 standard. B6 is the most popular level of protection used in vehicles for Afghanistan, Iraq and other parts of the Middle East.