More Seats = More Safety
It was only a few decades ago that people in North America first saw laws introduced that mandated the use of seat belts. It's hard to imagine today but less than 40 years ago, it was perfectly normal to hop into a car and jet off down the road without even thinking about putting on the seat belts, let alone being worried about the police stopping you for not wearing them.
Even when laws finally came in that required people to wear seat belts, the belts weren't exactly 'all that', as the kids like to say today. Back then, even if a car had seat belts, they invariably were just lap belts. Shoulder belts didn't start to appear until a few years later.
Along with seat belts, which did a rather rudimentary job of holding people in their seats in the event of a crash, several other developments were introduced to the car. Soft steering wheels and collapsible steering columns finally banished one of the biggest causes of serious or fatal injuries – the solid steering columns and hard steel steering wheels, often with sharp, spiky hubs, tended to do considerable damage to the chests of drivers involved in head-on collisions.
Later on, shoulder belts were joined by the first air bags, helping to limit injuries yet further. Along the way, car designers introduced softer materials, particularly on dashboards, and engineered out the corners, hooks and other things that could damage the human body if flung about during an accident.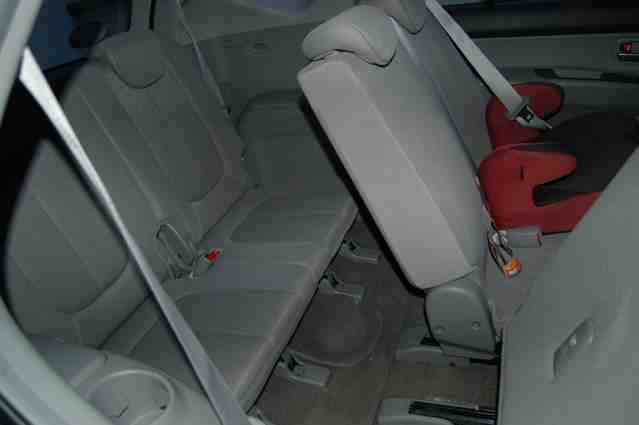 Kia Karen seat belts pictured above.
Todays cars can have air bags in the steering wheel and dashboard, air bags to protect the knees, side-impact air bags and even air bags to protect passengers in the rear seats. One thing that hasn't changed, however, is the potential for havoc if passengers are not restrained properly.
One of the biggest causes of injuries in car crashes is when passengers who aren't wearing their seat belts are flung forwards, crashing into the driver or front-seat passenger. Obviously, drivers of seven-seat vehicles need to make extra sure that all passengers are properly strapped in.
Luckily, todays modern SUVs typically come with excellent seat belts that are easy to use and provide plenty of adjustment to make them comfortable. For smaller children, it may be necessary to install special belts or use specialised seats.
Many seven-seaters provide a range of options for installing child seats in the safest and most convenient way. Never forget to follow the manufacturer's instructions if necessary to disable air bags when child seats are fitted.
A popular and excellent safety technology that is found in most vehicles and is often considered a key selling point of seven-seaters is the ISOFIX attachment system.
The ISOFIX system is known by several names in different parts of the world, such as LATCH, LUAS, Canfix and UCSSS. LATCH means Lower Anchors for Tethers for Children.
LUAS stands for Lower Universal Anchorage System. Canfix is the Canadian term for the system. UCSSS means Universal Child Safety Seat System.
ISOFIX stands for ISO (International Organisation for Standardisation) 13216, which defines a specific set of standards regarding anchoring systems for child-safety seats certified to Group 1 standard. Essentially, ISOFIX provides standardised attachment points in automobiles that make it easy to safely and securely install child safety seats that meet the standard.
Despite the attempt at standardisation, however, ISOFIX attachment typically works differently in vehicles from the USA, compared to vehicles made in Europe. The system also has a few different flavours, known as vehicle-specific, semi-universal and universal.
Drivers carrying young children in their cars need to be fully-aware of the correct use of the ISOFIX system. When shopping for a family vehicle, especially a seven-seat SUV or similar, be sure to research the subject carefully and make sure any child-safety seat you have meets the necessary specifications for both ISOFIX and your vehicle.
More Articles