Skoda Kodiaq
Skoda has finally joined the 7-seater bandwagon and produced their own version of a multi-seat MPV. Called the Skoda Kodiaq, this SUV is available with five or seven seats. It has the look of a Volkswagen but the price of a Skoda.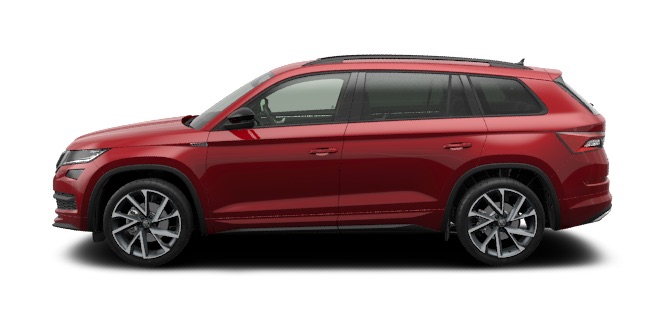 Pictured above is is the Skoda Kodiaq sportline (higher spec) version.
Lights
With front headlights having an adaptive system you can drive safe in the knowledge that your lights will adapt perfectly for city and motorway driving. It will also automatically adjust high beam when detecting oncoming traffic.
Door Edge Protection
Probably one of the best inventions I've ever seen when it comes to a family car. Each side door has plastic strips that protrude on opening. Meaning, that when the children flung open their doors in an anxious rush to go to school the door is protected against other cars, walls or other obstacle. Being flung open against a wall at speed has always damaged my car door edges.
Clever Touches
The Skoda Kodiaq comes with quick click child protection locks, foot swipe boot opening facility (Skoda call this Kick Activation/Virtual Pedal). There is a storage spot for your umbrella that I'm assuming come as standard. The fuel door is designed to avoid you putting the wrong fuel in. The fuel door also contains an ice scraper.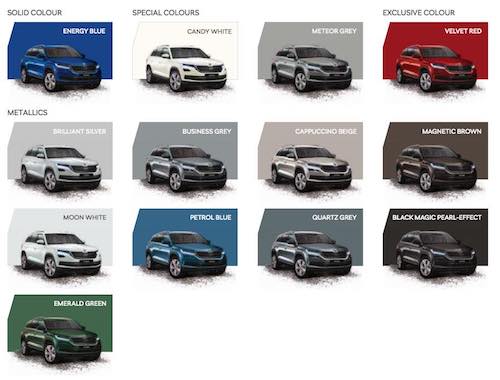 Pictured above are the paint colours available for the 7-seat Skoda Kodiaq.
Safety
The Skoda Kodiaq is filled with safety features set up to avoid yourself and those around you. The park assist beeps if the space isn't big enough. The travel assist highlights any speed restrictions. The pedestrian monitor will automatically reduce the cars speed in order to prevent hitting someone if it sees someone unexpectedly in your way. The multi-collision break slows the car if you've been in an accident to protect you from any further crashes. The blind spot detect feature does what it says enabling you to see any hidden cars that you could potentially miss. The lights automatically adjust to dimmed when they detect oncoming traffic.
Technology
The manual states that you can stay connected wherever you are by utilizing the smart assist systems. This will help you park, take shortcuts and avoid any potentially traffic dense routes. As standard and across each Kodiaq model, the smartlink plus connects your phone (either Apple Car Play or Android Auto) to the infotainment system. The satellite navigation system is a touchscreen 9.2-inch beauty with inbuilt Wi-Fi, Bluetooth connectivity and smartlink functionality. The speakers are German and distribute crystal clear sound across the 10 speakers in the car.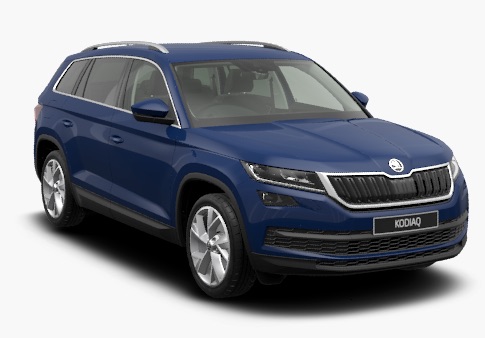 Pictured above is the front view of the Skoda Kodiaq.
The infotainment function includes a calendar, weather app, news stream and places of interest option. When required it will contact your SKODA retailer to organize a service. Additionally, and if the situation arises, the infotainment system (touchscreen computer) can contact the emergency services to get assistance.
Storage
As you'd expect there is an abundance of nooks and crannies that have been cleverly designed into additional storage compartments. With additional options some may also have the added functionality of air-conditioning or cooling.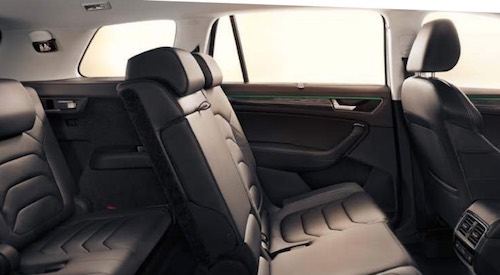 The above shows the three rows of seats for the Skoda Kodiaq.
Boot Space
With all seats down the luggage capacity is just over 2000 litres. With all seven seats up this reduces to 270 litres. With the 5-seat option the luggage space is 720 litres.
Fuel
The fuel tank with most options is 60 litres (some smaller engines have 58 litre fuel tanks). Depending on which model you choose the fuel economy (miles per gallon) ranges from 33.2 to up to 56.5. Both figures relate to combined fuel economy rather than urban or extra urban figures.
Carbon Emissions
Carbon emissions range from 131 g/km (SE 2.0 TDI 150 PS DSG SCR) to 170 grams of Co2 per kg (2.0 TSI 180 PS 4WD DSG). This is the equivalent of Car Tax band E to Band H. Car Tax banding has slightly changed this year (2018) and equates to a cost of just over 200 pounds to over 500 a year.
Exterior Colours
The basic solid color is energy blue with no additional cost when purchasing a Skoda Kodiaq. Prices rise to just under 1,000 for metallic and pearl effect options. What they call special colours can cost you just under 600 pounds.
Six Models Available
There are six versions of the Skoda Kodiaq. These are listed as follows with entry model first and most luxurious listed last:
Kodiaq S (available with 5-seats only);
Kodiaq SE;
Kodiaq SE L;
Kodiaq Edition;
Kodiaq Scout;
Kodiaq Sportline.
Four Wheel Drive
As with all four-wheel drive options the Kodiaq has been designed to distribute power between each wheel effectively in order to maximize control over the road.
Weight
The Skoda Kodiaq weighs just over 2000kg and has a maximum load weight of up to 650 kg. Unbraked towing weight is 750 kg.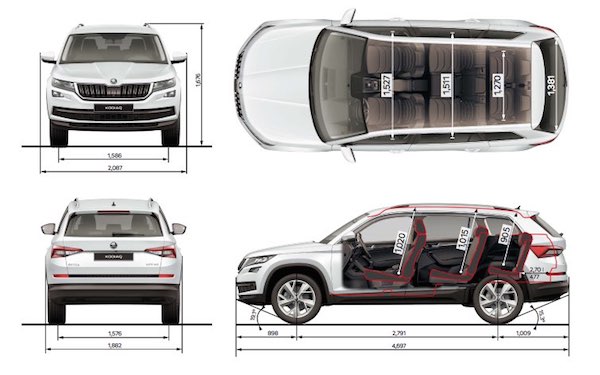 Pictured above outlines the Skoda Kodiq 7-Seater dimensions.
Performance
With speeds of up to around 120 miles per hour and zero to 62 miles per hour in around ten seconds the Skoda Kodiaq is on a par with other MPVs of it's size and stature.
Warranty
Unlike other vehicles with 3, 5 or 7 year guarantees the Skoda manufacturer has opted for something slightly different. They offer you unlimited mileage in the first 2 years but only a 3-year / 60,000 mile cover (whichever is sooner) if you buy through an appointed retail network.
.more...