2011 SsangYong Rodius
Understated, practical, great off-road and with a fantastic seven-year warranty, the Ssangyong Rodius might not have a name that is easy to say, but it is a fine seven seater that is often overlooked. It is very practical and has a huge boot space but it does lag behind more modern competitors somewhat.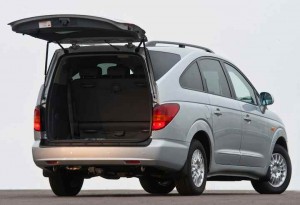 Ssangyong Rodius boot space pictured above.
C02 Emissions
As with all four-wheel drives, the CO2 figure that is emitted by the Rodius is high and at 233g/km, it is not going to appease any eco-friendly groups. But for those with large families or those that have load-lugging requirements, this beast of the road can fill those niches easily. Despite the unfriendly badge and image that is seemingly nondescript, the Rodius is actually a really good seven seater.
Standard Options
The standard options are vast and include traction control, side air bags as well as driver and passenger airbags, seatbelt pre-tensioners and anti-lock brakes. This rugged off-roader is likely to be a safe option in a collision. It's cheap to buy new, with prices starting at around £17,000 but they do depreciate quickly. Grab a bargain second-hand one or run it for the whole warranty period to get your money's worth. The diesel is more economical (38mpg over 29mpg) than the petrol engine; however, it needs servicing every six months, which adds to the running costs.

Ssangyong Rodius seating options pictured above.
Lots of Space
With plenty of space for five adults and two children (only in the rearmost seats), the Rodius is a comfortable ride. It has good head and leg room and it absorbs bumps and pot holes well. That makes it a good cruiser for long motorway journeys. Despite the name, Ssyangyong has good quality kit in its vehicles. There are a myriad of options such as soft, leather seats and the dashboard plastics look like they come from a more expensive car. Mercedes donate the gearbox, which shows the determination for Ssyangyong to make a name for itself in the UK.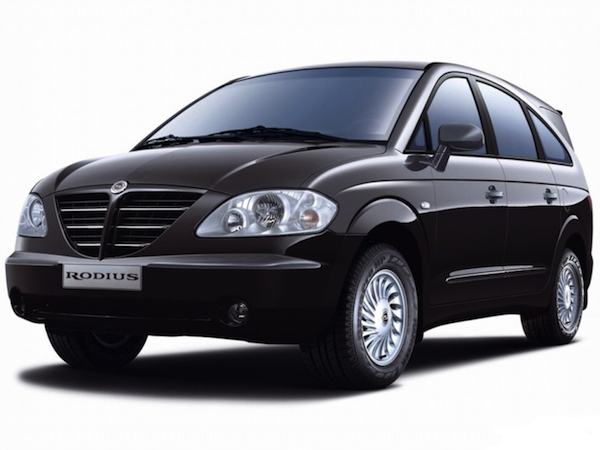 Ssangyong Rodius pictured above.
Rodius Engines
A 2.9-litre diesel and a 3.2-litre petrol engine were offered originally but even the diesel-only managed to return 28mpg and not much in the way of performance. The pulling power is good as both engines have great low-down torque. The choice engine is the later five-cylinder 2.7-litre engine that has 186bhp and returns a slightly better 31mpg. The 0-60mph benchmark is completed in around 11.6 seconds, although this is hampered by the automatic gearbox.
Boot Space
The Ssangyong Rodius is a tall and wide vehicle and it has a huge boot. There is a good-sized glove box and addition cubby holes and deep door bins. Even with all seven seats being used, there is still enough boot space for a few bags. Parking a vehicle of this size takes a little time to get used to due to the footprint it commands.
Soft Roader
The four-by-four nature of the Rodius makes it more of a soft-roader. It can easily traverse the dirty stuff but on the road it should be treated kindly and not tipped into corners too fast as the handling is not great. Nevertheless, it covers pot holes easily and does not let vibrations travel through the cabin.
.more...