Subaru Tribeca
The legendary rally car manufacturer Subaru has stretched its reach in the family-car market with the introduction of the Subaru Tribeca B9. There is a third row of seats which can be raised and lowered easily if you need to have a seven seater. A 58 Reg Subaru Tribeca B9 Estate s5 5Dr Auto can be purchased for just under £12,000.
Tribeca B9 SUV 4WD
As with most SUV/4x4 hybrids, the Subaru Tribeca B9 is slanted more towards being a road car than an off-roader. With a tried-and-tested four-wheel drive system and a 70/30 split with the majority of power going to the rear wheels, it sounds like a recipe for a great family-car that can still spark interest during spirited driving.
Subaru has used its iconic flat-four engine and added two more cylinders, which gives the Tribeca B9 a healthy 245bhp. Unfortunately, any glimmer of hope for something akin to the Legacy Turbo or indeed the long-running Impreza Turbo is short lived. The performance is pretty poor despite having good torque figures.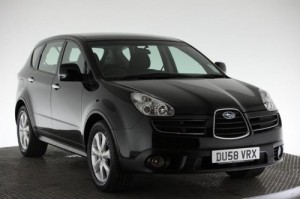 Subaru Tribeca pictured above.
For instance, the 0-60mph dash takes 9.7 seconds and due to the fussy shuffling of the automatic gearbox, progress can be a little frustrating. However, the noise that the flat-6 makes is incredible and will even give a Porsche 911 or an air-cooled VW Beetle a run for its money.
To add insult to injury, the poor performance figures somehow provide the Tribeca with a drinking problem as it returns only 23mpg and expels 291g/km of CO2. So, it's expensive to tax, run and buy, and there is no diesel alternative. Why would you buy a Tribeca when the awesome Nissan Murano is cheaper, prettier and costs less to run? It's Subaru, that's why. Remember that But the the Murano has 5 Seats. The Nissan Qashqai +2 has Seven Seats.
As the value of any new Tribeca B9 will suffer a little depreciation over the first two years, buying a slightly used one offers the best value for money. On the plus side, it looks like nothing else on the road, and Suburus are known for being extremely long-lasting and reliable.
With the Impreza having such a huge following, there are many Subaru dealers around the UK, so getting hold of parts for Japanese cars is not as much of a headache as it once was. There is a three year/60,000 mile warranty on new cars too, which means that anything that can go wrong in that time will be fixed, and that's great news for anyone considering buying a Tribeca.
Unlike other cars in its class, the Tribeca B9 is swathed in plush leather and high quality materials. The swooping dashboard and chunky feel to the controls give an element of a much higher class and a more expensive car. This is where the Suburu sets itself apart from the rest of the midi-SUVs on the road today. It looks great, it's smooth and silent even at high speed, and it is extremely comfortable.
With a long history of providing the obligatory farm workhorse with the Legacy 4x4, the Tribeca knows how to be practical and usable. It has an optional third set of seats which can be raised and lowered, making it a 7-seater if need be. Without the extra seats, there is a chasm of space which literally swallows anything you put in there. The rear seats can recline and split 60/40, which makes them even more usable and comfortable for long drives.
The taller stance of the B9 helps you see the road ahead clearly and with stability control, traction control, and front, side and curtain airbags, the Subaru is a safe place to put yourself.
In short, this brave move by Subaru to diversify with the Tribeca seems to have worked. Throw in a diesel engine and give it a little more sportiness, and it really will shine.
.more...