Toyota More Hybrid Vehicles
The Toyota Motor Corporation has plans to boost its green credentials by producing 21 new hybrids over the next three years. In addition, they are planning to unveil a new electric car before the end of the year, and, by 2015, a fuel cell vehicle will be added to its fleet. This is great news for the environment and for those looking for more fuel-efficient cars. Their seven seat prius plus is the first Hybrid Vehicle to enter the People Carrier sector of the market.
Compact EQ Electric Car
Recently, Toyota said it will launch the electric compact eQ, which is based on the current iQ model, in both the USA and Japan by the end of the year. There will only be a limited number of these electric cars, which in the USA will be called the iQ EV, available, however. The £28,000 purchase price of the vehicle is also quite high, especially considering that it only has a travel span of 62 miles.
Or the Electric Rav-4
Toyota's new electric Rav-4 model, which it manufactured with Tesla Motors, an electric car maker, will be available in the USA later this month. Its fuel cell vehicle will be launched in 2015, although details have not yet been released on this model.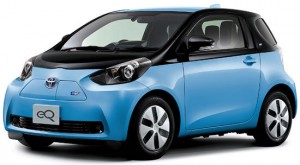 Toyota EQ pictured above.
Prius has led the way
Toyota is preparing for an expansion after being hit by the financial crisis over the past few years, as well as other disasters that have effected production in Japan and Thailand. The company is also relying on its great green technology status, which has been accomplished via its popular Prius model, to attract buyers and repair its name as a result of the many recalls that took place a few years ago in the USA. Toyota's rival is also working on new eco vehicles and is concentrating its energy on its Leaf electric car. Perhaps the biggest challenge for Toyota, however, is that many customers are still not paying attention to hybrids and other technologically-advanced vehicles.
Future Fuel Cells
Takeshi Uchiyamada, who is overseeing the new development of eco cars and technology at Toyota, said that compared to electric cars, there is great potential for fuel cell cars in the long-term due to the greater travel span and faster charging time. He believes that in the 2020s, thousands of fuel cell vehicles will be sold.
Until these new eco cars are released, however, the current plug-in hybrid, which runs as an electric car and then switches over to a hybrid motor once the battery runs out. is available as a great alternative. Since being launched earlier in the year, 15,600 Toyota plug-in cars have been sold.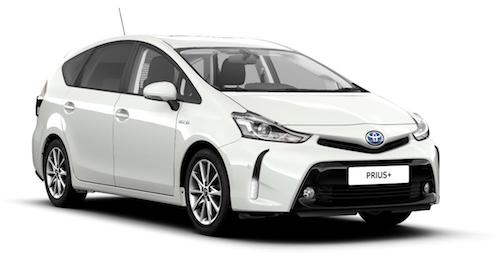 Toyota Prius Plus pictured above.
Hybrids Bring Revenue
Toyota was surprised by the positive response to its new technology, said Uchiyamada. This shows that the public is interested in reducing emissions and caring for the environment, he added. Although the Prius's annual sales when it was released in 1997 were minute, sales have now grown so much that the green car makes up 10 per cent of Toyota's global sales. The sale of hybrids in Japan make up nearly half of Toyota's revenue, Uchiyamada added. The funding for green technology in Japan has been a major advantage.