Volkswagen Touran 2012
A sassy exterior and roomy new interior make the 2012 Volkswagen Touran a special kind of seven-seater car. Its flexible seven seats provide adequate space for seven people and can be configured to fit anything you need to carry, such as skis, groceries or luggage. Its safety features make it an ideal family vehicle, while the stylish exterior means it is also suitable for those wanting a hip-looking ride.
Starting Price for the VW Touran
The basic 'S' model will set you back just £17,420. It comes with standard features, such as cruise control, power assisted steering, body coloured mirrors, 5" alloy wheels and an RCD 310 stereo system with eight speakers. For additional features, such as heated insulated tinted glass, 16" allow tyres, rear parking sensors and leather trimmed steering wheel, opt for the Touran SE or Sport model.
All VW Touran models come in Candy White or Deep Ocean Blue with the option of upgrading to a metallic or pearlescent paint. The cloth interior varies between each model, but can also be upgraded to black or beige leather.
Sustainable Motoring
Volkswagen's BlueMotion Technology is present in all Touran models, keeping this seven-seater car sustainable and energy-efficient. It works together with the engine and gearbox on all models to create a cleaner and more efficient vehicle without compromising on performance. Features of the BlueMotion Technology include improved aerodynamics, gear change recommendations for fuel savings, low rolling resistance tyres and an engine start/stop function.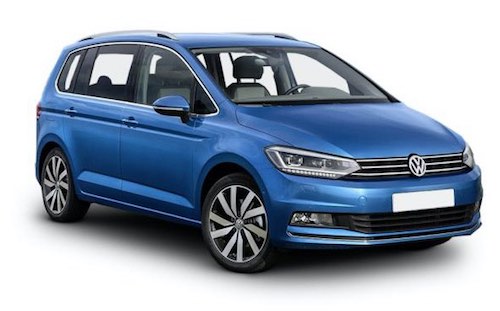 Volkswagen Touran pictured above.
Economical and High-Performance
The BlueMotion Technology, together with the TSI and TDI engines, results in a seven-seater vehicle that offers great economy and high performance in one package. The Touran S model's 1.2-litre TSI 105ps petrol engine can reach 62mph in 11.9 seconds, has a total combined fuel consumption rate of 47.9mpg and CO2 emissions of 139g/km.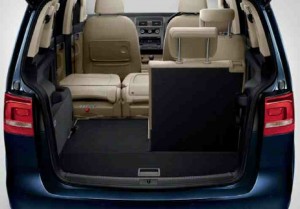 Volkswagen Touran boot space pictured above.
The diesel 1.6 TDI 105ps BlueMotion Technology engine achieves a combined 61.4mpg and just 121g/km of CO2 emissions. The more powerful 2.0 140ps TDI diesel engine has CO2 emissions of only 127g/km, and 58.9mpg combined fuel consumption.
Luxurious Interior
The VW Touran is comfortable and spacious, allowing enough leg room for seven adults. It has storage compartments on all five doors as well as in the roof console, and there are two convenient 12v sockets. The three seats in the second row fold individually and can even be completely taken out for more space, while the two seats in the third row fold separately into boot space. There is a total maximum boot space of 1,989 litres in the Touran or 121-litres when used as a seven-seater.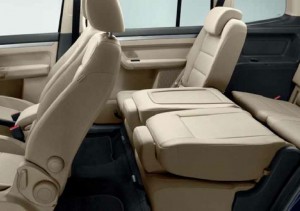 Volkswagen Touran seat view pictured above.
Safety Features
Six airbags are standard on all Touran models to ensure that everyone is safe inside the vehicle. In addition to this, all seats in the second and third row have head restraints, and the second row is equipped with two Isofix fittings for families with two young children.
The SE and Sport models have added safety features that are optional on the S model, such as a rear parking sensor, a park assist system, a multifunction steering wheel and an alarm system.