Citroen Dispatch Combi
Six to Nine Seat Combi
This passenger vehicle can seat up to nine people comfortably. This Citroen Dispatch Combi MPV is available in two lengths that are designed to seat between six and nine people comfortably, and has a steeped windscreen and a large front bumper. The appear elongated.
This vehicles full name is Dispatch Combi, thanks to it being based on the long-running Dispatch van/MPV product range that shares a platform with Fiat's Scudo and Peugeot's Expert. The regular Dispatch is a plain-Jane van, the Combi model being the MPV we're interested in here.
Purchase Price
The manufacturer's list price is £17,263.83. Second hand nine seat models can cost upwards of £9,000. If you opt for the nine seat variant remember there's more insurance to be paid for anything over 8-Seats.
Flexible Seating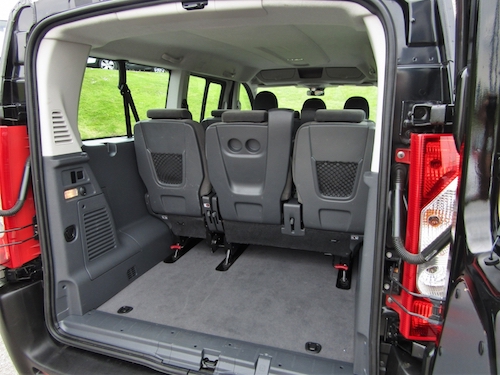 Citroen Dispatch Combi Boot space pictured above.
The passenger seats in the second and third rows can be rearranged to suit, giving today's consumer the flexibility he or she needs.
The seating is modular and can easily be re-arranged in ways that could not even be dreamed of.
Running Costs
The service interval frequency for this model is 24 months. Emission rates have been recorded at between 186-200 g/km. This is considered a higher than average level of Co2 emissions. If the number gets above 200 g/km, the level is considered high, while a number of 100 g/km or lower is desirable for car models. The Car Tax Band for this model is Band J. On average it gets a combined rate of 39.2 miles per gallon. The rate for urban driving for this model is 33.6 miles per gallon. The insurance can be tricky because if you have anything above an eight seat vehicle you will automatically be charged commercial insurance rates rather than person. This will bump up the price.
Extras
This model has an Electronic Stability Program that combines traction control and cruise control. It is equipped with front and side airbags, as well as lumbar support and an armrest (passenger seat). Rear parking sensors and an anti-theft alarm are standard. The vehicle also comes with ABS brakes.
This MPV has a huge windscreen and large side windows making the experience light and refreshing for everybody inside.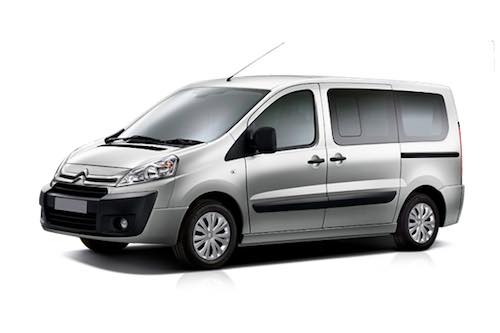 Citroen Dispatch Combi pictured above.
Colour
This vehicle is offered in several colors. Customers can choose from metallic finishes, such as gun metal, arctic steel, golden white and Kyanos blue. It's also available in iron gray in a pearl finish, as well as solid black, imperial blue and polar white.
Performance
The Dispatch Combi MPV comes with an 80-litre fuel tank. The gross vehicle weight of this vehicle ranges from 2683kg (6-seater) – 2805kg(9 seats). It has a six-speed, 4 cylinder manual transmission. The maximum speed of this vehicle is 106 miles per hour. It can go from 0-60 in approximately 12.5 seconds.
History
Hands up everybody who remembers the great Volkswagen Kombi! Okay, on second thoughts we can't see your hands so you can relax but you may well still recall this revolutionary van/bus/car that somehow managed to combine basic transportation with flamboyant style, huge practicality with great character, and unrivalled economy with monumental utility.
Well, Citroen seems keen to have a go at providing a modern take on that great flower-power icon. The flamboyant, eccentric, practical and character-laden French carmaker has for several years produced a modern MPV that perhaps offers a little bit of the old VW's greatness and maybe that's why they called it the Combi.
Conclusion
The Dispatch Combi is an excellent choice for customers who are looking for a reliable family vehicle. It is easy to handle on the open road for customers who are looking for a vehicle that looks like a mini-bus. The suspension system can handle any bumps along the way with ease.
The only drawback to choosing this type of vehicle is that there isn't a lot of interior room for luggage once all the available seating is being used. Despite the issue with lack of storage space, this model represents good value for the money to consumers.
Related Articles