Land Rover Defender
Having been around for more than 40 years in almost exactly the same general guise as you see today, the Land Rover Defender continues to pummel the countryside into submission and can carry seven people. The Land Rover Defender is not pretty, nor will it win any styling awards, but to get the job of transporting seven people plus baggage around across any terrain, it is difficult to beat.
The Land Rover Defender slab-sides and external rivets show it's not one for the city-slicker. It means business, it's down-to-earth and it doesn't let a few boulders or mud get in the way. Many people move out to the countryside to escape the hectic lifestyle of the city, and consequently need a vehicle that will not let them down when the snow falls or the going gets tough, and the Land Rover Defender doesn't disappoint.
Land Rover Defender
The Land Rover Defender is expensive to buy new at around £20,995 for the cheapest hardtop Land Rover Defender 90 and at up to £31,650 for the XS Station Wagon. It will retain residual value of around 45 per cent over three years, which the same cannot be said for its rivals. For the price, there is little in the way of comfort and gizmos, but what you do get is almost half a century's worth of pedigree in the four-wheel drive vehicle market.
Some find it ugly; others wouldn't change it for the world. The iconic, chunky shape of aluminium panels and seemingly unsilenced exhaust note are typical of the British-built 'Landy'. With some jiggling around, seven people can be transported in the Defender, with even a little space left over for bags.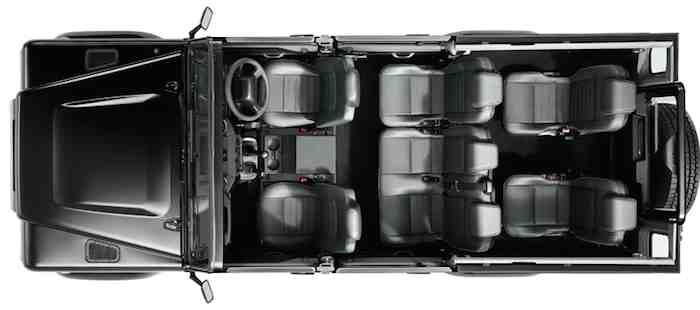 Land Rover Defender birdseye view of seating.
There are three diesel engines to choose from; the 90, the 110, and the 130. All Land Rovers have manual transmission - automatic gearboxes aren't an option. The fuel economy is averaged at 28.3, 25.5 and 25.5, respectively. All three emit a nasty amount of CO2, with 266, 295 and 295g/km being horrendously high. If you're looking for a frugal, environmentally-friendly seven seater then the Land Rover Defender isn't for you. If you live in the country and have trails to conquer before you reach smooth roads, then this 7 seater 4x4 could just be the ticket.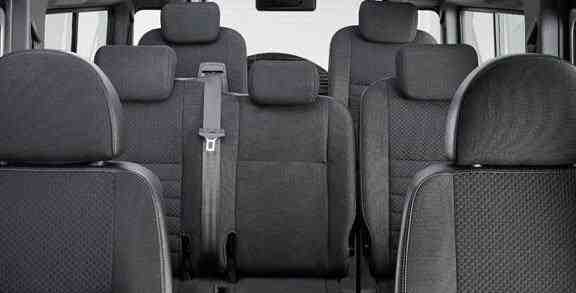 Land Rover Defender seating view.
For those who like to be a little different, the Defender has an abundance of accessories and add-ons to help make each one unique. Front protection bars, roof-rack systems, headlamp guards, and aluminium under-body shields all add those finishing touches. There is even a 9.5-tonne electric winch that can be fitted in case you see an inferior four-wheel drive stuck by the wayside that needs pulling out.
Whilst the Defender might not be everyone's cup of tea, it certainly does the job when it comes to getting from A to B, no matter what is put in its way. For large families in the country, there is almost no other vehicle that can do what Land Rover has been doing for all these years. It's a perfect back-to-basics type of people carrier.
.more...