Lucky Number 7
According to various cultural and spiritual practices, the number seven has a variety of important characteristics. Mathematically speaking, the number seven is important for a variety of reasons.
7 is a Prime Number
Seven is the fourth prime number. A prime number is one that can only be divided exactly by itself and the number one. Seven, in fact, is both a Mersenne prime and a double Mersenne prime but I'll spare you the details of that mathematical geekery.
Dice = 7
Seven is also the sum you get if you add up the numbers on any two opposing faces of a standard six-sided die. This doesn't work, however, if you use a seven-sided die. Seven-sided shapes, by the way, are called heptagons.
7 Primary Chakras
Anybody into new-age energy pursuits or Indian spirituality will probably be aware that there are seven primary chakras, or energy channels. The number seven also has a number of aspects known to those who study numerology, which concerns the esoteric or mystical relationship that apparently exists between numbers and living things or physical objects.
Positive Characteristics
Apparently, the number seven has a range of positive characteristics. One of the strongest of these is organisation. People with a strong connection to the number seven are supposed to have good organizational skills.
Inward Looking
These same people are supposed to be rather inward looking. This makes them prone both to self-development and spirituality but brings a risk of seclusion, self-centredness and weak relationships with others.
Six Passengers + Driver = 7
Perhaps the most interesting is how the number seven imparts a certain character to automobiles. Let's face it – if you're carrying six passengers, it is likely that several of those will be young children, and how often does a long drive involving several kids not test our relationships with others?
Minimised Stress with 7-Seater
Fortunately, a well-designed seven-seater should offer a great chance to build up those organisational skills, too. Today's modern SUVs and MPVs do more than just throw in seating for six passengers. They should, and often do, feature clever designs and systems that let you pack in all those people as well as plenty of cargo in such a way that the stresses of the inevitable inward-looking relationships found inside a car or truck are minimised.
Chevrolet Orlando 7-Seater
The Chevrolet Orlando exhibits quite a few aspects of positive seven-seater numerology. For a start, the cheapest model, the Orlando LS, comes in at just under £17,000.
Costing less than £17,000
In fact, at £16,410, the Chevrolet Orlando LS costs almost £700 less than £17,000. Sure, the actual difference is £590 but if you add up all three numbers, you get 14 which, is two times 7, right? That's double the goodness!
Whatever the numerological aspects of the car's pricing, the LS throws in a heap of motor vehicle-goodness. You get seven seats spread over three rows, six airbags, a 1.8-litre engine and 16-inch wheels. By the way, what's 1 + 6? Seven, of course!
Orlando LT
The numerological fun does not stop there, either. The next model in the range is the LT. Venture a guess at the price? If you said that pricing for the LT starts at £17,410, you would be right.
Orlando LS
So, for £1,000 more than the LS, you also get rear parking sensors, a USB port so you can jack your MP3 player into the stereo system, audio controls on the leather steering wheel and electronic climate control.
Orlando LTZ - Top of the Range
The top-of-the-range Orlando is the LTZ. If you add up the numerological values based on the alphabet, LTZ comes to 58 (12 + 20 + 26). Subtract 5 from 8 and you get 3, which clearly means that I've lost my way here, numerologically speaking.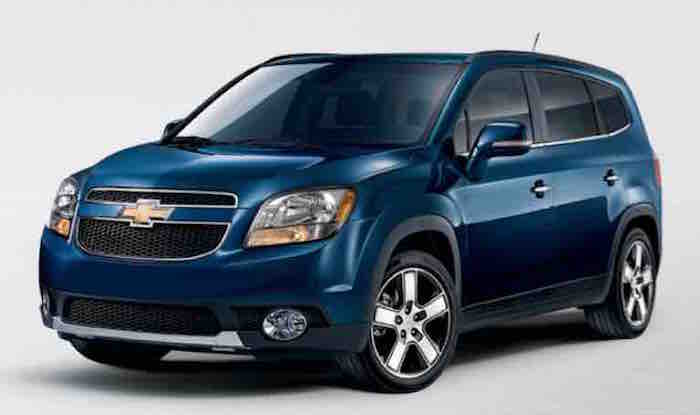 Chevrolet Orlando pictured above.
Thankfully, the progressive goodness continues with the Orlando, whatever my own numerological failings. The price for an Orlando LTZ starts at £18,210 (Aha! 1 + 8 = 9, 9 – 2 = 7!).
And what do you get for just over £18,000. Why you get 17-inch allow wheels. So, it appears we continue to enjoy the good luck of the number seven.
Orlando LTZ Extras
The LTZ also comes with rain-sensitive windscreen wipers, electronic cruise control, automatic headlights, power folding door mirrors and an auto-dimming rear-view mirror.
All Orlando's Have ..
No matter which version of the Orlando you choose, you will enjoy a 60-40 folding split for the second row of seats and a 50-50 split for the third row. All models also feature cup holders up front, cup holder in the rear armrest, rear pockets on the back of both front seats, a retractable cover for the luggage compartment, a storage area hidden behind the radio and a pair of extra 12-volt power sockets in the passenger and load areas.
Lucky Orlando?
So you see – it doesn't matter which version of the Chevrolet Orlando you choose, you will enjoy the comfort and organisational skills that should help keep everyone as happy as possible on the road. Whether you focus on numerology or just read the brochures, it looks like the Orlando adds up to a lucky number seven.
.more...