Teenagers Don't Drink! And drive
Drink driving among teenagers has plummeted in the past 20 years by 54 per cent, as stated in a report released by the Atlanta based Centers for Disease Control and Prevention (CDC). In 2011, the CDC surveyed high school students that were 16 years of age or older and found that 90 per cent of them did not drink and drive.
2.4 Million Drink Driving Incidents Each Month
Even with these findings, motor vehicle accidents are the number one cause of teenage deaths, with many being alcohol-related, said CDC Director Dr Thomas R Frieden. He added that over 2,000 kids between the ages of 16 and 19 are killed each year, and that nearly one million high school kids get behind the wheel after consuming alcohol each year. The CDC calculated that there were 2.4 million drink driving incidents each month among teens in 2011.
Binge Drinking Too
The CDC's report also reveals that in the last 30 days, 85 per cent of teens who admitted to drink driving were also involved in binge drinking. Drink driving is particularly dangerous for teen drivers, as they are 17 times more likely to pass away if an accident occurs, explained Frieden.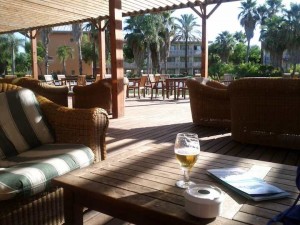 Pictured above is the outside Bar area at Hotel Caribe, Portaventura, Spain. The drink pictured is an Estrella.
The recent study also looked at data from the CDC's Youth Risk Behaviour Surveillance System that was collected between 1991 and 2011, which monitored six behaviour types that heighten that risk of being killed or becoming disabled. National surveys that were given to high school students were included in this system.
Teenage Alcohol Habits
Teens all across the US completed questionnaires about drinking and driving, and their alcohol habits. One of the questions asked was whether they had got behind the wheel after consuming alcohol within the 30 days prior to the survey.
More than 5 Drinks in One Sitting
The study found a 10 per cent decrease in drinking and driving since 1991, that males were more likely to drink and drive than females, that Hispanic and Caucasians were more likely to drink and drive than African-Americans, and that over seven per cent of 16 year olds drove after drinking. This percentage increased to over 11 per cent among 17 year olds. The study also found that more than 84 per cent of the students that took part in the survey binge drink, which means they consumed more than five drinks in one sitting.
The report shows a positive decrease in teenage drinking and driving over the last two decades, yet fewer teens are driving now than 10 years ago. Some other factors that may have added to the decrease include the rise in the minimum drinking age, the implementation of a zero tolerance law for teens and the graduated licence programme, which slowly allows new drivers to gain full driving rights.
Fatalities Decrease
The CDC has seen fatalities among teens due to drinking and driving accidents decrease by almost 40 per cent over the past five years as a result of the laws implemented under the graduated drivers' licence programme, said Frieden. He added that it is important for parents, doctors and states to educate teens about the risks of driving under the influence.
Similar Topics