2012 Ford Explorer
There have been a large number of new seven seaters coming onto the market in recent years, and the tactic many automakers have used to get our attention ahead of release is to give us a little teaser. Now Ford is the latest car manufacturer to follow suit by releasing a short video of its forthcoming Explorer. The only trouble is, there's not much to see yet, but that is probably the point.
For a start, there is a new mesh grille and the headlights have become a great deal sportier than on previous models. The exhaust is also sportier than before and the interior looks a little more refined. This move by Ford looks to be fairly obvious when you consider how their product range has changed in recent years.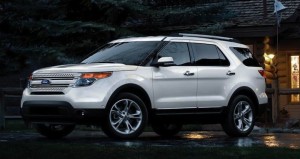 Ford Explorer (2012) pictured above. Available in USA only.
Sporty Look
With numerous other carmakers introducing sporty models, it seemed for a while that Ford was being left behind. That has necessitated a new look at the Explorer, an SUV that Ford has produced since 1990. It has certainly changed a great deal over the years. In fact, the Explorer really does represent the dramatic shift in trends that has taken place recently.
When it first came out more than 30 years ago, this was a vehicle that was robust but boxy with a 4-litre petrol engine that generated 155 horsepower. It was essentially an SUV version of the Ranger pickup and came in both a 2-door and a 4-door version.
Second Generation
It wasn't until the second generation came along in 1995 that Ford really started to give the Explorer a look that resembled the vehicle we know today. For a start, it was a great deal curvier than its predecessor, as the American car maker began to make its family SUV that little bit sportier.
Performance
In addition, it came in an engine that was not only bigger, but much more powerful, producing a very respectable 210 hp. Again, there was a 2-door and a 4-door version, but the most innovative aspect was the neon stop lamp, the first of its kind used in a vehicle. This generation of Explorers also included the limited edition North face model, which was only sold in the UK.
Third Generation with 7 Seats
It wasn't until the third generation that Ford Explorer graduated to a 7-seater, as a third row was added in a bid to compete with the new range of similarly designed SUVs that began to cater more to families.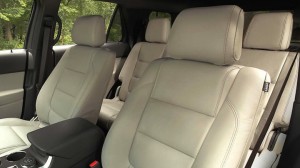 Ford Explorer (2012) seating view pictured above. Available in USA only.
By the time the fourth generation had come off the production line, Ford had already altered the Explorer beyond all recognition. It was decidedly sportier and more curvy and it had evolved into a de facto 7-seater that was designed as a family runaround for the middle market. The fifth generation was built upon a concept Ford released in 2008, with its float-roof effect that was also seen on the Flex. The Explorer has certainly changed a great deal, and how much the latest version has evolved should become clear very soon.
This is an American seven-seater that is currently not available in the United Kingdom.
.more...