Hyundai HEXA Space
In an age when carmakers are producing an ever-growing number of crossover SUVs with increasingly low fuel demands and interiors that defy the amount of space available, Hyundai is taking this concept one step further. Set to unveil this weekend in New Delhi, India, at the second major motor show of the year following Detroit, the new Hyundai Hexa Space is an incredibly compact people carrier with a remarkably small 1.2-litre turbocharged GDI engine.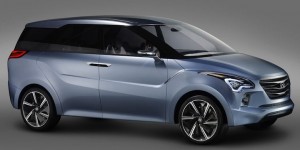 Hyundai HEXA Space (concept) pictures above.
Unique Hexagonal Seating Configuration
Where Hyundai Hexa is truly revolutionary is in its unique hexagonal seating configuration, hence its name. The interior layout works courtesy of two floor runners, on which six seats on the first and second rows slide to create what approximates to three rows of seating, but is in reality is more like five rows. The standard format sees the driver's seat and the other main front passenger seat the farthest forward, but then there is a middle front-row seat which is slightly farther back. This means the middle seat on the second row is set slightly farther back. On the third row, there is no middle seat; instead the two seats are separated to create the necessary space for the middle seats.
Up to Eight Seats
The overall effect of the seating is a tightly-packed seating configuration that accommodates up to eight people in total, in a cabin whose total length is shorter than just about any other three-row vehicle out there, the only compromise being that width-ways, space is a bit more confined than in your average 7-seater. This is made up for courtesy of the substantial amount of headroom available in the Hyundai Hexa.
Fold Flat Seats
As Nissan points out, the hexagon makes for a natural fit. In nature, the likes of honeycombs are made of hexagons and in architecture, this shape is renowned as a robust space-saver, so why not use it in car seating configuration? Like other 7-seaters on the market, the Hexa features seating that can be folded flat to the floor to create extra space, and again, this is where the vehicle comes into its own. Because each seat is effectively a free agent, it can be folded down separately to offer a greater degree of flexibility. All eight seats can be folded flat to the floor when camping, for example, or just the back row when shopping or even just one or two seats to accommodate awkwardly-shaped pieces of furniture. The options are limitless.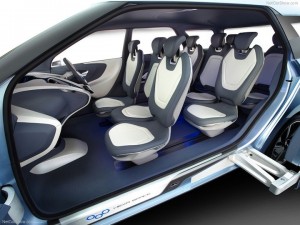 Hyundai HEXA space interior picutred above.
Unclear when this concept will be launched
Other than the revolutionary seating system, the interior is a fine piece of modern design, with its sleek pastel lines and futuristic look and feel. Hyundai has said the vehicle is designed for young families living in the city, those in their 30s and 40s, and most likely those in Asia. It remains unclear, as yet, when and where this new vehicle will be launched, given it remains a concept which is being developed by the South Korean automaker. Expect an Asian launch to begin with, followed possibly by Europe being given a smaller dimension of the car. And expect a lot more detail to come out of Delhi before the end of the month.
Other MPVs from Hyundai that are currently available in the United Kingdom include the i800 (eight seater) and the Hyundai Santa Fe (4WD).