Isuzu Trooper
Isuzu have dropped off the radar when it comes to making cars, but its long-running, rugged off-roader, the Trooper, is still thought of as one of the best 'big' cars today.
Although it ceased production of the Trooper in 2005, in its nine-year history, it became known as the one to watch and gave the bigger companies of Toyota, Land Rover and Ford a run for their money. If you want to buy this second hand 7-seater prices range from only £500 upwards. Very few are over £5,000.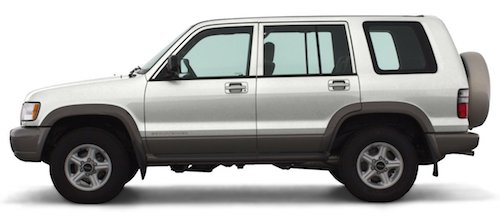 Isuzu Trooper pictured above.
Despite its 90's looks, the Isuzu Trooper doesn't look out of place on the road. It's a chunky, boxy thing, which has stood the test of time, and fits in today with the chunky, boxy looks manufacturers are aiming for, some 19-years after the its inception.
Farmers and families still love it as it's a great towing car for agricultural use or caravans, it has seven seats and has a strong range of engines to choose from.
As tough as the rest
If you're looking for a second-hand 7 seater, this off-roader should be on your list. It might not have the finesse of a Mitsubishi Shogun, a JEEP Grand Cherokee or a Range Rover, but it's tough and effective in its ability.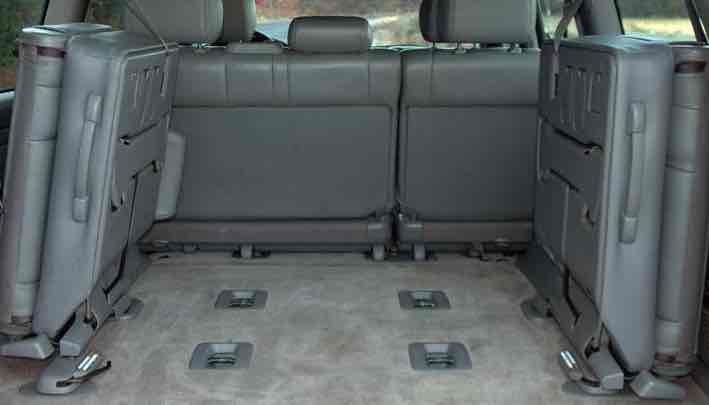 Isuzu Trooper rear boot seats pictured above.
Engines and Performance
There were two engines to choose from, a 3.5 V6 petrol-engine or a 3.0-litre turbo common-rail diesel. Both are torquey beasts that are capable of hauling loads easily. The petrol engine is more suited to motorway driving while the diesel is best on the rough stuff. The sprint to 60mph takes 11.4 seconds for the V6 and goes on to 112mph or 13.4 seconds and 99mph for the oil burner. The diesel is 200kgs more than the petrol-engine model, which is surprising, but with 245ft-lb of torque, it doesn't break a sweat.
Cabin
Inside, the cabin is spacious and even for the rearmost passengers, leg- and headroom is ample. Although both engines are noisy and fairly unrefined, there is a good CD-stereo system that can drown out wind and road noise. Although there isn't the luxury of selecting options, if you find one with leather seating and a higher-spec model, then that's the car you should choose as the lower-priced ones have cheap velour seats and very plasticky dashboards.
Seating Position
The seating position is very high, which allows you to look over hatchbacks and gives you good visibility. Parking is surprisingly easy thanks to the old-school thin A and B pillars. With the brake lights located in the rear bumper, though, it's very easy to smash the lenses, which is a poor choice of placement from whoever designed it.
Safety Features
Due to new laws and legislation, the Isuzu Trooper doesn't fare well in the safety expectations of today. With a rugged exterior and hefty weight, it probably won't be worse off than any other car in a collision, but even the newest models are nine years old and technology has advanced since then. That said, there are driver and passenger airbags, but that's it. No traction control or stability safety net.
Versatile Second Hand 4WD Vehicle
With its age, it's best to check for rust and damage from being taken off-road, as well as a leaking differential, which can be costly to fix. For a few thousand pounds, though, it's one of the most versatile 7-seaters still available in the UK.
Second Generation Version
Although production of this robust SUV stopped back in 2005 it remains a popular vehicle on the second hand market. The second-generation version, particularly the one produced after 1996, is a classic. It allows the driver to shift between 2 and 4 wheel drive without having to stop the vehicle, and most importantly it has got a much more powerful engine than earlier versions.
It features a 3.2L petrol engine with a hefty 190 horsepower which was again upped, in 1998, to a 3.5L version producing 215hp.
USA only 5-Seats
In terms of getting all the family onboard, Europe and the UK got a good deal. Although the American market only ever had a 5-seater version, here there was also a seven-seat version, which makes the most of the large amount of cabin space. Although in some markets the Trooper was discontinued in favour of the smaller Axion at the start of the millennium, it has remained extremely popular.
Conclusion
The Trooper is a classic, rugged 4 wheeler SUV that looks sporty, packs in 7 people but yet does so without resorting to bulk. Of course, crossover SUVs have become increasingly popular in recent years at the expense of the Trooper, but that won't put off SUV fans that want something resembling a jeep rather than an oversized sporty saloon. The best thing about this vehicle is that they last and last, and of course they are increasingly available at knockdown prices. No wonder then that the Isuzu Trooper's appeal has proven to be so enduring.
.more...