Legoland Windsor in Kia Carens
I have recently returned from a three day trip with my family to Legoland. We travelled up on the Friday and returned on the Sunday, which gave us three days of park access. What a great place for adults and children. Despite the queues, wasps and high prices we had a great time.

Legoland Windsor image pictued above.
I did see a larger than average proportion of people carriers and seven seaters in Legoland, but it's the place to be if you've got lots of kids.
Cost of Legoland Tickets
I bought six "Premium Annual Passes" so that I could enter the park for three days in a row and also any time over the next year. I bought these online (10% discount) and for two adults and four children this cost me £468, (as at 27th July 2011). One of the children is 16 years of age so fell into the adult category:
Adults with online discount: £88 x 3 = £264
Children with online discount: £68 x 3 = £204
Total = £468
I bought these online and printed out the tickets. On arrival I scanned the bar code and then went to the Annual Pass holder office where a photo was taken of each of our party and our tickets, (similar to a credit card) were printed. All tickets have the pass holder's picture imprinted so that there is no fraudulent use. Your face will appear whenever you scan your card to enter the park. The premium pass also gives you free car parking. You just scan your ticket on departure. Again your face appears on the screen as you scan.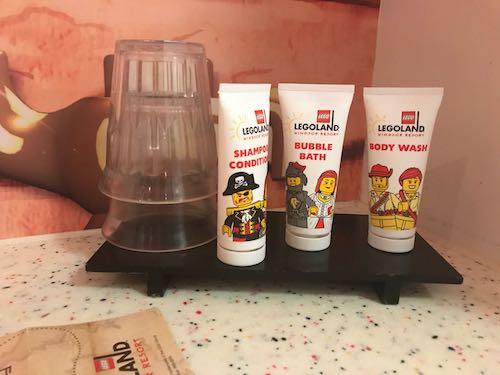 Legoland Hotel free room toiletries pictured above (taken by my sister July 2018).
Cost of QueBot
Okay what is it? A QueBot is a device that you programme, (quite easily) your ride time. Over 20 rides at Legoland allow you to book a time for a ride. The idea is that you are free to walk the park whilst you would otherwise be queuing. The QueBot costs £15 per person on a peak day or £10 on a non peak day. With the premium pass you get a 10% discount.
If you don't want to queue the Boat School or Atlantis rides have to be booked at an additional cost of £3 per person and you book a designated time that you must stick to or loose your slot.
I bought six QueBots and six slots for the Boat School for the Saturday. Total cost £99.
There were hardly any queues when we arrived at 4pm on the Friday. Saturday was extremely busy. Sunday was also very busy. On the Sunday we avoided the rides and spent our time at the splash zone in Duplo land, the 4D films and the outdoor pirate play area.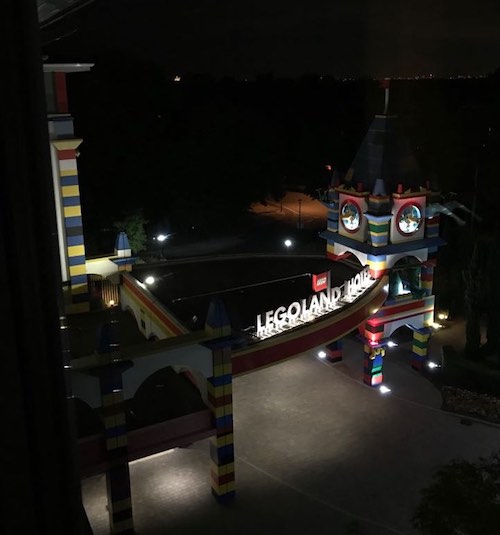 View from Legoland Hotel room window pictured above.
Cost of Accommodation
I booked into the Premier Inn, Slough. I needed two family rooms for two nights. I was charged £59.50 per night per room. I also booked breakfast for the two mornings at a cost of £7.99 per adult. With each adult you get two children's breakfasts for free.
Two rooms for two nights: £59.50 x 4 = £238
Two breakfasts for two adults on both mornings: £7.99 x 4 = £31.96
4 children breakfasts included for free
Total = £269.96
Cost of Travel to Legoland
The six of us travelled in my Kia Carens a total of 477 miles. These included the long journey up and back the M4 and the various trips to Legoland from the hotel and vice-versa. We also got a bit lost on our way to the hotel on the first day which added more miles to our journey.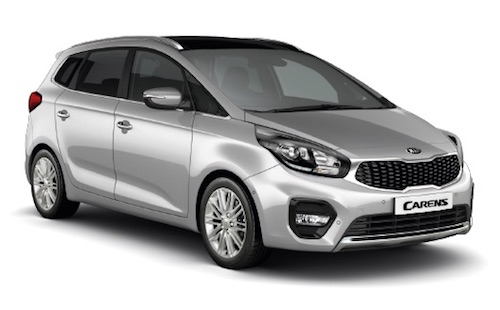 Kia Carens pictured above.
With six passengers and six bags of luggage my Kia Carens managed the entire journey on one tank of diesel. This means that my Kia Carens with a total fuel tank capacity of 55 litres managed 477 miles on around 50 litres of fuel. This equates to approximately 11 gallons which averages an impressive 43 miles to the gallon. Total cost = £68.50.
Cost of Food and Drink in Legoland
The Legoland premium passes give you 20% discount on all food and drink purchased in the park. A single soft drink such as a coke costs about £2.95. A "coke vessel" costs £6 and allows you to have unlimited re-fills all day.
We bought two "Vessels" and shared them between the six of us. You could also buy a yearly "vessel" at a cost of £16. This would allow you to have unlimited re-fills all year for free.
Hot dogs were £3.75 each or £3 with the discount. A burger meal with a drink was about £7.50. Ice creams were £2.50 or more with extras.
There were many offers if you ate after 3pm including two can eat for £ deals or kids eat for £1 in Pizza Pasta.
I did feel sorry for the staff that had to swat the wasps away whilst trying to serve any drinks. Legoland do seem to have made a concerted effort to reduce the amount of wasps at Legoland. There are wasp traps hanging from most trees.
Lots of visitors brought their own food and drink. Picnic tables and areas to picnic were in abundance.
Toilet Facilities
Legoland has an abundance of toilet facilities which was really handy with my practically incontinent five year old.
Drinking Water
I couldn't find any easily. I wasn't particularly looking but I have to say that when I was at Disneyland water fountains were all over the place.
Here are my total costs:-
Tickets £468 – All year access (premium passes);
QueBot £99;
Accommodation £269.96;
Fuel £68.50;
Food/Drink £200 approximately;
Total £1,105.46;
How to Save Money Doing Legoland
Go off peak;
Don't buy a QueBot;
Look for Legoland Ticket deals. Often in the press or as a day out voucher with nectar or clubcard points;
Pre-book accommodation – Premier Inn rooms start at £29 and Travelodge even cheaper at £15
Take less then four children;
Live closer;
Take packed lunch/drinks.
Conclusion
When I total the costs up I could have probably gone abroad for the same price. However with builders at home we couldn't leave our house for long. Also my six year old is completely Lego obsessed and looking back it was worth every penny just to see his face when he first saw the Legoland entrance. I intend to return to Legoland and make full use of my premium annual passes.
.more...