Kia Carens
Kia Carens the compact 7-Seater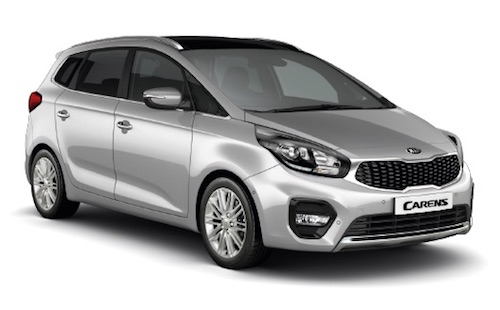 Kia Carens pictured above.
From the front it's difficult to see where the Carens manages to fit a third row of seating, so too by looking at the price. Indeed, this is a seven-seater that looks a lot more like a family estate at a price that is incredibly affordable for the amount of car on offer. And that's certainly where it competes in this increasingly crowded passenger vehicle market.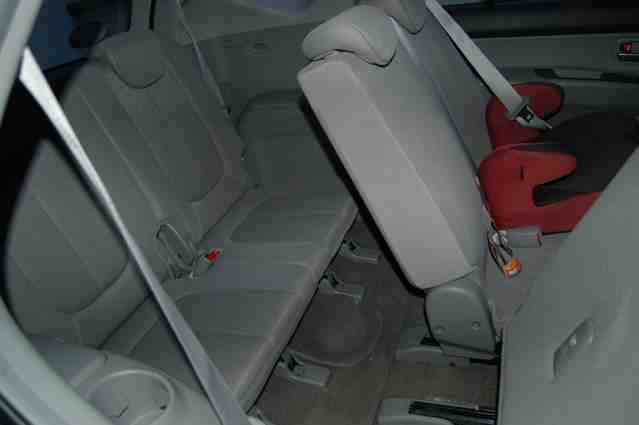 Kia Carens third row seats pictured above.
Purchase Price
A new one will cost you around £15,000, making it one of the cheapest in the UK to buy. Second hand prices range between £3,000 and £13,000. In spring this year a completely new model will appear. Prices are yet to be public, but they should be pretty similar. All Kia's come with a 7-Year guarantee which makes buying one a wise choice.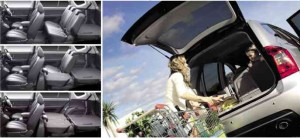 Kia Carens interior and boot space pictured above.
The insurance group falls into Band 10, but prices vary depending on your history. Servicing costs are approximately £200 a year depending on which dealer you go to. The 7-year warrantee does mean that you will have to go with an approved service and repair engineer. However most Kia dealers offer a Service Package which saves you money in the long run and allows you to spread the cost over 12 months.
Miles Per Gallon (MPG)
As expected the petrol version isn't as good as the diesel. The Petrol averages just below 35 miles to the gallon whereas the diesel model averages just over 45 but up to 54 miles to the gallon.
Car Emissions
The (petrol) 2.0 GS 7 Seat model emits 193 (g/km) of Co2. This is currently band J Car Tax. The 2.0 CRDi GS (diesel model) emits 159 (g/km) of Co2. This is currently band G car tax.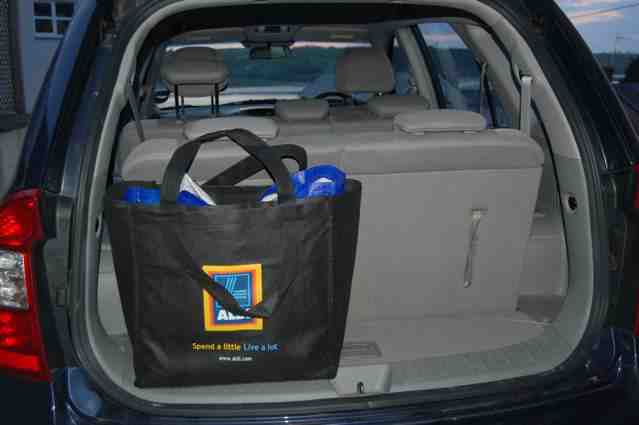 Kia Carens boot space pictured above.
Third Row Split Seating
The third row on the Carens are small but perfectly sized for children up to around 14 years of age. Adults fit fine too, but perhaps only for shorter journeys due to the limited distance between the seat and the floor. My 3 and 4 year old, together with their booster seats, fit perfectly into the third row, with plenty of legroom. The third row of seats fold flat easily; once you have mastered the method of pulling on the cord at the back of the seat. However flattening the third row of seats could easily be achieved one handed whilst holding a baby in the other.
Extras
All new models come with a single CD/RDS audio with mp3 player, manual air conditioning, loads of cup holders, a roof rack with roof rails, drivers central locking switch, immobiliser and much more. More elite models feature a sunroof, leather interior, cruise control, heated front seats, keyless entry and a great sounding Infinity stereo with 10 speakers. The basic colour for new models is either Red or White. To upgrade to metallic or mica paint will cost around the £400-£500 mark. You could choose between silver, titanium silver, moonlight blue and quartz black.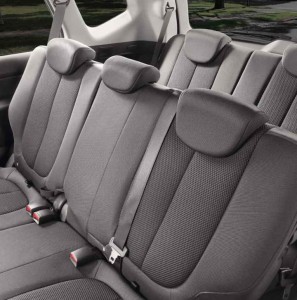 Kia Carens seating pictured above.
Safety Features
The Compact MPV has a NCAP rating of 4 stars and the following key features; 3 point seatbelts on all seats, Active front headrests, Driver/Front Passenger airbags, Front side airbags + full size curtain airbags, Height adjustable front seatbelts + pretensioners, Passenger airbag deactivation system, Rear child proof door locks and Side impact protection beams.
Performance
The Kia Carens has 6 gears with a top speed of 116 miles per hour. It can accelerate from 0 to 62 mph in 11 seconds. The BHP is 138 with a max torque of 225. The fuel tank capacity is 55 litres.
Future Carens Re-Design
In an age when 7-seater SUVs have become more sleek and sporty, the Kia Carens may feel like a throwback. But in Europe, it's still doing well in terms of sales figures, which is hardly surprising. It's extremely difficult to find fault with the package this vehicle delivers – it's inexpensive, with great standard features and plenty of interior space. Let's hope Kia keeps it going.
Conclusion
The Kia Carens is a brilliant car for the family. You'll have enough seats for when you need to transport everyone. When it's just you doing the shopping you can flatten the back seats and have plenty of room. When your taking your children to and from the multitude of activities they have, you can drive in the knowledge that it isn't costing you a fortune in fuel. All in all, the Kia Carens is a safe, both financially and roadworthy car to purchase.
You May Also Like