Mitsubishi Grandis
2nd Hand Mitsubishi Grandis +Seven Seats
In a hugely competitive segment that also includes the award-winning Seat Alhambra, the Kia Sedona and the Ford Galaxy, the Mitsubishi Grandis more than holds its own.
Plus, it retails at a surprisingly affordable price, especially given the quality of the interior. Alas, it's only available second-hand nowadays, but that only serves to makes it even better value. Anyone that followed the 7-seater market closely in the past few years has probably been scratching their heads about the Mitsubishi Grandis. After just eight years of production and mostly excellent reviews, this Japanese MPV stopped being produced. Why wasn't it restyled and re-launched?
Purchase Price
A new Mitsubishi Grandis used to cost over £20,000. For this price you not only get a surprisingly stylish 7 seater MPV but also a generous standard trim representing good value for money. The car has also aged well, meaning that good second hand models can often be found for between £3,000 and £13,000.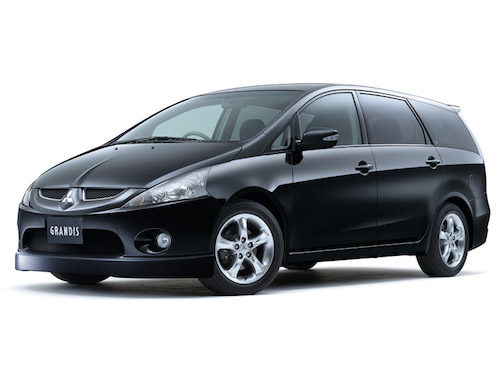 Mitsubishi Grandis pictured above.
Servicing
Independent servicing can start from around £100, although prices do vary nationally and so it may be wise to check with local garages.
Engine Models and Co2 Emissions
There are two engines available, a 2.4 MIVEC petrol engine or a 2.0 D-ID diesel option. Although the MIVEC petrol engine does work well in other Mitsubishi models, the best choice by a long way for a Grandis is the powerful Volkswagen produced 2.0D-ID diesel option. This engine produces an economic output of 176g/km, while the petrol engine produces 223g/km with a manual transmission and 237g/km as an automatic.
Road Tax (VED)
The economical diesel engine falls into Band I for emissions. The manual petrol engine option falls into Band K, while the automatic option is in Band L.
Fuel Economy
Along with having lower emissions, the 2.0 D-ID diesel engine also has a significantly better fuel economy than the petrol engines. With this engine option, drivers can expect to get 43mpg combined from their car, while the petrol engine will achieve 30mpg with a manual transmission and 28mpg with an automatic.
Extra Features
The Mitsubishi Grandis comes with a generous standard trim, which includes features such as ABS, a CD player, air bags, power steering, electric windows and heated mirrors. Upgrades include items like parking sensors, a DVD player, roof rails, leather trim and a sun roof.
Performance
The 2.0 D-ID petrol engine gives good performance considering it's economy, with a 0-60mph time of 10.5s and a top speed of 121mph. The manual 2.4 MIVEC petrol engine achieves 0-60mpg slightly quicker in 9.7s and reaches a top speed of 124mph, while the automatic option gets up to 60mph in 11.3s and reaches 118mph.
Appearance
The Mitsubishi Grandis exterior looks attractive while the interior is modern, providing just about the right amount of space, even with seven people on board.
It's got a good amount of power and acceleration under the bonnet, and in the diesel version, at least fuel economy is better than average. The only drawback with the seating plan is that only the third row of seating can be removed and so the second row cannot.
Insurance Group
Most Mitsubishi Grandis models fall into insurance groups 13 and 14, although some high spec models with the Warrior trim find themselves in group 15.
Conclusion
The Mitsubishi Grandis is a 7 seater car that is defined by it's stylish design, spacious cabin and generous standard trim. The large internal space of the Grandis makes it easy to carry around seven people in comfort, while innovative rear seat design that lets the back row of seating fold flat into the boot floor allows for large amounts of luggage to be taken when smaller groups travel.
.more...