Peugeot 308 SW
Compact 7 Seat MPV
The Peugeot 308 SW is more like an estate car with the choice of two extra seats in the boot. When the rear seats are removed, the boot is extremely spacious and can easily carry huge amounts of luggage and other cargo.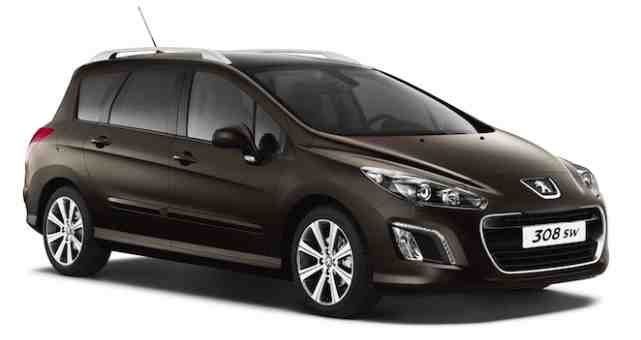 Peugeot 308 SW front view pictured above.
When the seats are required the extra back seats allow a family to sit comfortably in the car. There are good ranges of engines that make this MPV a highly economical choice. There is no sliding door option with any of the models.
The sixth and seventh seat is an added option in the Active and Allure Models. The third row seats are sold for just under £500 in units of one. So you could end up with a 6-Seater-Car!
Servicing
Services for Peugeot cars start from around £120, although prices do vary nationally so it can be best to check with local garages. MOTs can be carried out by any local garage and should cost around £50 a time.
Emissions
As the Peugeot 308 SW comes with a wide variety of engines and transmissions across a range of models, the emissions vary from car to car. Peugeots, however, traditionally have highly efficient engines and this one is no exception. The most environmentally friendly model in the range the e-HDi EGC with Stop and Startemit emits just 128g/km of CO2. Even the most polluting one is still relatively clean when you consider the vehicle's size, with the biggest polluter at 165g/km being the 1.6 THP with an automatic transmission.
Car Tax Band (VED)
The Car Tax Bands range from D to G. Band D is one of the lowest for vehicles that can carry up to seven people and very few MPVs fall into it.
Fuel Efficiency (MPG)
The most fuel efficient models in the 308 SW range using the 1.6 HDI (90bhp) engine will get an astounding 60mpg combined. Meanwhile, even inefficient engines such as the 1.6 THP with an automatic transmission will still achieve a strong 34mpg combined.
Additional Features
The 308 SW comes with a generous standard trim including ABS, air conditioning, full air bags, Isofix points, power steering and traction control. On upgraded models, electric rear windows, cruise control and alloy wheels are available. There are the necessary gadgets such as Bluetooth, an extra 12-volt plug, six-spear stereo and parking sensors front and rear. Options include a sat-nav system, heated leather seats, xenon lights and 18-inch wheels.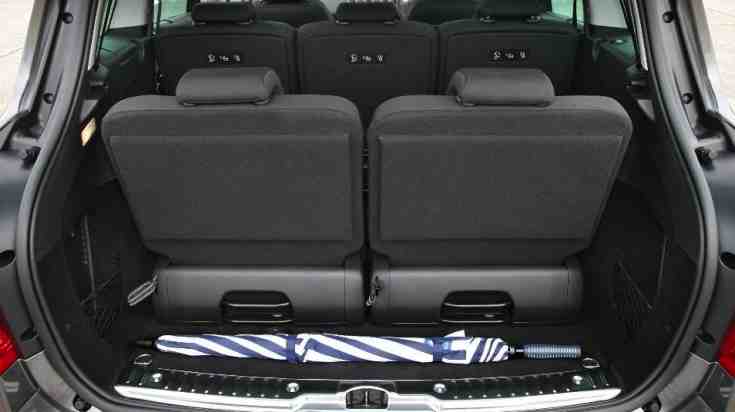 Peugeot 308 SW boot view (all seats up) pictured above.
Insurance
This MPV falls into a huge range of insurance groups, with the most basic models falling into group 4 and the sportier versions reaching as high as group 11.
Interior
There is certainly sufficient space in each row and nifty storage extras like a fold-down meal tray, not to dissimilar to those on airplanes, for rear passengers. The only slight negative with this vehicle is that the third row of seats does not fold into the floor as is the case with many other types in the same market, meaning they have to be fully removed and stowed in the boot. Of course, this means they are taking up extra cargo space, surely the point of removing them in the first place.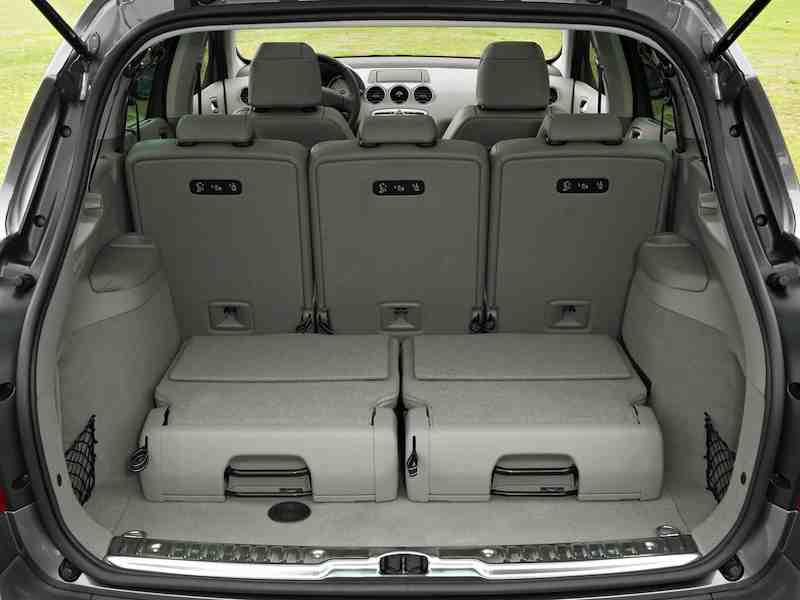 Peugeot 308 SW boot space (rear seats down) pictured above.
Performance
The best performing engine is the 1.6 THP (156bhp), which reaches 60mph in 8.7s and reaches a top speed of 133mph. The slowest engine in the range is the 1.6 VTI with an automatic transmission, which takes 13.6s to achieve 60mph and reaches a top speed of just 118mph.
Dimensions and Boot Space
Being what I would call a compact MPV it is only 4.5 meters long, 1.555m high and 1.815 meters wide. The boot space with all the seven seats in use is only 573 cubic meters, which is enough for a few Aldi shopping bags and that's about it.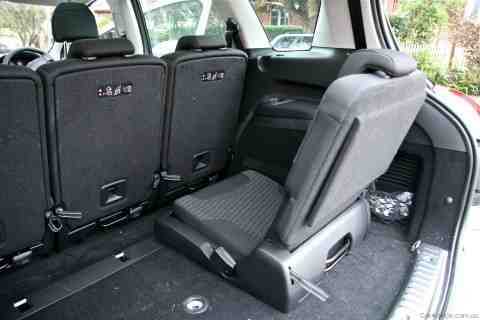 Peugeot 308 SW boot seat pictured above.
Purchase Costs
A Peugeot 308 SW Allure or Active will cost between £18,295.00 and £22,345.00 from new. High quality second hand models can be purchased for between £5,000 and £15,000. Remember the third row seating must be added on as an option.
Conclusion
The Peugeot 308 is a perfect family car. It is economical and spacious, perfectly designed with a generous amount of standard trim. It is a slightly futuristic-looking estate with benefits – namely an extra row of seats. The front-end slopes back at such a shallow angle that the bulk of the vehicle is hardly apparent. At the rear, this extra passenger space can be seen more easily, but it's still designed well with only a slight bump at the back rounded out with curving rear lights.
.more...