Peugeot 407 SW
An extension of the earlier saloon 407, the Peugeot 407 SW is a beautifully presented 7-seater, which keeps the sleek front and large grille that defined this range, while adding plenty of interior space to the rear, achieved by stretching the length of the car by just 87mm.
Purchase Price
Amazingly one of these can be picked up for less than £1,000. Average prices vary between £5,000 and £10,000.
Safety
There are plenty of good things to say about the Peugeot 407 SW. In terms of safety; it ranks among the best in its class, with a five-star rating in the EuroNCAP tests thanks to a host of airbags throughout and electronic stability program. All of this comes as standard and, indeed, on the latest available model, Peugeot have been extremely generous with the standard features. Included are electric windows throughout, climate control, ultrasonic alarms and remote central locking.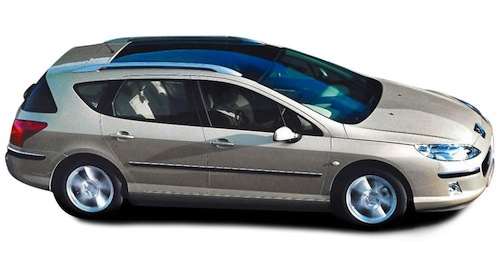 Peugeot 407 SW (2nd hand) pictured above.
Engines
In terms of engine options, there is a 1.6-litre, 2-litre and 2.2-litre diesel, the latter generating 168 break horsepower at 45.5 miles per gallon. This is only slightly inferior to the 2-litre option, which does a very respectable 47 mpg.
Boot Space
On the downside, the rear space does not come close to the Ford Mondeo, which manages to pack in more than 350 litres in addition cargo. Still, for those more worried about passengers, this is a nicely compact 7-seater that offers comfort all the way back to the third row of seats. Having ceased production in 2010 and brought out the 508 last year as a replacement, the Peugeot 407 SW is no longer available new, but the later models offer outstanding value for money second-hand.
NEWS: The Peugeot 407 SW isn't a 7-Seater anymore! I clarified this by emailing Peugeot.
My Email Query to Peugeot
I'm trying to find out if the Peugeot 407 SW can is 7 Seater. From what I've learnt today it seems that you can purchase and extra two seats for the boot?
Peugeot's Response:
Answer: The 407 SW isn't available with 7 seats, it has a maximum of 5 seats. All is not lost however! If you're after a 7-seater car we offer a couple of options. The 308 SW has the option of adding a third row of seats so you can seat 7 people. Alternatively the 5008, which was voted What Car Magazine's MPV of the year for 2010, has 7 seats as standard.
History 407 SW
It may be a few years old now but the Peugeot 407SW (SW stands for station wagon or estate car to you and me), is one of the most practical and solid cars that the French maker has ever built. Of course, there is the new generation of Peugeot cars out now, such as the 5008 MPV which also seats seven but if you're on a tighter budget and don't want a van-like seven seater, and then the 407 SW (second hand) could be the key.
Similar to the 307 SW with five normal seats the 407 SW has two fold-down extra seats in the boot space. This maximises the space as when the added seats are folded away they don't intrude too much on the 430-litres of boot space. With the rear seats folded down, that figure jumps to a monumental 1,365-litres. That's more than enough for most people!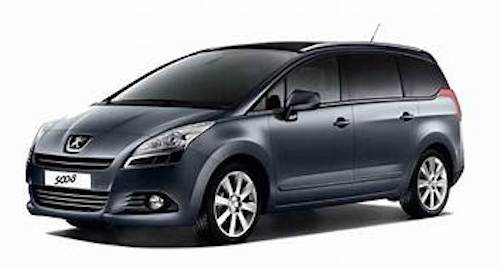 Peugeot 5008 7-seater pictured above (award winner).
Powering the 407SW is the frugal, punchy 1.6 HDI 110bhp engine that is shared amongst other car manufacturers - it's that good. The Citroen C5 and C4, Mazda 3, Ford Focus, Fusion, Fiesta and C-Max all share the same little oil-burner. It has a good shove at low revs, which makes it all the more easy to get up to motorway speeds without having to thrash it, although if you need to press-on, it does rev to 5,000rpm, which is frankly bizarre for a diesel!
Thanks to the wallop from the engine the gearing is made quite long so you don't need to change gear all of the time, which is nice. That means when you're cruising along on the motorway, the motor is only turning at 2,500 revolutions per minute, which makes a fantastic influence on fuel economy. It's difficult not to achieve 40+mpg. If you opt for a higher-spec 407 SW then you can set the cruise control at 70mph and take the stress off your right ankle.
Tinted Full Length Glass Roof
One area that other manufacturers simply do not understand is that with a long and low car it can feel cramped and dark. Not so with the Peugeot. The full-length glass roof is perfect for lightening the cabin and is slightly tinted which helps keep the sun from beating down on the passengers. The added light helps you keep an eye on what the kids are getting up to in the back more easily, too.
Boot Lid Glass Door
The 407 Station Wagon is as practical as an estate car can be. The rear boot lid glass opens separately to the boot door, which is perfect for dropping your shopping in and keeps things from falling out. The seats are incredibly comfy, apart from the rearmost seats, which should really be used for short trips.
.more...