Peugeot 807
The Peugeot 807 is a large 7-seater MPV which allows for great access thanks to its sliding doors and is well known for its spacious interior. However, potential buyers should be aware that unlike more modern models the rear seats do not fold flat and the design of the car is slightly dated when compared to newer models.
Second Hand Prices
As the 807 model has been around for quite a while you can easily get a bargain with prices starting below £1,000. High quality second hand models cost up to £15,000.
Peugeot 807 pictured above.
Replacing the flawed 806, the Peugeot 807 is a marked improvement. It may not be the best looker on the road, but this is a vehicle all about family value. It's good at cruising, composed on corners and offers the driver an ideal position. Opting for one of the bigger volume diesels, which go up to the popular 2.2-litre HDi model, guarantees a smoother drive than the 2-litre petrol. It also means fuel costs are kept relatively low.
Servicing
Servicing can cost upwards of £120 a time for newer models, however prices do vary at local garages and so it can be wise to shop around. Any recognised local garage can carry out MOTs for around £50.
Emissions
There are a huge range of different versions, each specific model has its own emission rating. However, the most efficient in the range come with the 2.0 HDI (120bhp) engine, which will emit just 175g/km of CO2. The biggest polluters in the range use a 2.0 petrol engine and will expel around 230g/km.
Car Tax Band (VED)
The Vehicle Excise Duty ranges from H to K.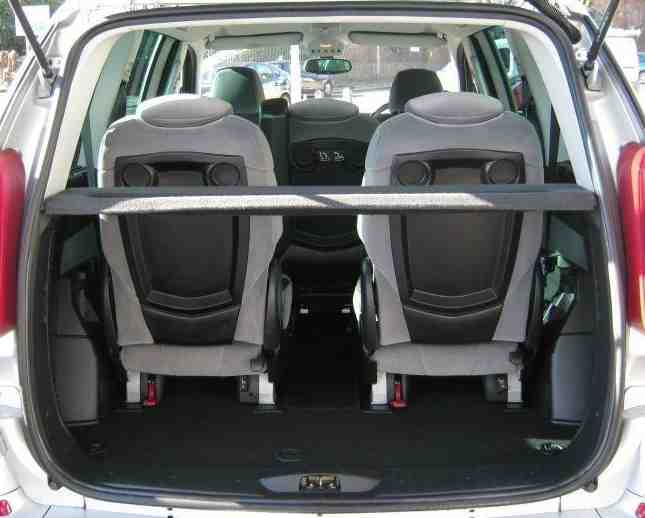 Peugeot 807 boot space pictured above.
Fuel Efficiency (MPG)
The most efficient engine, unsurprisingly, is the excellent 2.0 HDI (120bhp), which produces a combined economy of 42mpg. Most of the other engines in the range will still give a combined fuel economy which is between 34-39mpg, however the inefficient 2.0 petrol engine will only give 29mpg combined.
Additional Features
It comes with generous standard trim which includes ABS, driver, side and passenger air bags, power steering, folding rear seats, front for lights and electric windows. On upgraded versions, traction control, climate control, electric seats, parking sensors, Satellite Navigation and a built in phone are also available.
Performance
The fastest engine in the range is the 2.2 petrol engine, which will reach 60mph in 10.4s and achieve a top speed of 122mph. The slowest meanwhile, is the standard 2.0 HDI with an automatic transmission. This engine takes 14.6s to reach 60mph and has a top speed of 104mph. The highly efficient 2.0 HDI (120bhp) reaches 60mph in 12.5s and has a top speed of 111mph.
Passenger Space
Looking not unlike the popular Renault Espace, the Peugeot 807 is a bulky people carrier that offers all seven passengers ample space right back to the third row. From the word go, this is a vehicle that does exactly what it says, as opposed to the growing number of 7-seaters which require children or adults with very short legs to occupy that extra row at the back. With all the seating in play, the cargo space is limited, but Peugeot has clearly put the emphasis on passenger space.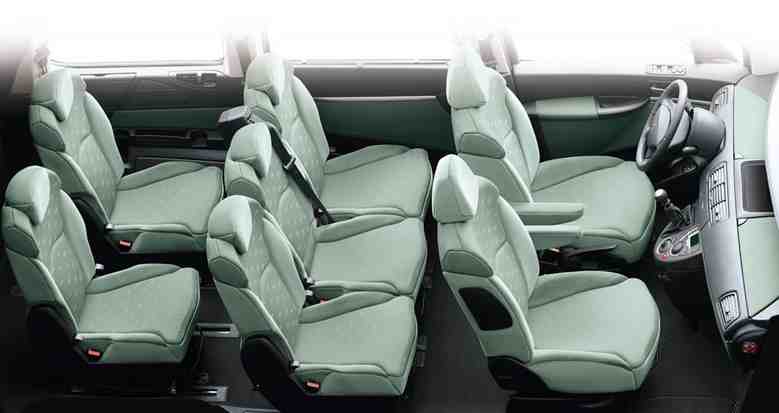 Peugeot 807 interior seating pictured above.
Cargo Space
Turning the Peugeot 807 into a vehicle that can make use of its vast bulk for cargo is something of a headache, given that it requires actually taking the seats out rather than simply folding them into the floor. However, once achieved, this vehicle produces a very respectable 3,000 litres of boot space behind the front row of seats.
Insurance
Due to the sheer size of the Peugeot 807, it is placed quite high in the insurance rankings. Most models fall into either Group 11 or Group 12 for insurance purposes, although some are as high as Groups 13 and 14.
Conclusion
The 807 is a great choice for those wanting a larger MPV. There is a great deal of models available with high or low running costs. The sliding doors are obviously a bonus when transporting children however beware that the rear seats in the third row do take some time when removing. A great advantage to owning one of these models is that parts are easily available and second hand models are widely available and can be picked up for as low as £1,000. For big families on a small budget, the Peugeot 807 is a good option then, not least because the price is very competitive.
.more...