SEAT Tarraco
The SEAT Tarraco 7‐Seater SUV is an elegant and excellent innovation by SEAT. It covers all those features and compatibility modes a consumer would expect. The price is very reasonable too.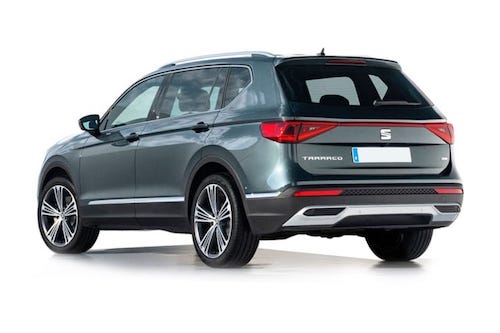 The SEAT Tarraco has an eco friendly build history due to being built in Spain (Barcelona) where half the energy needed to build it is taken from the sun with solar power. The SEAT Tarraco joins the other SEAT MPV with seven seats the Alhambra.
Purchase Price
Depending on which engine or model you purchase the on the road prices start at £28,550.00 and go up to £38,305.00. This includes the 1st year road tax rate, the VAT and the first registration fee.
Optional Extras
There are four optional extras with the SEAT Tarraco. These are:
A space saver spare wheel, which costs just over one hundred pounds;
A tow bar (without being installed/just the towbar) also costs just over 100 pounds;
A tow bar with a hook (without being installed) will cost just less than 700 pounds;
The panoramic sunroof will cost just less than one thousand pounds. This option removes some overhead storage and some of the interior lighting that would normally be in the roof area.
Models Available
The SEAT Tarraco is available with four versions; Tarraco SE, SE Technology, Xcellence and Xcellence Lux. All versions come with seven seats as standard:
The entry SEAT Tarraco SE comes with 17-inch alloy wheels as standard, a colour media system, digital cockpit and rear parking sensors;
The Tarraco SE Technology comes with slightly larger alloys (18 inches), an 8-inch navigation system and dark tinted windows;
The XCELLENCE model comes with 19-inch alloy wheels, Alcantara sports seats and parking assist;
The XCELLENCE Lux model comes with 20-inch wheels, leather upholstery a winter pack and a top view camera.
Interior
The interior of the SEAT Tarraco is amazing in terms of lights, wheels and seats. This car is fully technology enabled and all features are made with the future in mind.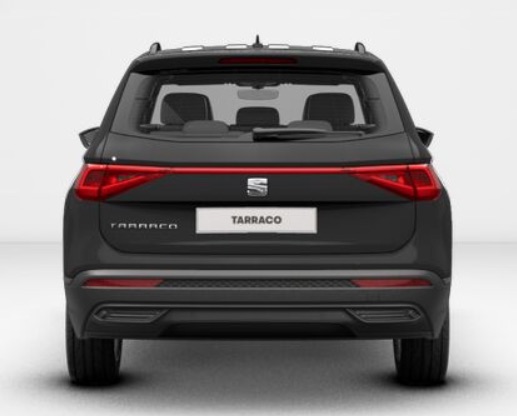 The SEAT Tarraco is just as spacious for stuff as it is for people. You get loads of smaller storage bins scattered around the cabin and you can specify handy features like wireless phone charging.
Engines
There are four SEAT Tarraco engines available (one petrol and three diesels). These are:
The 1.5 TSI EVO 150PS petrol engine with Co2 emissions of 152 g/km and miles per gallon of between 35.3 and 37.2;
The 2.0 TDI 150PS diesel engine with Co2 emissions of 129 g/km and miles per gallon of between 44.1 and 47.9;
The 2.0 TDI DSG-auto 4Drive 150PS diesel engine with co2 emissions of between 146 g/km and miles per gallon of between 38.2 and 39.8;
The 2.0 TDI DSG-auto 4Drive 190PS diesel engine with co2 emissions of between 147 g/km and 166 g/km and miles per gallon of between 29.7 and 39.2.
Co2 Levels & Car Tax
In summary when you take look at all engine types and models available Co2 emissions range from 129 g/km up to 166 g/km .
Fuel Consumption
In summary, fuel consumption ranges from 29.7 mpg to 47.9 mpg. The most economic engine being the 2 litre TDI 150ps Tarraco.
Insurance
Insurance levels vary from bracket 23 E (for the 1.5 TSI EVO engine) to bracket 30E (for the 2 litre 190PS engine).
Benefit in Kind Tax (BIV)
The benefit in kind tax for the SEAT Tarraco ranges from 33 to 37 percent.
Luggage and Boot Space
The boot and luggage space is also generous in the SEAT Tarraco. You can use up to 1,775 litres of space with both rows of seats folded and 230 litres when all seven seats are in use. The center part of the boot floor is flat, even when the third row of seats are folded down, but the flat section is bordered by a deep well on either side that the false floor doesn't fully conceal.
Dimensions
The SEAT Tarraco is available with alloy wheels built to ensure all journeys are smooth whether on a road or more hilly terrain. The overall length of the SEAT Tarraco is just less than 5 meters (4,735 mm).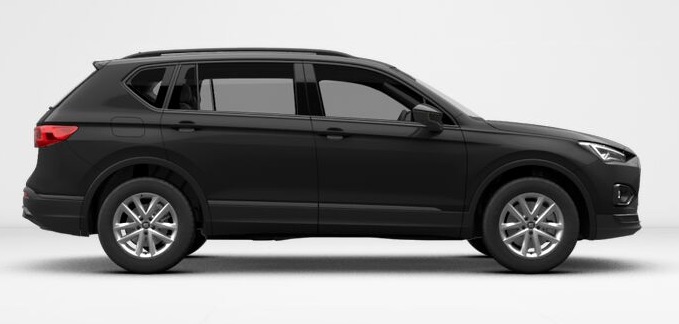 Safety Features
The new SEAT Tarraco is equipped with first-class safety features such as:
An emergency call feature, which contacts emergency services at the press of a button;
The Driver assistance feature warns the driver of a potential collision;
The Front assist indicates to the driver if a bicycle (or other) unexpectedly crosses the cars path. The Tarraco reacts instantly and brakes automatically;
The Lane Assist feature estimates a cars distance from other cars and adjusts speed without leaving the lane (if necessary).
Colours
All models of SEAT Tarraco are available with amazing and elegant colors like solid urano grey or metallic reflex silver, atlantic blue, Indium grey, deep black, oryx white and dark camouflage.

These colours are pictures above (in the same order, from left to right as above).
Warranty and Servicing
SEAT offers a two-year unlimited mileage manufacturer's warranty and a 3-year warranty up to 60,000 miles. If you buy a SEAT Tarraco you will be covered with a three-year paintwork warranty and a 12-year anti-perforation warranty.
You can also extend their three-year vehicle warranty by a further one or two years but only at the point of ordering a new SEAT.
.more...